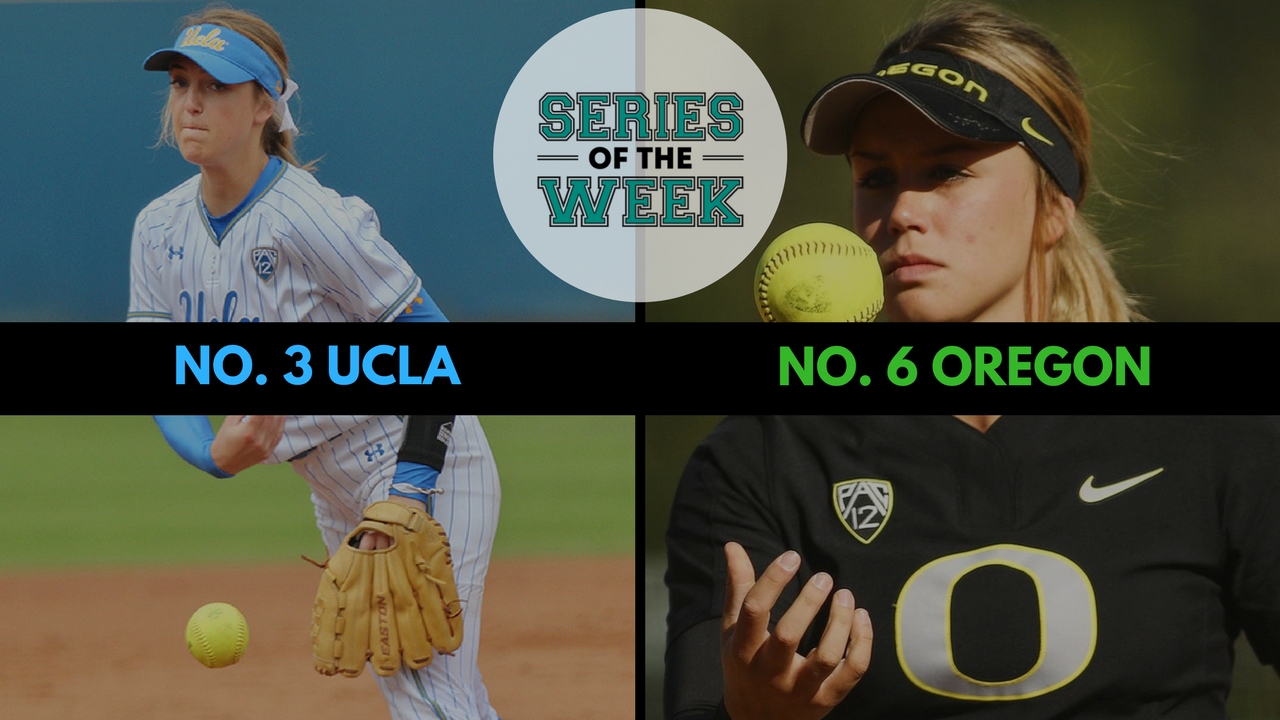 This was not an easy week to pick the series we would focus on. We landed on this one with UCLA being undefeated and facing their toughest test of the year so far. Also, keep an eye on the series between No. 2 Florida and No. 8 Georgia, both those teams sit with just one loss. The Pac-12 seems to be back to their glory and this conference match-up should be an instant classic.
Coming into the weekend UCLA (24-0) and Oregon (23-4) match-up rather evenly. Oregon has played the much tougher schedule to this point of the year, but as we head into conference play UCLA will face some of the best teams in the country starting with Ducks.
At the plate
The Ducks come into the week with a team batting average of .337 with 34 home runs. Jenna Lilley (.457) and Alexis Mack (.429) lead the team in average. Lilley leads the team in runs (21) and is second in RBI's (27). Mack is right behind her in runs (20) and leads the team in stolen bases (9). Gwen Svekis leads the Ducks in home runs (8) and RBI's (29). An interesting thing is that ULL transfer DJ Sanders is off to a slow start batting just .254 so far. She is second in home runs (7), but she is far removed from the offensive numbers she put up last season. If she catches fire anytime soon, this line-up will be very tough on opposing pitchers. Oregon has power and speed, they will need that against the Bruins. Can they put it all together will be the big question.
UCLA has not shown the same level of overall power, well in the home runs department at least, but they do have a higher slugging percentage (.593) than the Ducks. Scoring has not been an issue for the Bruins who have outscored the opposition 196-34. Seven of their nine everyday players are batting above .400 and all nine are above .300. As a team, they are hitting an amazing .399. Now, this will be the toughest pitching staff they have faces all season long, so the match-up is even more intriguing. Aaliyah Jordan has been red hot this year batting .537 with four home runs and 31 RBI's. Bubba Nickles continues to impress as well hitting .449 with a .750 slugging percentage. As stated we could go on and on with the number of hitters over .400 but you probably get the picture.
Edge: UCLA
In the Circle
Oregon has a deep pitching staff which should help them in a series like this. As a unit, they carry a 0.70 ERA with 232 strikeouts and they have held opposing hitters to just a .143 average. Miranda Elish (10-0) has looked sharp posting just a 0.22 ERA with 90 strikeouts over 63 innings of work. Megan Kleist (7-3) has thrown the most innings (65.1) and holds a 0.75 ERA with 91 strikeouts. Breakout pitcher from 2017 Maggie Balint (6-1) rounds out the rotation. Balint holds a 1.42 ERA with 46 strikeouts over 39.1 innings of work. The ability to use any of these three pitchers in just about any scenario is a real plus for the Ducks. They have been solid and have faced some good teams along the way so they are no stranger to solid bats.
UCLA comes into the series with a team ERA of 1.45 with 155 strikeouts. One area they will need to improve though is walks. So far this season they have allowed 50. Walks could haunt them in a series like this where the Ducks have a ton of speed on the bases. Leading the way is Rachel Garcia (10-0). Garcia has pitched nearly half the innings so far and holds a 1.14 ERA with 90 strikeouts over 61.2 innings. Holly Azevedo (7-0) has thrown 37 innings with a 1.14 ERA as well and 27 strikeouts. Selina Ta'amilo (4-0) and Johanna Grauer (3-0) have combined for 46.1 innings. There is depth here as well.
Edge: Oregon
Opinion
As we have discussed this will be the toughest test for the Bruins they have faced all year. Oregon's pitching staff is solid and deep. That is the key to the series in our opinion. Can the UCLA bats stay as hot as they have been against a staff of this caliber? We shall see. On the other hand, can Oregon manufacture runs using their speed and power? It is hard to predict if this series will be high scoring or end up as pitchers dual. We lean toward at least one of the games being a high scoring affair. Both teams have explosive offenses and it is hard to imagine them both being held at bay. The team who limits the free bases may just have the upper hand.
Pick: Oregon wins two of three.