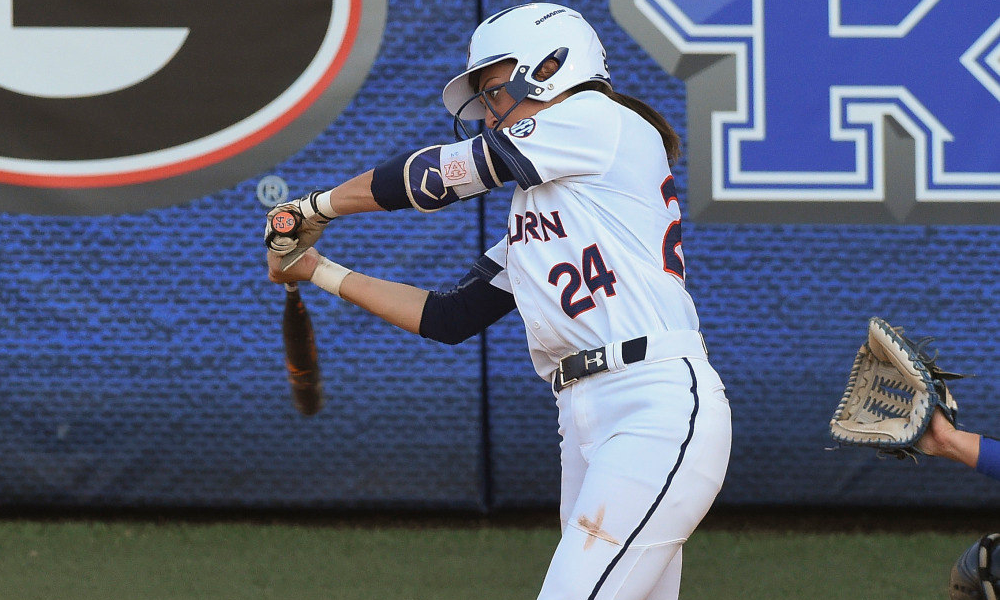 The Auburn Tigers have earned a national seed for the third straight season. The Tigers (46-10) will welcome East Tennessee State (29-24), Notre Dame (33-21) and Cal (30-22) to the plains on Friday. The Fighting Irish will play the Bears at 1 p.m. CT on ESPN2, followed by Auburn and ETSU at 3:30 on ESPNU.
Top Seed
After earning a No. 2 seed for the SEC Tournament last week, the Tigers bowed in the semifinals against LSU. The offensive has been missing for the most part but the Tigers can change a game with one swing. Kendall Veach is the home run threat as she hit her 12th in the conference tournament to beat Kentucky. Alyssa Rivera has had a strong second half of the season but her batting average has fallen from over .400 to .380 in the last two weeks. Kaylee Carlson has been stellar this season. She has a 1.14 ERA and 26 games won. She has pitched 20 complete games out of 30 starts.
Best Shot at the Upset
The Fighting Irish of Notre Dame has reached their 19th straight NCAA Regional appearance. They have qualified for the tournament 22 of the past 24 seasons, reaching the regional final 10 times. Ali Wester leads the Irish in batting average with .404 but Morgan Reed is tied for the home run lead (7) and RBI (54). Karley Wester is a threat on the base paths as she has swiped 30 bags this season. Rachel Nasland and Katie Beriont have done the majority of the pitching for the Irish. Nasland is 16-10 with a 3.57 ERA while Beriont is 12-6 with a 4.11 ERA.
Players to Watch
Zoe Conley of Cal will mostly likely pitch every inning. She has thrown 200.1 this year and the next closest is at 72. Conley, a transfer from Cal State Northridge, is 19-13 with a 2.80 ERA. Kylie Reeds leads the Bears with 57 hits and a .329 average but Jazmyn Jackson leads in slugging (.520) with 17 doubles, three triples, two home runs and 31 RBI. The ETSU Bucs have four players hitting over .300 including Tiffany Laughren who has a .379 average. Danielle Knoetze has a team-best 62 hits, 11 homers and 43 RBI. There are six pitchers who have seen time in the circle this season but Madison Ogle has had the ball the most. She is 12-12 with a 3.41 ERA and 145.2 innings pitched.
Prediction
There's nothing like playing at home in the postseason and the Tigers thrive at Jane B. Moore. Even though they have struggled against good pitching lately, the Tigers always find a way to win. Auburn should win their regional.