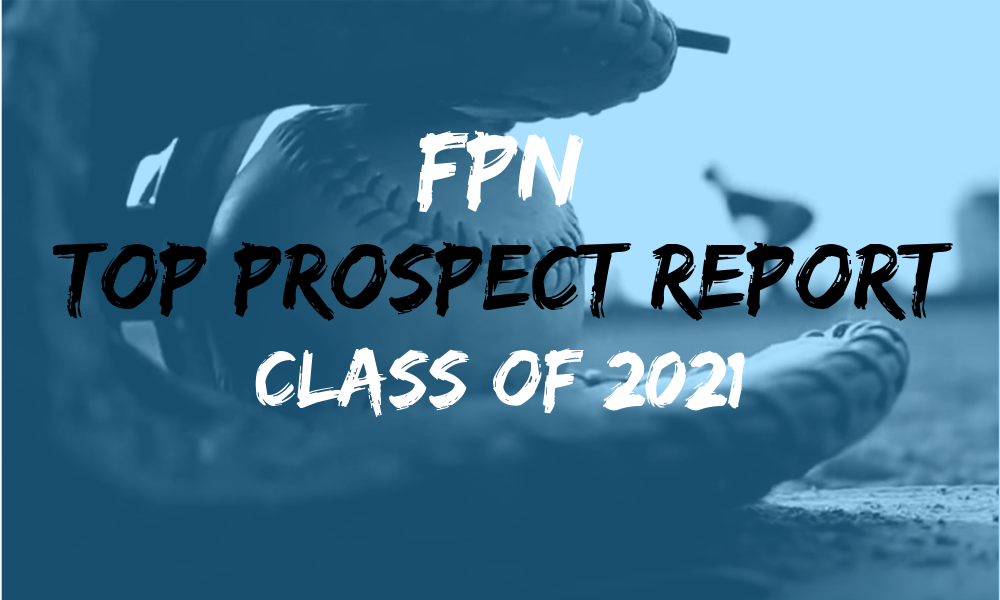 We are excited to unveil our Top Prospects for the Class of 2021! This list is comprised of a great mix of players at all positions with a handful who remain uncommitted!

For corrections to any information on this list please send us a heads up at support@fastpitchnews.com!

Need a subscription? Use special discount code "RANKINGS" to save!
| | | | | | |
| --- | --- | --- | --- | --- | --- |
| Rank | First | Last | Pos. | Club | Verbal |
| 1 | Kinsey | Fiedler | SS | Aces Fastpitch | Missouri |
| 2 | Rylee | Holtorf | MIF | Mizuno Storm - Mathis/Holtorf | Washington |
| 3 | Quincee | Lilio | 2B/OF | Athletics Mercado/Smith | Oklahoma |
| 4 | Aubrey | Barnhart | C/3B | Tennessee Mojo 2021 | Auburn |
| 5 | Lexie | Delbrey | P | East Cobb Bullets - Biele/Heath | uncommitted |
| 6 | Lair | Beautae | SS | Corona Angels - Slye | Tennessee |
| 7 | JaNaiya | Thomas | 3B | Impact Gold - Jazz | Houston |
| 8 | Turiya | Coleman | C/UT | Impact Gold - Jazz | Oklahoma |
| 9 | Alexx | Waitman | SS | Athletics Mercado/Tidd | Oklahoma |
| 10 | Brianna | Evans | MIF/OF | Texas Glory | Oklahoma State |
| 11 | Cydney | Sanders | 3B/OF | Corona Angels - Tyson | Arizona State |
| 12 | Mac | Morgan | P | Aces Fastpitch | Arizona State |
| 13 | Tatum | Clopton | P | Aces Fastpitch | Oklahoma State |
| 14 | Savannah | Pola | MIF | Corona Angels - Tyson | UCLA |
| 15 | Brooke | Blankenship | SS | Tampa Mustangs - Maguire | Florida State |
| 16 | Kaydeun | Wooley | SS | Impact Gold National - Vaughn | Texas A&M |
| 17 | Lyndi Rae | Davis | C/3B | Atlanta Vipers - Trowell | Georgia |
| 18 | Krystina | Hartley | IF | Tampa Mustangs - Maguire | Florida State |
| 19 | Megan | Bloodworth | IF | Atlanta Vipers - Holbrook | Alabama |
| 20 | Paige | Sinicki | MIF/UT | Corona Angels - Slye | Oregon |
| 21 | Dallis  | Goodnight | OF/IF | Georgia Impact Premier - Lewis | uncommitted |
| 22 | Jessie | Blaine | C | Tennessee Mojo 2021 | Auburn |
| 23 | Jayla | Castro | C/OF | California Breeze - Birch | UCLA |
| 24 | Mya | Holmes | OF | Impact Gold - Jazz | LSU |
| 25 | Sarah | Stone | C/UT | Beverly Bandits DeMarini - Helbling | Kentucky |
| 26 | Baylea | Brandon | 1B/OF | Texas Bombers | LSU |
| 27 | Katie | Cimusz | C/3B | Diamond Sports Hotshots - Dumezich | uncommitted |
| 28 | Madi | Elish | P | OC Batbusters - Stith | Arizona |
| 29 | Kam | Caldwell | OF | East Cobb Bullets - Biele/Heath | uncommitted |
| 30 | Izzy | Harrison | P/OF | Beverly Bandits DeMarini - Helbling | Kentucky |
| 31 | Reagan | Walsh | SS | OC Batbusters - Stith | Florida |
| 32 | Rose | Roach | SS/OF | Beverly Bandits - Allen | Auburn |
| 33 | Kenadie | Cooper | OF/2B | East Cobb Bullets - Biele/Heath | uncommitted |
| 34 | Kaci | West | P | Diamond Sports Hotshots - Dumezich | Baylor |
| 35 | Taylor | Minnick | C/MIF | Beverly Bandits - Conroy | Tennessee |
| 36 | Anabelle | Widra | MIF | Birmingham Thunderbolts 02 | uncommitted |
| 37 | Rachel | Allen | C/1B | So Cal A's - Richardson | Notre Dame |
| 38 | Desiree | Smith | P/IF | So Cal Choppers - Fausett | uncommitted |
| 39 | Stevie | Hansen | P | Athletics Mercado/Greg | uncommitted |
| 40 | Maddie | Moore | 3B/SS | Lady Magic - Munoz | uncommitted |
| 41 | Sydney | Osada | P | Georgia Impact - Gusaeff | Georgia |
| 42 | Lauren | Sciborski | C/3B | Michigan Finesse | Northwestern |
| 43 | Kendall | Mangel | P | Corona Angels - Slye | Maryland |
| 44 | Olivia | Silvestre | OF | Sorcerer Old Skool | uncommitted |
| 45 | Cali | Decker | OF | Georgia Impact National Lewis | Florida |
| 46 | Easton | Lotus | SS/UT | Beverly Bandits - Conroy | Louisville |
| 47 | Annie-Kate | Dalton | C | Georgia Impact - Gusaeff | North Carolina |
| 48 | Katie | Brooks | P/MIF | Aces Fastpitch | Florida State |
| 49 | Olivia | Underwood | C | East Cobb Bullets - Biele/Heath | uncommitted |
| 50 | Sydney | Peterson | IF | Sorcerer Old Skool | LSU |
| 51 | Alaina | Smith | MIF | East Cobb Bullets - Byars | Clemson |
| 52 | Devyn | Greer | P/OF | Athletics - Mercado/Greg | North Carolina State |
| 53 | Maggie | Herdejurgen | C | Texas Bombers | Oklahoma State |
| 54 | McKenna | Gibson | 3B | Athletics Mercado/Greg | Tennessee |
| 55 | Makenna | Segal | 3B/1B | Firecrackers - Sewell | uncommitted |
| 56 | Raelin | Chaffin | P | Texas Glory | LSU |
| 57 | Allie | Enright | OF | So Cal Choppers - Fausett | uncommitted |
| 58 | Tatum | Sparks | C/OF | Tulsa Elite OKC | Oklahoma State |
| 59 | Isabela | Emerling | C/IF | Universal Fastpitch - Garcia | Cal |
| 60 | Lauren | Derkowski | P/1B | Beverly Bandits - Allen | Michigan |
| 61 | Abbey | Smith | OF/IF | Diamond Sports Hotshots - Dumezich | Auburn |
| 62 | Acelynn | Sellars | P/MIF | Tennessee Mojo 2021 | Drexel |
| 63 | Kylie | Macy | P | Impact Gold - Lang | uncommitted |
| 64 | Emily | Leavitt | P | Athletics Mercado/Greg | uncommitted |
| 65 | Emmy | Guthrie | P/OF | Texas Glory | Oklahoma |
| 66 | Emiley | Kennedy | P | Scrap Yard Internationals | Texas A&M |
| 67 | McKenzie | Redoutey | OF | Georgia Impact - Lewis | LSU |
| 68 | Erna | Carlin | P | Diamond Sports Hotshots - Falterman | Texas Tech |
| 69 | Gabriella | Tobey | P/1B | Lady Magic - Munoz | Cal-Berkeley |
| 70 | Toni | McInnis | MIF/OF | Texas Glory | Kansas |
| 71 | Brianna | Peck | MIF/P | PA Strikers | Drexel |
| 72 | Samantha | Landry | P/1B | Diamond Sports Hotshots - Falterman | Louisiana-Lafayette |
| 73 | Gracie | Keene | 3B/1B | So Cal Choppers - Fausett | Tennessee |
| 74 | Lauren | Wiles | P | Lady Lightning | North Carolina State |
| 75 | Jordyn | Bahl | P | Iowa Premier | Nebraska |
| 76 | Saleyna | Daniel | OF | Texas Blaze United | Mississippi State |
| 77 | Ally | Sockey | SS | Tulsa Elite | Arkansas |
| 78 | Brooke | McCubbin | P | Glory Adkins/Locke | Ole Miss |
| 79 | McKenzie | Redoutey | OF | Georgia Impact - Gusaeff | LSU |
| 80 | Ella | Nadeau | MIF | Cal Cruisers - Sievers | Stanford |
| 81 | Kinsey | Norton | P | East Cobb Bullets - Biele/Heath | uncommitted |
| 82 | Nelia | Peralta | SS | Birmingham Thunderbolts 02 | Mississippi State |
| 83 | Savannah | Hooks | P | Corona Angels | UCLA |
| 84 | Angelina | Allen | 1B | Corona Angels - Slye | Iowa State |
| 85 | Madison | Dobbins | 1B/3B | Georgia Impact - Gusaeff | Georgia Tech |
| 86 | Mia | Scott | 3B | Aces Express 16U Futures | Texas A&M |
| 87 | Sophia | Simpson | P | Texas Bombers | uncommitted |
| 88 | Kennedy | Barron | P/IF | Birmingham Thunderbolts 03 | Duke |
| 89 | Jasmine | Sofowora | P/MIF | Firecrackers - TJ | Syracuse |
| 90 | Hannah | Slike | C/OF | So Cal Athletics - Richardson | uncommitted |
| 91 | Jordyn | Partain | P | East Cobb Bullets - Byars | uncommitted |
| 92 | Korbe | Otis | P/UT | Corona Angels - Slye | Louisville |
| 93 | Jenna | Lord | MIF/C | Atlanta Vipers - Trowell | uncommitted |
| 94 | Spencer | Prigge | IF | Firecrackers AZ | Arkansas |
| 95 | Ashlyn | Wachtendorf | OF/MIF | Centex Buzz Gold | Baylor |
| 96 | Ella | McVey | MIF/OF | Iowa Premier | Michigan |
| 97 | Madeleine | Schmeiser | 3B/MIF | Ohio Outlaws - Schmieser | North Carolina State |
| 98 | Grace | Keene | 3B/1B | So Cal Choppers - Fausett | Tennessee |
| 99 | Macy | Krohman | 3B/P | Beverly Bandits - Helbling | Illinois |
| 100 | Natalie | Heath | 3B/OF | East Cobb Bullets - Biele/Heath | uncommitted |
———————————————