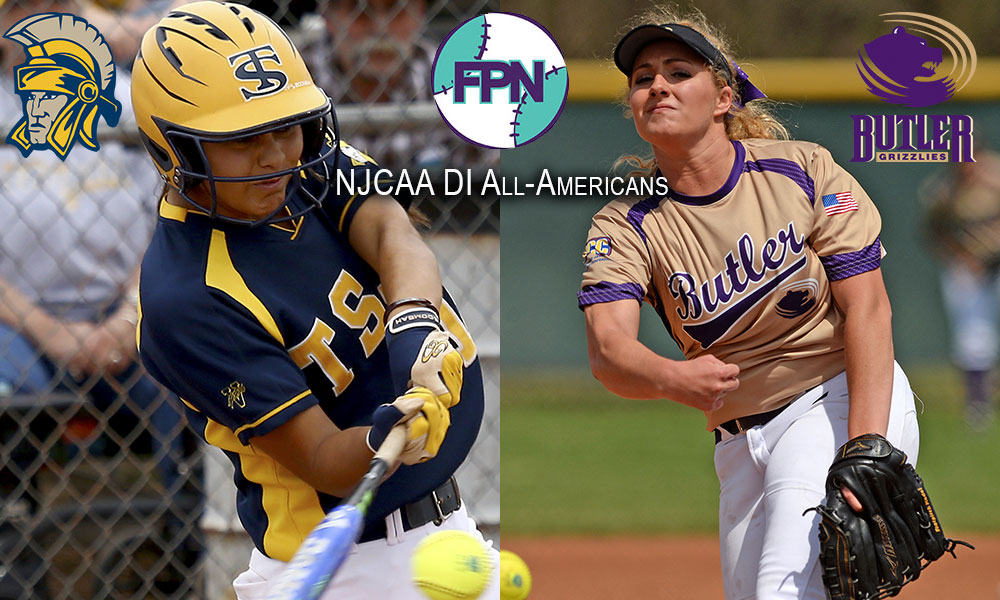 Fastpitch News has released its 2017 FPN NJCAA DI Pitching and Offensive All-American Selections. Below you will find our Pitcher of the Year, Player of the year and our full list of All-Americans.
Fastpitch News NJCAA DI 2017 Pitcher of the Year

Regan Mergele (29-0)
Butler
Sophomore
It is pretty difficult to do better than being undefeated. That is what Regan Mergele did for the 2017 National Champion Bears this season. On the season she threw 130 innings while racking up 196 strikeouts. She was second in the country in K/7 with 10.55 and third in ERA 0.75. She was a big reason that the Bears went 58-1 on the season and captured their second straight national title. Another impressive statistic is she allowed just four home runs all season long. Mergele was an honorable mention selection last year by FPN. She will play for the Universty of Nebraska in 2018.
Fastpitch News NJCAA DI 2017 Offensive Player of the Year

Isabella Navarro (SS)
Trinidad State
Sophomore
Navarro had a breakout season at the plate. The sophomore from Bernalill, NM batted .511 on the season with 30 home runs and 93 RBIs. She also had an impressive on-base percentage of .568 and a slugging percentage of 1.124. Navarro nearly doubled both her home run (17) and RBI (51) totals from a year ago. Next season she will play for Colorado State.
First Team Pitchers
Regan Mergele, Butler
Emily Oestreich, Lake Land
Krystal Goodman, Chipola
Morgan Goree, Chipola
Courtney Gettins, Florida SouthWestern State
Second Team Pitchers
Niki Gonzalez, San Jacinto-South
Crystine Kistner, Midland
Megan Garst, Shelton State
Dalilah Barrera, Temple
Shayne O'Connell, Central Florida
Honorable Mention
Ashley Kriesel, Galveston
Monique Ashley, Seward County
Kaleigh Wynne, Chattanooga State
Jordan Fortel, Walters State
Savannah Rowell, Faulkner State
Brieanna Brock, Iowa Western
Colleen Bentke, Blinn
Brittany Ledbetter, Wallace State
Cori Cooper, Temple
Morgan Cushman, Central Florida
First Team Offense All-Americans

Isabella Navarro, Trinidad State
Natalie David, Wabash Valley
Brynn Minor, Butler
Andrea Sotelo, Yavapai
Madison Sisco, Salt Lake
Jordan Fortel, Walters State
Kaleigh Wynne, Chattanooga State
Jaydee Boursaw, Yavapai
Oakley Sisemore, Crowder
Becca Schulte, Butler
Second Team Offensive All-Americans
Raelynn Rios, Yavapai
Paige Mendoza, Crowder
Jasmine Wessel, Western Nebraska
Macie Perrin, Weatherford
Miranda Davis, Otero
Lauren Oxford, Western Nebraska
Alex Valencia, Salt Lake
Jordan Davis, Seminole State (FL)
Kaylynn Lopez, Howard (TX)
Taylor Fogle, Odessa
Honorable Mention
Ashlee Snyder, Salt Lake
Savana Guidry, Lamar State-Port Arthur
Samantha Valentine, Lake Land
Madi Jackson, Western Nebraska
Brianna Fickes, Georgia Highlands
Brittany Holland, Central Arizona
Jaycee Grimm, Grayson
Kenzie Young, Butler
Briana Paysinger, Tyler
Kayla Martin, El Paso
Brianna Moeller, Central Arizona
Ashley Threatt, Columbia State
Marta Fuentes, Florida SouthWestern State
Monica Pepe, Louisburg
Ki'Audra Hayter, Butler
Michalyn Bingham, Indian River State