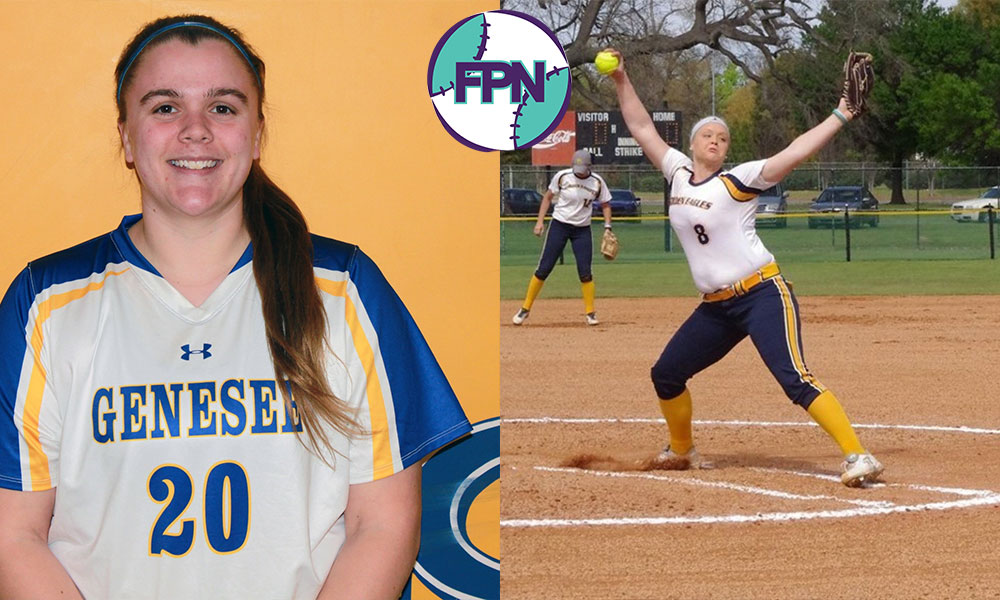 Fastpitch News has released its 2017 FPN NJCAA DIII Pitching and Offensive All-American Selections. Below you will find our Pitcher of the Year, Player of the year and our full list of All-Americans.
FASTPITCH NEWS NJCAA DIII 2017 PITCHER OF THE YEAR

Kelsie Packard (23-0)
Rock Valley
Sophomore
Packard posted a 23-0 record on the year with a nation-leading 209 strikeouts over 130 innings pitched. The right-hander posted a 1.29 ERA and held opposing hitters to just a .135 average.
FASTPITCH NEWS NJCAA DII 2017 OFFENSIVE PLAYER OF THE YEAR

Mackenzie Weber
Genesee
Sophomore
Weber was solid at the plate all season batting .559 with 12 home runs and 55 RBIs on the season. The sophomore also had a 1.069 slugging percentage and struck out just three times while walking 22 times on the season.
First Team All-American Pitchers
Kelsie Packard, Rock Valley
Keeanna Wolcik, Herkimer
Shania Kinghorn, St. Cloud Tech
Quincy Gross, Anoka-Ramsey
Tarryn Justesen, Minnesota State
Second Team All-American Pitchers
Olivia Fluehr, Rock Valley
Casey Boltersdorf, Herkimer
Joely Roberts, Mesabi Range
Angie Frampton, Corning
Kim Labahn, Harper
Honorable Mention
Mackenzie Lafferty, Rowan Gloucester
Alyssa Durrette, Onondaga
Mandi McNeil, Itasca
Jessi Reed, Butler County
Stacey Stanton, Joliet
Ashley Pool, St. Cloud Tech
Bailey Pedersen, Lehigh Carbon
Kayla Larson, Central Lakes
Vanessa Garrow, Clinton (NY)
Cori Augustine, Suffolk County
First Team All-American Offense
Mackenzie Weber, Genesee
Nicole Houk, Butler County
Olivia Fluehr, Rock Valley
Shannon Moore, Herkimer
Sam Mennig, Corning
Taylor Mennie, Brookdale
Michelle Gebhardt, Middlesex County
Carly Kjersgaard, Middlesex County
Tori Thuman, Monroe CC
Danielle Vuillemot, Cayuga
Second Team All-American Offense
Alexis Vogan, Butler County
Veronica Woehr, Brookdale
Chloe Callahan, St. Cloud Tech
D'Arcy Bittner, Columbia-Greene
Lexi Hill, Mesabi Range
Haley Williamson, Corning
Kaye Smude, Central Lakes
Kelsi Palistrant, Niagara County
Stefanie Mitchell, Cayuga
Cassie Tomczak, Rainy River
Honorable Mention
Lauryn Zovistoski, SUNY Adirondack
Peyton Arenson, Harper
Rachel Andrade, Joliet
Shania Kinghorn, St. Cloud Tech
Geena Fornataro, Nassau
Kamia Arbizo, Rainy River
Ashley Pool, St. Cloud Tech
Leah Struble, Sussex County
Paige Baker, Suffolk County
Danelle Lewis, Brookdale
Nicole Sheffer, Onondaga
Sareena Parendo, Rainy River
Rachel Martin, DuPage
Sam Hauck, Corning
Lindsey Swanson, Anoka-Ramsey