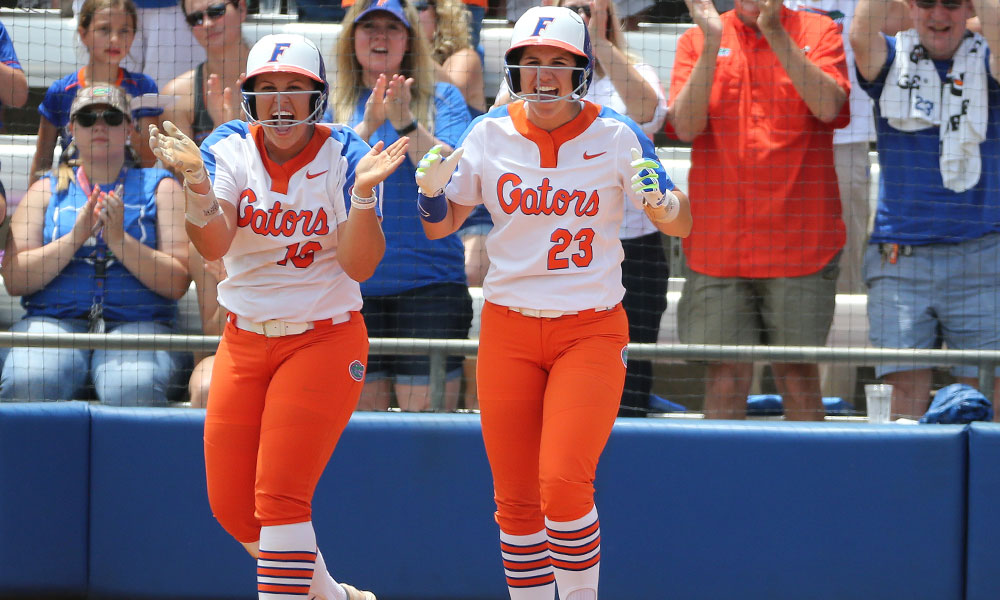 Things will kick off at Noon ET on ESPNU with Oklahoma State (35-23) and FIU (45-13). At 2:30 PM ET  the top overall seed Florida (50-6) takes on Florida A&M (23-30-1) in game one of the regional on the SEC Network.
Top Seed
Florida is coming in after being upset by Ole Miss at the SEC tournament. They are just 4-3 over their last seven games. With that said, they have pitching and arguably the best overall staff in the nation with a staff ERA of 0.71. Although some may not agree with her style, Kelly Barnhill (22-1) has been nearly unhittable all season long. She enters the weekend with a 0.33 ERA with 282 strikeouts over 148.2 innings of work. Delanie Gourley (18-4) is not far behind with her 0.77 ERA and 198 strikeouts in 136.2 innings. Their offense can be explosive in the ability to generate runs, but at times this year, they have struggled to capitalize. They have outscored the opposition by a nearly 4-to-1 margin. Leading the Gators at the plate is Kayli Kvistad who is batting .388 with seven home runs and 47 RBI. Power is not a strength of the Gators who have just 44 home runs on the season. Their strength is their ability to reach base and hit to contact. They are also good on the bases stealing 90 of 102. Florida has the tools to go far, if not win the WCWS. Can they avoid another upset again this year?
Best Shot at an Upset
To be honest, it will most likely be a pretty big upset if Florida losses. FIU seems to be, at least on paper, the team that could maybe give the Gators a run. The top half of the order, led by Jackie Schoff (.442 BA) has the ability to generate offense. Their pitching staff has also been solid with a team ERA of 1.73. In most cases that would look pretty good, until you compare it with the Gators that is.
Players to Watch
We already looked at several Gators and Schoff from FIU. Stephanie Texeira (FIU) is another you should watch for. She has power and has 15 home runs and 52 RBI on the season. For Oklahoma State, Vanessa Shippy has 44 RBIs and leads the Cowboys with a .396 average. Alexis Day (Florida A&M) is having a good season batting .341 with four home runs and 24 RBI. Really what you should watch is if any team can string hits together against the Florida pitching staff.
Prediction
Florida comes out of the region. It is hard to come up with a scenario where they do not.