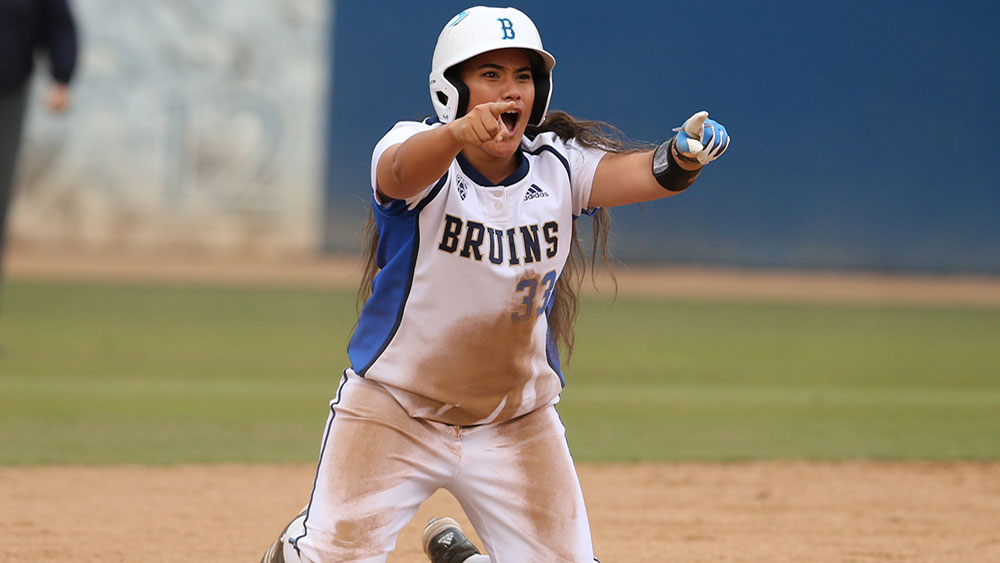 UCLA earned the #5-national seed for the 2017 NCAA Championship and will host the Los Angeles Regional this weekend at Easton Stadium. The Bruins will take on Lehigh on Friday night at 8:30 p.m. to open their postseason, with San Jose State and Cal State Fullerton playing in Friday's first game at Easton at 6 p.m. All times are Pacific and all games will be broadcast on the ESPN Family of Networks, with Saturday and Sunday's TV schedule to be announced.
Top Seed
The UCLA Bruins enter the weekend with a 42-13 overall record. The Bruins went 16-8 in PAC 12 Conference play and have won 13 of their last 14 games, including four straight conference series wins, wrapping up the regular season with a sweep at Arizona State. UCLA is making its 33rd appearance in the NCAA Championship and will be playing Lehigh for the first time. When the conference awards were announced last week, five Bruins received All-Conference honors. Bruin pitcher Rachel Garcia was named PAC 12 Conference Freshman of the Year. Garcia, who was also named All-Freshman Team, was joined on the All-Pac-12 First Team by senior Delaney Spaulding and juniors Madeline Jelenicki and Kylee Perez. Freshman Bubba Nickles picked up All-Pac-12 Second and Freshman Team accolades, while Perez and Spaulding were selected to the All-Pac-12 Defensive Team. The Bruins head into the weekend with a team batting average of .321. They currently have seven players batting over .300 with Kylee Perez leading the batting average category with .411. Perez has notched 76 hits on the season with 15 doubles and 29 RBI.
Best Shot at the Upset
Cal State Fullerton has the best shot at the upset in this Regional. The Titans earned the Big West Conference's automatic bid with a 16-5 league record to go with a 33-21 overall mark. The Titans will be making their second straight trip to the Los Angeles Regional. They have played in this Regional atmosphere before and know what it takes to come out on top. UCLA and Fullerton have played twice this season, with the Bruins posting a 2-0 win at Fullerton on March 4 and a 7-3 victory at Easton Stadium on April 18. UCLA has won seven in a row against the Titans and holds an all-time lead of 46-33-1.
Players to Watch
UCLA's Rachel Garcia, a three-time Pac-12 Pitcher and Freshman of the Week and a finalist for NFCA National Freshman of the Year, leads the Bruins with an 18-7 record, a 1.95 earned run average and 161 strikeouts in 154 2/3 innings. At the plate, she is third with a .329 batting average and tied for second with 17 walks, adding five home runs, 25 runs batted in and 10 doubles. In her 37 appearances in the circle, Garcia has given up zero or one earned run in 26 of them.
UCLA's Delaney Spaulding is leading the Bruin offense with 14 home runs, 51 runs scored and 21 walks, tied for first with 15 doubles, second with a .381 average and third with 38 runs batted in and six stolen bases. She has 17 RBI in her last 11 games, producing hits in nine of those contests. Spaulding tied school records last Friday at Arizona State with five hits and five runs. She has crossed home plate in seven games in a row (14 total), having posted 18 multiple-hit games and eight multi-RBI contests this season.
Prediction
UCLA should be favored to advance out of this Region. The combination of the Bruin's pitching and the offense should be more than enough to get through this Regional without any hassle.