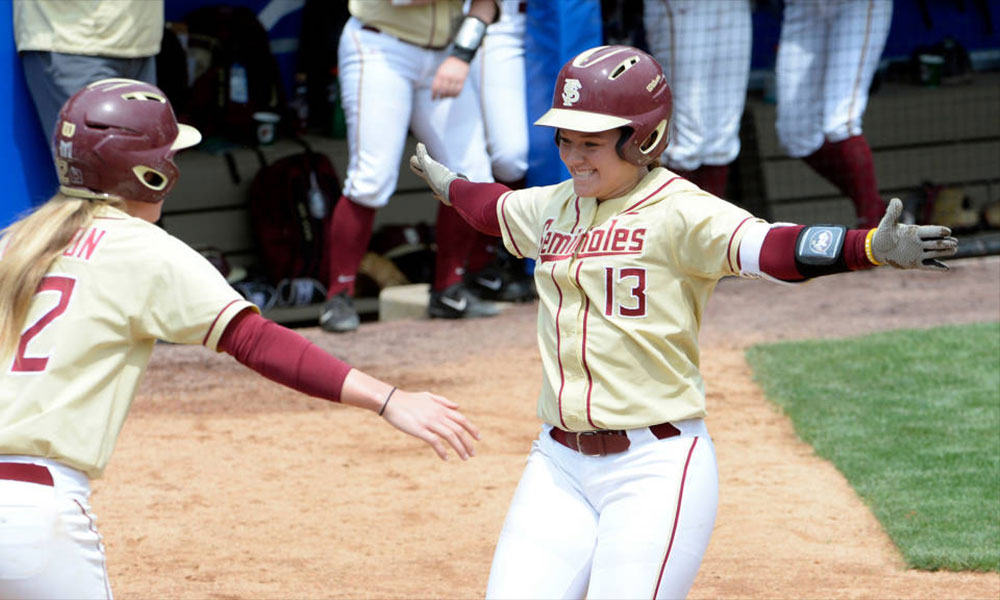 The first pitch of game one will be Friday at 4:30 PM ET on ESPN2 between Jacksonville State (40-10) and Georgia (33-21). Game two will be at 7:00 PM ET on ESPNU with Princeton (25-18) facing Florida State (51-6-1).
Top Seed
The Seminoles are having a strong season that saw them split with instate rival Florida. They just won the ACC tournament and will look to carry their winning ways through the regional. Pitching had been rock solid for the Seminoles all season, led by Jessica Burroughs (25-4) with a 1.14 ERA and 246 strikeouts. Megan King (25-2) has also been impressive holding a 1.41 ERA. The two give the Seminoles options and they are not afraid to use both in a game. Jessica Warren has yet again displayed power with 21 home runs and 64 RBIs coming into the regional. Her current slash sits at .420/.542/.938. All but one Seminole starter is batting above .300 which is good for a .334 team average.
Best shot at an Upset
So who can play they underdog role? Simple, the same team that played spoiler last year to cross-state rival Florida. Georgia will look to pull a big upset again this year, this time against Florida State. This year it would be even more of an upset as Georgia is just 6-20 against top 25 teams this season. With that said, they can swing the bat and come in as a team batting .339. The Emanual sisters have speed and know how to find a way on. Power has been provided by Alyssa DiCarlo who has 12 home runs and 60 RBIs to go along with her .352 batting average. Pitching has been ok, but not the strength of the team. Let's see what they can do this year in the postseason.
Players to Watch
Two additional Florida State players to watch are Alex Powers and Morgan Klaevemann. Powers has 10 home runs on the season has 49 RHIs and is batting .379. Klaevemann leads the Seminoles with a .424 average on the year. Jamie McGuire (Jacksonville State) has put up good numbers this season with .349 average, 12 home runs, nine doubles and 35 RBIs. Princeton's Marissa Reynolds is seeing the ball well with her .457 batting average eight home runs, 17 doubles and 27 RBIs.
Prediction
Florida State is the team to beat. Georgia is the biggest threat to them, but they would have to play better than they have most the season to get past the Seminoles. Look for Florida State to advance.