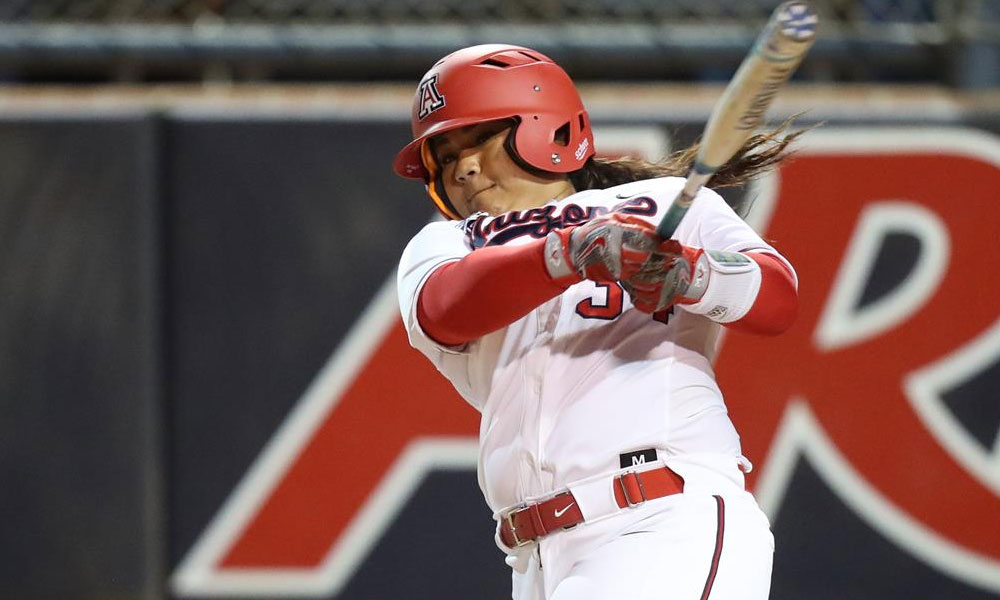 The Arizona Wildcats have set a new NCAA record with their 31st consecutive trip to the postseason. It might turn out to be a home run derby in Tucson. Arizona (48-7) has hit 88, South Carolina (32-23) has 40, Saint Francis (48-9) has 61 and New Mexico State (29-23) has 50. South Carolina and Saint Francis will open play on Friday night at 4 p.m. MST on ESPN, followed by Arizona and New Mexico State at 6:30 on ESPNU.
Top Seed
The Wildcats the No. 2 overall seed for the tournament and are coming off a series loss at UCLA. The offense has scored 404 runs this season. It's hard to say who leads the offense because there are several players who lead in different categories. Mo Mercado has the highest batting average (.391) and is tied with Mandie Perez for the most hits (63). Katiyana Mauga leads in home runs (22), RBI (55) and slugging (.869). Danielle O'Toole is 27-4 with a 1.08 ERA this season. She has appeared in 33 games, started 31 and completed 23. Taylor McQuillin is 15-3 with a 1.87 ERA.
Best Shot at the Upset
The Saint Francis Red Flash is making its first-ever appearance in the NCAA Tournament after winning the program's first Northeast Conference title. Last time the Red Flash played the Wildcats was last season's Arizona Wildcat Invitational where they lost 6-4. SFU is on a 21-game winning streak and has won 36 of its last 37. This season, Cheyenne McKee set a program record for hits (69) and runs (65). Jordan Seneca set records for home runs (21), RBI (64), walks (45) and stolen bases (22). Ethel Santai has 18 wins this season, one shy of the record.
Players to Watch
South Carolina's Nickie Blue has a team-low 2.46 ERA and is 10-10 on the year. She has pitched 142.1 innings and appeared in 36 games. Mackenzie Boesel leads the Gamecocks offensively with a .337 average, 56 hits, 32 runs scored, .554 slugging and .439 on-base percentage. Kelsey Horton leads the Aggies offense at .426, 66 hits, 50 runs scored, 14 doubles, 15 home runs, 56 RBI, .806 slugging and .518 on-base. Kayla Green is 11-15 in 185.1 innings with a 4.34 ERA and Samaria Diaz is 16-8 with a 4.37 ERA in 131.1 innings.
Prediction
Arizona is loaded with talent. O'Toole was named Pac-12 Pitcher of the Year and Mauga was named Co-Pac-12 Player of the Year. Five Wildcats were named first-team Pac-12 and it's the first time Arizona has had both the pitcher and player of the year. There is no stopping them. Arizona should make it all the way to Oklahoma City.