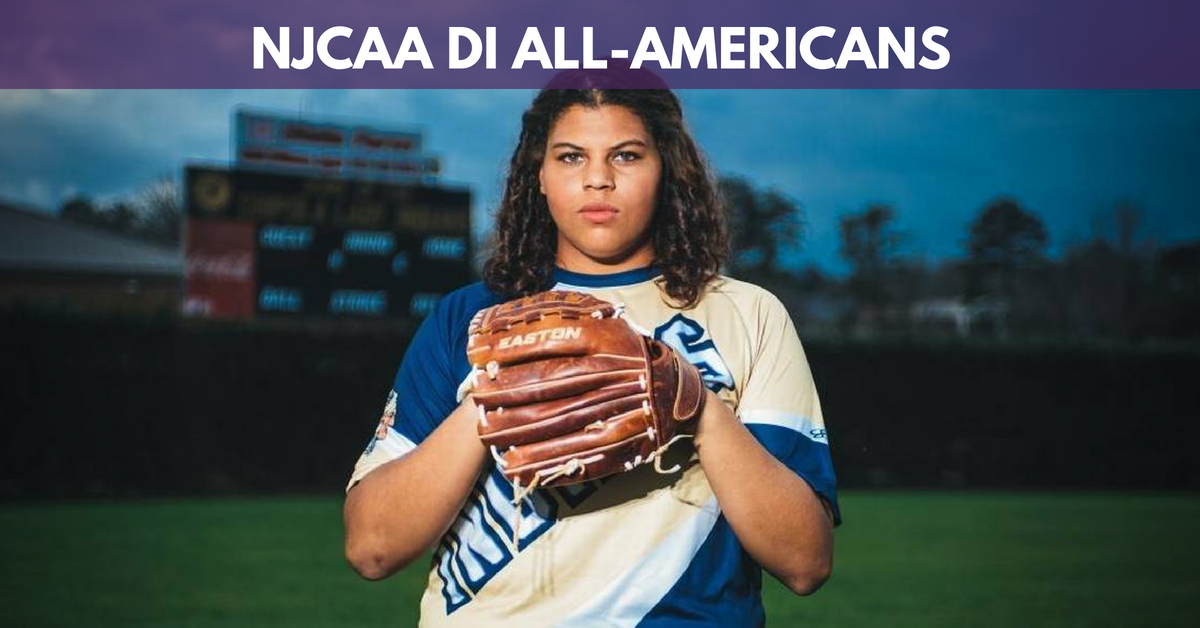 Fastpitch News has released its 2018 FPN NJCAA DI Pitching and Offensive All-American Selections. Below you will find our Pitcher of the Year, Player of the year and our full list of All-Americans.
Krystal Goodman
Chipola
Goodman had a great season. She posted a 26-2 record with a 0.48 ERA and 227 strikeouts over 181.1 innings of work.

Danae Villarreal
Clarendon
Villarreal was solid a season ending the year with a nation-leading .528 average with 16 home runs and 88 RBI's. She also leads the country in on-base percentage (.623) and was fourth on slugging (1.089).

Danae Villarreal – Clarendon
Ashlee Snyder – Salt Lake
Kenzie Young – Butler
Cassidy Howe – Utah State-Eastern
Brianna Robinson – Butler
Liv Garman – Louisburg
Melanie Groenewegen – Southern Idaho
Brooke Ryan – Odessa
Gracie Cordova – Northeastern
Tristin Evans – Southern Idaho
Krystal Goodman – Chipola
Celina Sullivan – Butler
Lindsay Markham-Rosario – Central Florida
Kaleigh Wynne – Chattanooga State
Dalilah Barrera – Temple
Kiya Thomas – Central Arizona
Tarin Dubler – Connors State
Madoline Seumalo – Howard (TX)
Chelsea Fagan – Bossier Parish
Chelsea Luddeke – North Central Texas
Brianna Dow – Rose State
Elisa Favela – Bossier Parish
Jaydee Boursaw – Yavapai
Addison Lewis – Howard (TX)
Zoe Hicks – Iowa Western
Jade Montgomery – Wabash Valley
Karina Sanchez – Temple
Monique Ashley – Seward County
Morgan Goree – Chipola
Giovanna Watts – Florida SouthWestern State
Mya Cabral – Pima
Victoria Porter – Schoolcraft
Marce Walker – Otero
Nicole Johnson – Rend Lake
Savanah Martinez – Trinity Valley
Morgan Michaelis – Barton
Katie Glaze – Trinidad State
Sydney Gutierrez – Blinn
Candela Figueroa – Chipola
Taylor Hollestelle – Eastern Arizona
Shaena Robinson – Marshalltown
Taylor Carroll – Pitt
Chelsea Peace – Seminole State (FL)
Madilyn Weatherly – Temple
Alexis Reed – Butler
Hannah Shirley – Wabash Valley
Ashley Kriesel – Galveston
Crystine Kistner – Midland
Abbie Dart – Tyler
Amber Parker – Central Alabama
Sarah Middleton – Georgia Military
Jaya Allen – Yavapai
Summer Shockley -Three Rivers
Liz Gollin – Indian River State
Samantha Davis – Abraham Baldwin