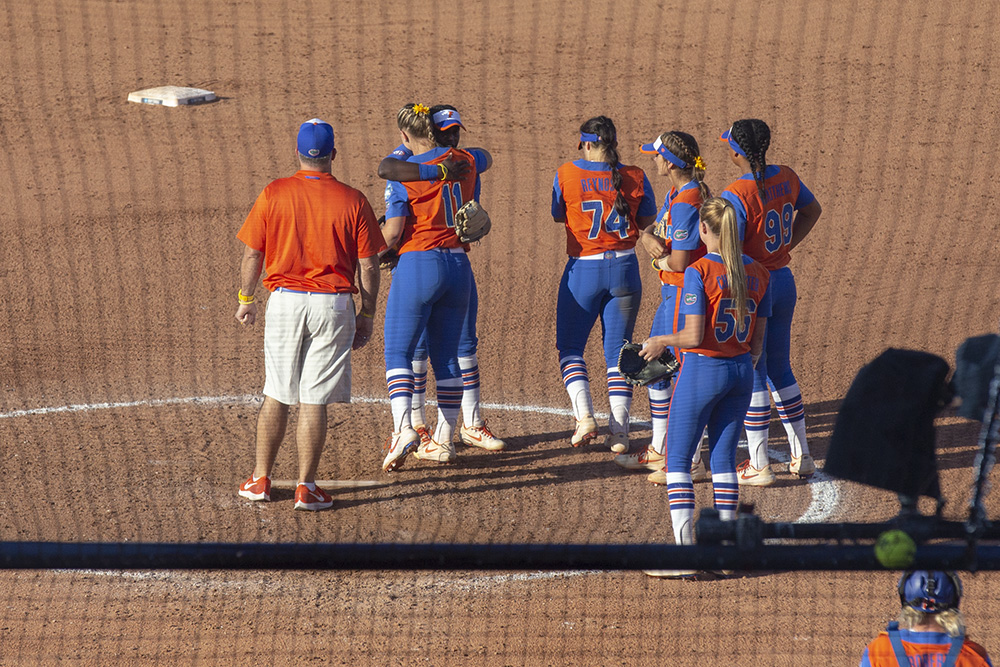 As our 2020 NCAA Simulation Tournament rolls on, we get ready to break down our Super Regional match-ups. It was a tough process between our committee and the Twitter vote to figure out who would advance into Supers. One thing that we learned is that the softball fans are passionate about their respective teams. As we break down the match-ups, note that they are in the order of who would play if the higher seeds advanced to the Women's College World Series.
#1 UCLA vs. #16 Duke
If you wanted to have a David versus Goliath match-up in terms of history, you have in Westwood between the Bruins and Blue Devils. In one corner, you have the defending national champions and one of the storied programs in college softball. In the other corner, you have a program in their third year of existence with their first NCAA tournament appearance. UCLA looks to continue their quest to repeat as national champions against a Duke program riding a magical 2020 season. 
#8 Alabama vs. Michigan
The Rhodes House will be a-rockin as the Crimson Tide will entertain Coach Hutch and the Wolverines. If you like pitching, this reason will be one to watch as Bama comes strong with Montana Fouts and Sarah Cornell while Michigan has a 1-2 punch of Meagan Beaubein and Alex Storako. Remember, Texas pushed Alabama to a Game 3 last season and Michigan came off winning in Blacksburg to advance.
#4 Arizona vs. #13 Kentucky
We will NOT say the obvious pun here with this match-up (that's what Twitter is for). However, it will be full of offense and home run power. Jessie Harper and Alyssia Palmerio-Cardoza will be matching swing for swing with Alex Martens & Autumn Humes in what is sure to be an exciting Super Regional. Can Arizona make it back to Oklahoma City or will Kentucky make it a possible all-SEC East showdown in the Women's College World Series?
#5 Florida vs. #12 UCF
This Super Regional match-up has a little history behind it. In 2005, UCF beat Florida for the first time ever and eliminated the Gators from the tournament. That summer, Florida made a coaching change which ended up sending the program in the direction where it is today. Now, Tim Walton sees the Knights stand in the way of another trip to OKC. Meanwhile, Cindy Ball-Malone has assembled one of the best teams in school history led by American Conference POY Georgia Blair.
#2 Louisiana vs. #15 LSU
When the committee set-up the regionals, fans salivated at the possibility of a Ragin Cajuns-Tigers Super Regional. Two programs whose histories are so intertwined with one another with an opportunity to play on the sports biggest stage at stake. Just mix over 5,000 passionate softball fans, some jambalaya, a little Yvette Girard, let it simmer for 2-3 days, and BANG!!! Softball, Bayou style
#7 Oklahoma State vs. Oklahoma
Bedlam in the Women's College World Series in 2019 was the ultimate experience for Cowgirl and Sooner fans. This in-state showdown to get back this year might be just as passionate and intense between the two teams. All those who would be interested in a Carrie Eberle vs. G Juarez match-up raise your hand. That's what we thought.
#3 Washington vs. #14 Mississippi State
These two teams saw each other last year in the Seattle Regional. Now, they play with even higher stakes on the line. Washington comes in with a dynamic offense and freshman stud Kelly Lynch plus the usual defensive wizardry from Sis Bates. Meanwhile, Samantha Ricketts has led the Bulldogs to one of their greatest seasons ever. Thunder and Lightning 2.0 (Mia Davidson and Fa Leilua) lead an offense that has been terrorizing pitching staffs all season long.
#6 Texas vs. #11 Oregon
After having to travel to Tuscaloosa last year and just missing Oklahoma City, the Longhorns will host one of the most intriguing Super Regionals as they host Coach Lombardi and her Oregon Ducks. Hayle Cruse and Jas Sievers lead an Oregon offense which has improved under assistant coach Justin Shults. Texas will look to ride Miranda Elish's bat and arm to make it back to the Women's College World Series. We also heard on good authority that Coach Mike White has some history with the Ducks' program.
Make sure you follow In The Circle on Twitter (@InTheCircleSB) to vote on our Super Regionals and listen to Tuesday's episode to find out who will make it to Oklahoma City.