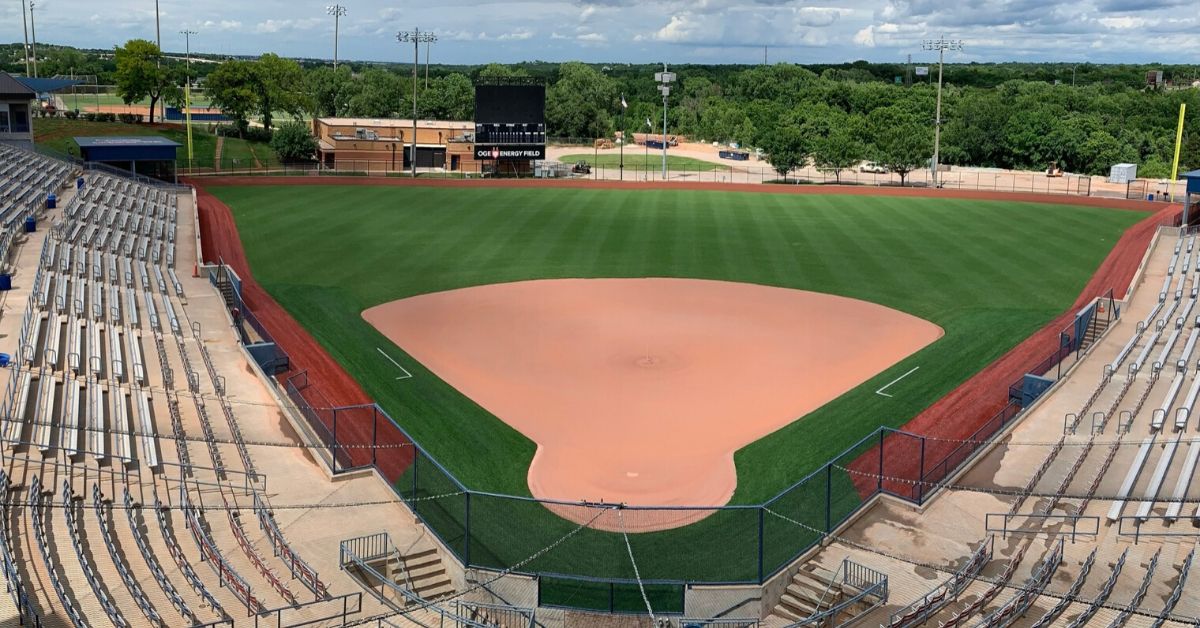 This weekend was set to start the 30th Women's College World Series to be held in Oklahoma City. With the recent renovations completed, it was set to be one of the most anticipated WCWS in history. However, we all understand that will not be the case. Although we will dream of what could have been, we will press forward on what was simulated. We present to you our 2020 Simulation Women's College World Series. This feature breaks down each match-up along with the broadcasting teams and how we would schedule those match-ups on ESPN

(Stats referenced are from 2020 season when games were canceled)

#15 LSU vs. #7 Oklahoma State
What better way to kick off softball's biggest party than with two fan-bases who know how to bring the noise. Led by Miss Perfect Maribeth Gorsuch, LSU comes in with a pitching staff that's among the best in America. Their offense has a little bit of everything paced by Georgia Clark and Aliyah Andrews. Meanwhile, Oklahoma State has a deep, dangerous line-up anchored by Alysen Febrey and Hayley Busby. Don't discount the Cowgirls' pitching triumvirate punch Carrie Eberle, Logan Simunek, and Kelly Maxwell on the rubber which had a 1.20 ERA before the real season was cut short.


#3 Washington vs. #6 Texas
Of the four open round games, this one has the possibility of being the show-stealer. These two played a classic at the Judi Gorman classic won by the Longhorns 8-6. Mike White had the Texas offense humming with Janae Jefferson, Kaitlyn Washington, and Lauren Burke all hitting over .450 when the season ended. Oh yeah, that Miranda Elish can beat you both with her bat (.370 BA/4 HR/20 RBI) and her arm (11-3, 1.25 ERA). Washington's offense was as equally potent with four regulars hitting over .420 paced by the great Sis Bates (.529 BA). Wunderkind Kelley Lynch has lived up to the lofty expectations going into the season (.288 BA, 8 HR, 28 RBI) The Huskies' have been as advertised in the circle led by Gabbie Plain (10-2, 2.76) while Pat Moore (6-0, 2.05) was a solid weapon in relief for Heather Tarr.

#4 Arizona vs. #5 Florida
Our night session starts with two teams who came in with different expectations depending on which publication you asked. Anyone who thought that 2020 would be a "down year" for Tim Walton and company should apologize. The Gators showed that they have plenty of firepower paced by Kendyl Lindaman (.410/7 HR/22 RBI) and Charla Echols (.417/8 HR/28 RBI). With Kelly Barnhill moving on, Florida relied more on a staff approach headed by Natalie Lugo (7-2, 6 Saves, 1.64) and Rylee Trlicek (9-2, 1.99). Arizona makes it back to the WCWS on the strength of Jessie Harper, Alyssa Palomino-Cardoza, and Reyna Carranco. While the offense has gotten all of the headlines, their pitching staff has remained strong with the addition of Mariah Lopez (11-2, 1.38) to complement Alyssa Denham (9-1, 1.92)

 #1 UCLA vs. #8 Alabama
A lot of people had this showdown to decide who wins the championship, not to see who goes in the winner's bracket.  UCLA showed this season that life without Rachel Garcia and Bubba Nichols was just fine with Aaliyah Jordan (.435/2 HR/27 RBI) and Maya Brady (.356/7 HR/28 RBI) setting the tone. Megan Faraimo parlayed her experience with USA Softball in the summertime into an All-American caliber season (13-1, 0.85). The Crimson Tide offense has been balanced and batting opponents around. Eight different players went yard while four have recorded double-digit RBI with KB Sides' 22 leading the way. Pitching, while not as dominant as 2019, is still a force with freshman Lexi Kilfoyl joining that three-headed monster of Fouts, Goodman, and Cornell.


You have a chance to vote which two teams will advance into our WCWS Championship Series. Follow In The Circle on Twitter (@InTheCircleSB) to cast your vote. Results will be released during Monday's episode.