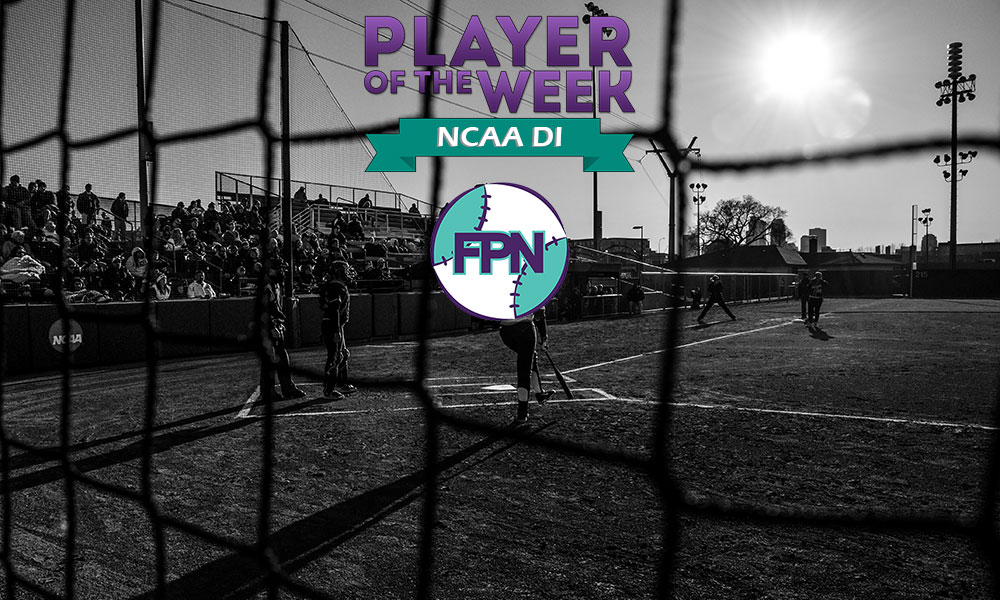 Fastpitch News has released its March 7, 2017, Players of the week awards for the NCAA DIII. FPN does accept weekly nominations. All nominations will be considered and are due each Monday by 3:00 pm eastern time. Please submit to rankings@fastpitchnews.com for review.

Fordham's Madison Shaw had a weekend for the ages in Raleigh, N.C., helping the Rams to a five-game sweep of N.C. State's Homewood Suites by Hilton Invitational. The junior masher smacked four home runs and drove in an astounding 17 teammates in just 16 plate appearances, including two grand slams. In fact, after finishing hitless in two at bats in the win over Lehigh to begin the tournament, Shaw batted 7-for-11 in the final four contests. Against Rutgers on Friday evening, Shaw hit two home runs in the same game for the second time in her career, one of the grand slams and a three-run bomb. Against the Scarlet Knights in the #1 vs. #4 match-up on Saturday evening, her third-inning three-run shot proved to be the winning runs in the 14-5 victory. On Sunday, Fordham downed N.C. State, 16-2, and Shaw was again at the fore, blasting the go-ahead runs right off the bat in the first inning with a grand slam. The junior would later add a RBI single and RBI double to cap the scoring in the fourth inning.
Olivia Tamewitz (Kennesaw State): Tamewitz continued to standout during the early portion of her freshman campaign. In five games of the Bobbie Bailey Memorial Tournament, the Owls' right fielder batted .526 (10-for-19) with six runs scored, a double, triple and home run, while driving in 10 runs, totaled 16 bases for an .842 slugging percentage, and .550 on-base percentage. She hit safely in all five games, collecting at least two hits in four games . . . She also scored at least one run in every game, and had an RBI in four contests, including a career-high five during an 8-1 victory vs. UAB . . . During Saturday's action against Dartmouth and UAB, Tamewitz hit for the cycle as she went 4-for-7 with three runs scored, seven RBIs and a stolen base . . . She is currently in the midst of a six-game hitting streak during which time she is batting .591 (13-for-22) with seven runs scored, four extra base hits and 10 RBIs, while recording a .909 slugging percentage.
Alex Mycek (East Carolina): Produced an explosive display at the plate during the week, batting .769 (10-for-13) with 10 hits, seven runs scored, two doubles, six home runs (including a grand slam), 14 RBI, seven walks drawn, a 2.308 slugging percentage and an .850 on base mark … Helped lead the Pirates to a 4-1 finish at the Louisville Slugger Invitational in Stockton, Calif. … Reached base safely in all six contests … Tallied home runs in four of the six games, including a pair of two-home run efforts against Portland State and Seton Hall in consecutive contests March 3 … Notched at least three RBI in four of the six games, including a five-RBI output versus Portland State March 3 … Had a game to remember in the finale of the tournament against Seton Hall (March 5), recording two hits, two runs scored, three RBI and three walks drawn in ECU's wild 15-14 walkoff victory … Was solid behind the plate defensively, committing just one error the entire week.

Osorio went 3-0 last week, striking out 38 over 15.0 innings while not allowing a single run. Against Jacksonville she combined for a no-hitter with sophomore Madi Moore. That is her second no-hitter she has been apart of this season along with her perfect game at Coastal Carolina in week one. Against Stanford, she racked up 18 strikeouts which is the second-highest total in a single game in program history. Osorio had 19 in her perfect game earlier this year.
McKenna Bull (BYU): Bull won all three games she started at the San Diego Classic I, picking up victories over San Diego State, Miami University and Boston University. In the 6-2 win over Miami, she broke the BYU record for strikeouts in a career, surpassing Paige Affleck's 803 after notching a season-high 11 strikeouts. By the end of the weekend, Bull upped her total to 808. She also picked up another shutout victory, leading the Cougars to a 9-0 win in five innings over Boston U. Over 21.0 innings pitched, she had a 0.33 ERA and 25 strikeouts while allowing just one earned run.
Jessica Burroughs (Florida State): Burroughs threw back to back one hitters this weekend going 2-0 in a three game series with Georgia Tech. She threw a total of 12 innings in the two games striking out 20 while allowing just two walks and zero earned runs.