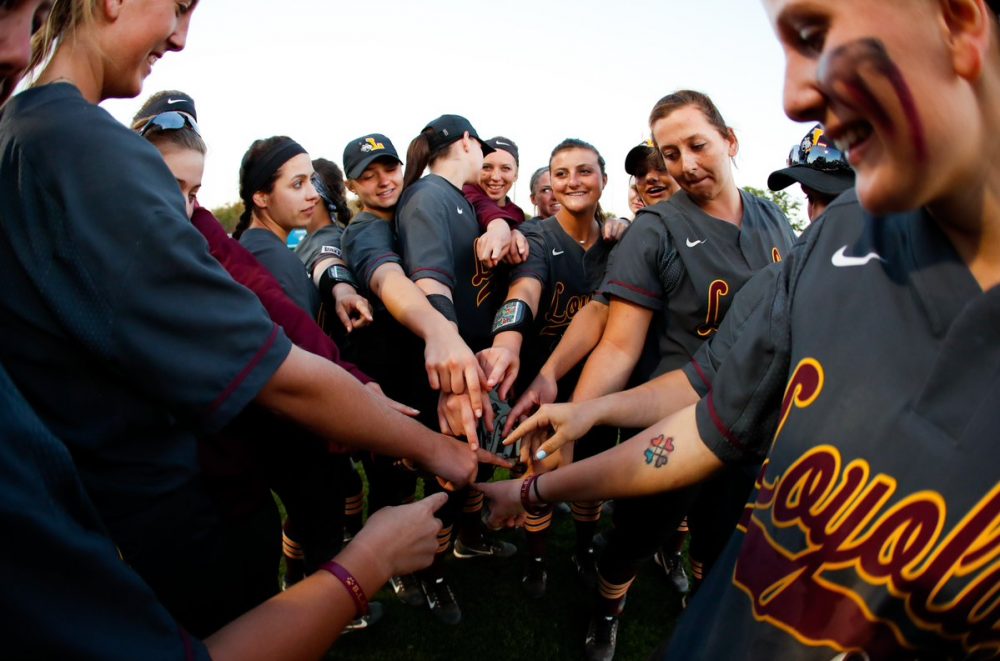 We are through what has already been a fun first two weeks of NCAA DI Softball. Here are seven mid-major programs that have caught our eye:

1. COLORADO STATE
The Rams have been off an running posting a 6-2 record through two weeks including wins over Stanford, Pacific, and Portland State. They have also played a close contest with Iowa State. With five batters averaging over .300 (two above .400) and a pitching staff with a 1.94 ERA combined ERA we are interested to see how they fare against some of the countries best. We're following them closely as they attend the Mary Nutter Collegiate Classic this weekend and will face Utah, Bethune-Cookman, Cal Poly, Oklahoma State, and UCLA. We'll be able to see if ace Jessica Jarecki's 0.61 ERA can hold as well as Ashley Michelena's team leading .433 batting average.

2. ECU
Another program sitting with an 8-1 record, the East Carolina Pirates have been swinging hot bats through these first couple weeks. They are batting .357 collectively with some ridiculous offensive numbers being put up. Best thing for ECU? Their big off-season transfer in Rachel McCollum isn't even the one leading the way! She is currently batting .391 with 11 RBIs and two home runs while four of her teammates hold a higher average. Ashleigh Inae leads the line up hitting .538 with three doubles and one triple. If this can hold, that is good news for the Pirates. ECU will get a crack at JMU Feburary 24th and we are eagerly awaiting that contest.

3. LA TECH
Currently ranked No. 25 by FPN, La Tech is playing strong softball to start the 2019 campaign. They are currently 10-1 with a key victory over Auburn. Collectively La Tech is hitting .349 with 67 team RBIs, 18 doubles, 11 home runs, and 45 walks. The pitching staff is getting the job done but will need to work on continuing to be more effective in the circle. Their combined staff ERA between five arms is currently 2.64 with their inning leader, Preslee Gallaway, throwing a 3.27. March will be the Techsters true test when they face UCF, Florida State and Mississippi State.

4. LMU
LMU got off to a fast start going a perfect 4-0 during opening weekend including knocking off a strong Northwestern team, 3-2. The following weekend the Lions followed up with a 2-2 weekend where a match up with Ole Miss was unfortunately cancelled but played a close contest again UCLA. Andrea Gonzalez leads the way with a .440 batting average, three doubles, and four walks while Hannah Bandimere is holding it down in the circle compiling a 1.11 ERA through 31.2 innings of work, fanning 27, and only issuing six free passes. The Lions need to clean up their defensive as they have allowed nine unearned runs and that has been a key difference maker especially in their loss to Boise State. We'll get a good look at what LMU brings to the table nationally during the Judi Garman Classic in a few weeks. They are slated to face Auburn, Fresno State, New Mexico, CSUN, and an exciting rematch against UCLA.

5. LOYOLA CHICAGO
The Ramblers remain one of the nine teams who remain undefeated heading into their third weekend of play. While we are anxiously awaiting Loyola Chicago's games this weekend versus another undefeated program in Indiana you can't deny that the Ramblers are playing good softball. The Ramblers do not have any hitter with significant at-bats performing lower than .300 average and three hitters are over .500 (Allyson Ivey, Jessica Shields, and Katie Polaski). The pitching staff is also shinning with a 0.46 ERA between the arms of Madison Veres, Keenan Dolezal, and Kiley Jones. The true "tale of the tape" will happen when they square off against the Hoosier but you've got to like what this team is piecing together in Chicago.

6. NORTH TEXAS
The Mean Green is off to a stellar 8-1 start including victories over Texas A&M and Creighton. North Texas is lead offensively by Katie Clark who is hitting .588 over 34 at-bats with three doubles, a triple, a home run, and 13 RBIs. She also has yet to strike out. North Texas has five athletes hitting over .300 while a pitching staff of four arms has compiled for a collective ERA of 1.09. They are lead by Hope Trautwin who boasts a 0.42 ERA over 33.1 innings of work, fanning 46 hitters while only allowing six walks and two earned runs. The coming weeks will provide a true test for head coach Rodney DeLong's squad when they square off against Baylor, Louisiana, and Texas Tech. Keep an eye on the Mean Green.