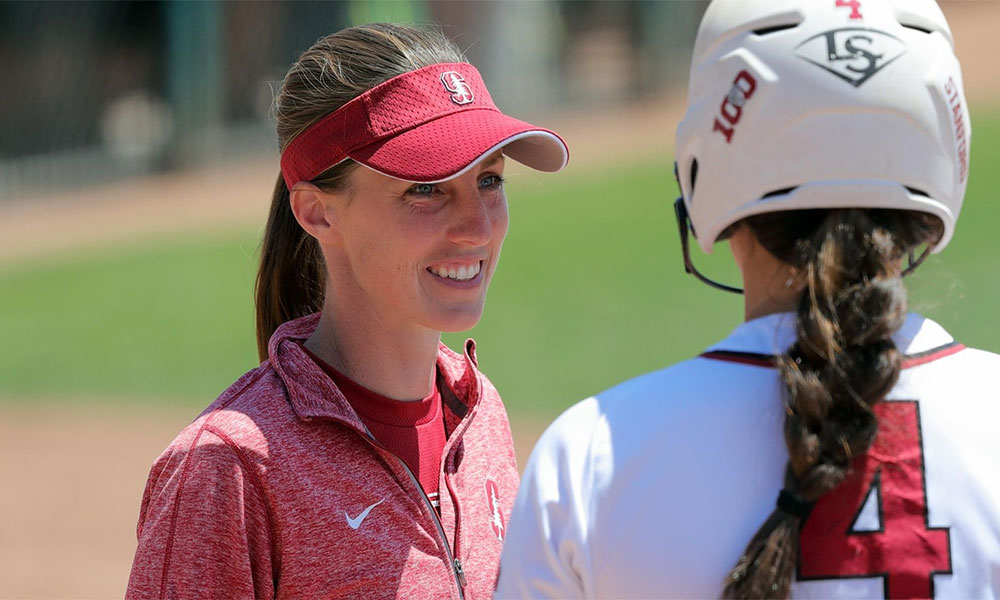 STANFORD, Calif. – Rachel Hanson is stepping down as head coach of the Stanford softball team to pursue other professional opportunities, as announced Tuesday by Jaquish & Kenninger Director of Athletics Bernard Muir.
"I am thankful for Rachel's contributions to our softball program and her tireless efforts in pushing our student-athletes to be their best on the field and in the classroom," said Muir. "We will miss her energy and positive attitude but I am excited about the impact she will have in her future endeavors."
Hanson will serve as the first Executive Director at the Baseball and Softball Education Foundation, a nonprofit based in St. Louis, Missouri, focused on building one of the largest sports character education venues in the nation.
Hanson will be a main contributor in the BASE Foundation's development of building curriculum and coursework emphasizing respect, leadership, teamwork and emotional control in youth sports. The tools will be shared with thousands of coaches, parents and players to create a more positive competitive experience.
"I'm grateful for the experience Stanford has given me to work with amazing student-athletes and peers, and coach in one of the best softball conferences in the country," said Hanson. "I look forward to the future of Stanford softball and know it's poised for success. I'm excited about my future with the BASE Foundation and the opportunity to positively impact young lives."
Hanson led the Cardinal to unprecedented heights in the classroom and built team cohesiveness through an emphasis on camaraderie and positive coaching.
Stanford excelled academically under Hanson, leading the Pac-12 in all-academic honors in each of the past three seasons.
The 2017 season was particularly impressive with nine Pac-12 all-academic selections overall, a program-best five first-team honorees and a conference-best seven members on the first and second teams. It was the third consecutive year Stanford led the Pac-12 in first- and second-team selections.
Bessie Noll became the first Stanford softball player to earn Pac-12 Scholar-Athlete of the Year honors during the 2017 season.
Stanford was the only Pac-12 softball program to earn a NCAA Academic Progress Rate Public Recognition Award and register a perfect 1,000 multi-year APR score in each of the past three seasons.
Hanson coached Kayla Bonstrom ('16) to a career year in 2015 that included NFCA All-America second team honors and CoSIDA Academic All-America second-team recognition – becoming just the fourth player to earn both awards in program history.
Along with Bonstrom, Hanson helped guide Noll and Kylie Sorenson to NFCA All-West Region recognition in 2016 and 2017, respectively.
Stanford will immediately begin a national search for her replacement.
Courtesy of Stanford Athletics