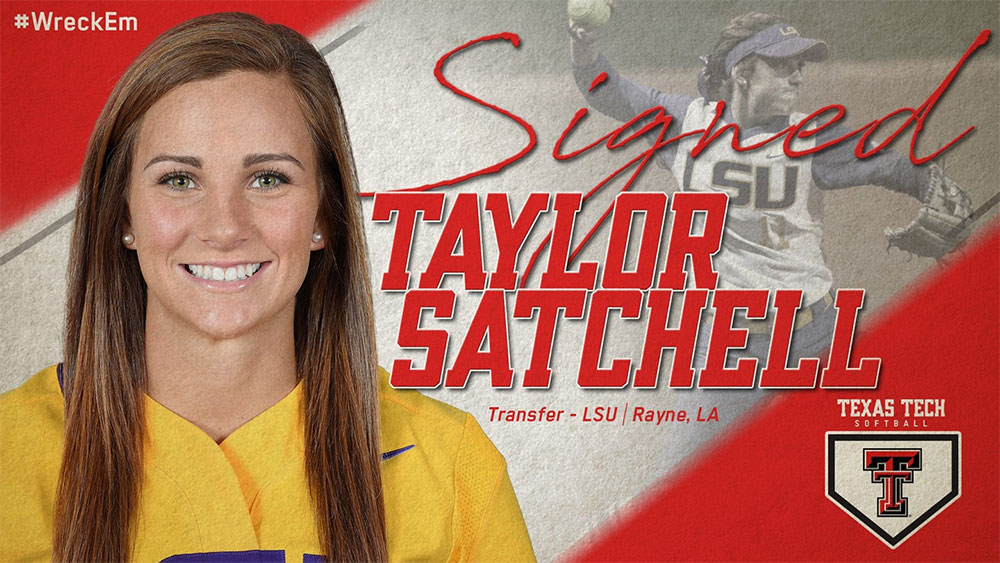 LUBBOCK, Texas – Texas Tech softball head coach Adrian Gregory has signed LSU transfer Taylor Satchell to an Athletic Scholarship Agreement announced Wednesday.
Satchell, a utility player who hails from Rayne, La., made 11 combined starts during her freshman and sophomore seasons for the Tigers. She hit .556 in 2016 with a .778 slugging percentage and a .600 on-base percentage while playing mostly third base and designated player. She became the team's primary reserve catcher in 2017, posting a perfect 1.000 fielding percentage with 32 put outs.
"I am fired up that Taylor will join our squad this upcoming season," Gregory said. "She is extremely versatile and has experience in multiple positions in a very competitive atmosphere. We are looking for her to make a direct impact in the dirt for us this year!"
Satchell played all four years at Notre Dame High School in Crowley, La., leading her team to district titles in 2012 and 2013 and heading all the way to the state title game in 2013. She was first team all-district and all-parish for four years and named a first team All-Acadiana and all-state selection her junior and senior years. Additionally, she was selected as the parish most valuable player in 2015 and on the honor roll at Notre Dame.
Satchell joins University of Louisiana transfer Heaven Burton as the second transfer from the state of Louisiana added to the Red Raider program this summer. She becomes the eighth addition to the team which is also welcoming six high school signees for 2017-18.
Visit www.TexasTech.com for the latest news and information on the softball program. Fans can also follow the program on its social media outlets at www.Facebook.com/TexasTechSoftball and on Twitter and Instagram (@TexasTechSB).
Courtesy of Texas Tech Sports Information