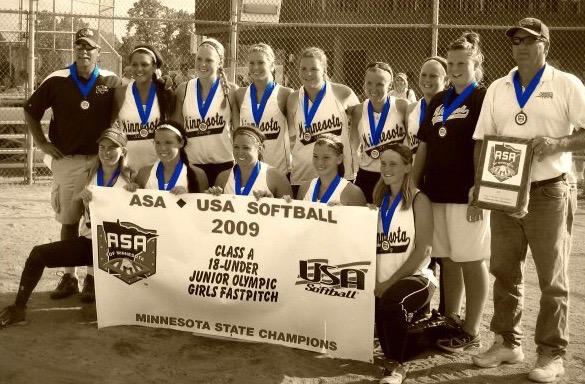 When softball players reach the 14U level, they have an option to leave their association teams and participate in club ball. Ten years ago, playing club ball was the ultimate goal and path taken by many players hoping to take their game to the next level and beyond. The club route once guaranteed playing with and against the best competition in the country. College coaches near and far gathered at club ball tournaments all across the country in the summer and fall months. The club ball scene has taken a dramatic turn over the past ten years. With the emergence of Premiere Girls Fastpitch (PGF), is getting involved and taking the club ball route still the answer?
Not even ten years ago, there were only a select number of club ball teams representing each state across the country. Today, if you were to google club teams in your state, there are too many teams to count. Club programs in select states are becoming severely watered down. The core clubs are still present in many states, but they have been joined by anyone and everyone. New club programs and teams are popping up everywhere, many in an attempt to keep association teams together under a different and more respected name.
With club ball so watered down, team talent varies on every roster. Instead of the best nine to eleven players making up a team, there is now a handful of talent on each team. Even though tryouts take place for every team in the off-season, there are too many clubs out there for players to choose from. The make-up of club team rosters in some states is beginning to look like that of a high school team.
Club programs now offer multiple teams in every age group. Programs will usually advertise a Gold team as their top team, and filter their other teams down underneath that one. What is the purpose served for the lower teams in each age group? Players on these teams are still granted practice space and work with program instructors, but their team won't be attending the Gold level tournaments in the summer months.
Club softball is now offered and advertised as a year-round commitment. Teams will train together in the off-season months utilizing space and provided coaches and instructors. Teams who experience winter months will either play in dome ball leagues or travel to warmer climates to play. Games, tournaments, practice space, coaches, and instructors are all included in team costs. Travel costs for most clubs are separate. There is a hefty price to pay when participating on a club team. Approach with caution and do some research before committing. Make sure your athlete is getting everything they are promised out of the experience before signing on the dotted line.
It used to be said that playing club ball in the summer months was the best way to be seen by college coaches. This is no longer the case due to the emergence of Premiere Girls Fastpitch. PGF gives teams and players exposure to college coaches at top showcases and tournaments all across the country throughout the year. Most PGF showcases and tournaments are invite and qualification only, meaning they are very selective as to which teams are welcome.
PGF events will provide participants and college spectators with full seven inning games of competitive softball at tournaments and showcases. By being selective with PGF admissions, teams and spectators can expect to witness and play competitive softball every time they step on the playing field. The best of the best travel to these showcases and tournaments year-round all across the country.
This isn't an article comparing ASA and PGF events. Many club programs across the country will travel to a mixture of ASA and PGF events throughout the year. These are the programs players will benefit from the most because they will be challenged by playing at the highest level possible. Going up against the best is the most effective way for teams and players to see where they stand. Strong competition draws college coach interest and attention.
Back to the article title, is club ball still the answer? It can go both ways and depends on what your athlete wishes to get out of her experience. There are plenty of DI softball players who never played on a competitive club team or traveled to PGF or ASA Gold level events. These players were likely seen by college coaches at clinics or walk-on tryouts. Club ball may still be the answer for those playing on the high level teams that play the best competition all across the country. Playing at this level will prep these athletes for what is to come when they get to college. Others who play club ball and may not be on a top team can still get everything out of their experience that they sought out from the beginning.
Before making a decision on a club, do some research on multiple programs and what they offer, set goals and expectations with your daughter before making a commitment, and make sure she is getting the best out of her experience. There is a right fit for every player, the trick is finding the right one.