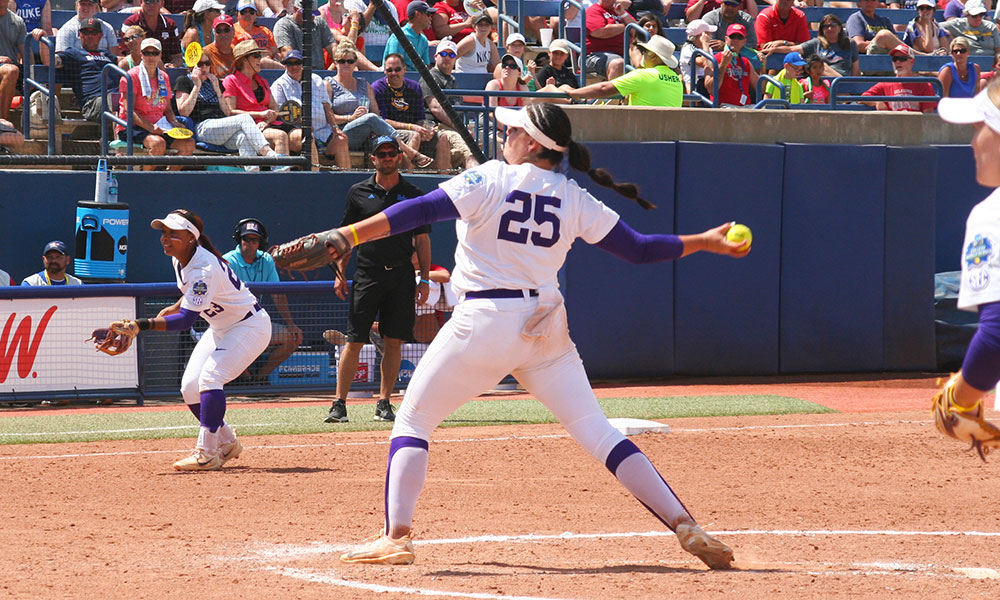 There are nine defensive positions on a softball field. Yes, that includes the position of the pitcher. Pitchers are bound to field a bunt, a ground ball, or a line drive in any game they step on the mound. It's important that coaches view pitchers as fielders too. Often in practice, pitchers will sit or stand off to the side as coaches hit balls for full team defensive work. It's crucial that pitchers receive reps off the bat during these practices.
Most coaches will admit to removing the pitcher from the circle during full team defensive reps because they are afraid they will get hit. There are ways to work around having a pitcher fielding from her position. One way to get a pitcher involved in ground ball reps could be to put the pitchers at one of the corner positions. Even though they will see the ball off the bat from a different angle, at least they are getting reps in. Also making a throw from third base to first isn't much different than making a throw from the pitching mound.
When pitchers take ground balls at practice, encourage them to go through their pitching motion before the ball is hit. This will help the pitcher with her reaction time and make the drill as game-like as possible for them. Unlike other position players, when pitchers field the ball, they are doing so by moving forward from their pitch; it's important to practice that way.
Pitchers should also be included in any full team bunt coverage practice, outfield throwing to bases, and run down drills. It's important for coaches to make full team practices as game like as possible. Having a pitcher stand or sit off to the side during defensive drills won't benefit the pitcher or the team since the pitcher plays a prominent role on defense. During outfield throws to bases, the pitcher should practice backing up the throws. Everyone has a place to be during every single ball hit to the outfield, if the pitcher remains in the circle, she is doing something wrong. It's also important to get pitchers involved in run downs because one too many runs are scored, and games are lost because of lack of communication and executing a run down.
Not only should pitchers be included in ground ball practice, they also need to work on overhand throws. Coaches should always make time for their pitchers to practice overhand throwing. Just like a game can be won or lost on one pitch, the same can be said about an overhand throw. Often, the opposing team will use their short game to showcase the weakness of the pitcher. Left-handed pitchers will always have a disadvantage when throwing to first base because they have to make a 180 degree or a 360 degree turn to get their body in position to make the throw. Even though pitchers will spend 90% of the game delivering pitches underhand, it's important that they can execute the 10% overhand throws as well.
Softball pitchers are considered fielders too. It can be easy to get caught up in just using pitchers in the bullpen at practice or to throw batting practice and live at-bats. Coaches, be sure to take the time to involve your pitchers in defensive practice and give them the reps they need. Filling all nine positions on defense will also build trust and unity among the team. Also, encourage your pitchers to get in fielding and throwing work on their own. It's easy for pitchers in the off-season months to focus on their pitching craft solely. The pitchers who will be able to execute game speed throws and field their positions are the ones who put in the additional time and practice. Pitchers never forget you are a fielder too!