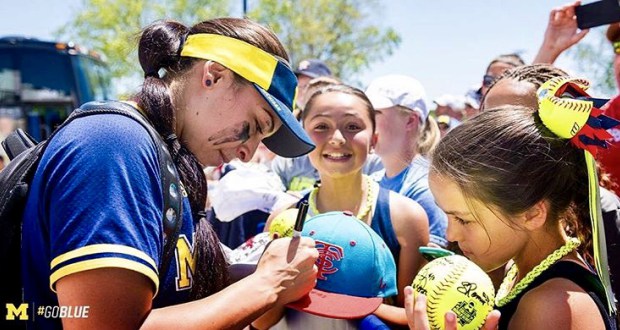 Every single softball player in the world has looked up to another softball player at some point in their career. Their own softball role model. There's a reason why some of us got the burning desire to become a pitcher when we first watched Jennie Finch take the circle for the University of Arizona. Or why some of us decided to give power hitting a try when we saw Crystl Bustos set the Olympic home run record. Don't get me started on Stacey Nuveman and her catching abilities behind the plate for Team USA and the UCLA Bruins.
Softball players serve as role models without even realizing it. No matter what team, school, or name you wear on your jersey, there is always a little girl in the stands who wishes she was playing in your shoes. Not sure if you have what it takes to be a role model? Let's define it.
According to Google, a role model is "a person looked to by others as an example to be imitated." In simple terms, a role model is someone who you look up to and who you want to be like. Do you have your role model in mind?
On the softball field, a role model could be the best player on the team, someone who makes outstanding plays, someone who plays the same position as that little girl in the stands, someone who exhibits leadership skills, someone who shares the same number as you, there are many reasons for why someone is looked up to as a role model.
What a positive softball role model may look like:
Hustles between the lines
Picks up teammates when they make a mistake
Gives 110% effort
Vocal leader on the field
Makes things happen
Plays with passion
Respects the game
The list could go on and on. Think about someone who you look up to, what do you admire about them? Why do you choose to look up to them? Aren't sure you have what it takes to be a role model to someone? Try some of the things in the bulleted list above, or think back to those reasons of why you look up to someone else. Our role models do all of the little things right, that's why they are good at what they do. In our eyes, they have perfected their craft. In order to be like them, we have to practice doing the little things right. Also keep in mind, there could be a little girl in the stands who wants to be just like you someday, don't disappoint her.
Feature Image curtesy of Michigan Athletics, Michigan Softball