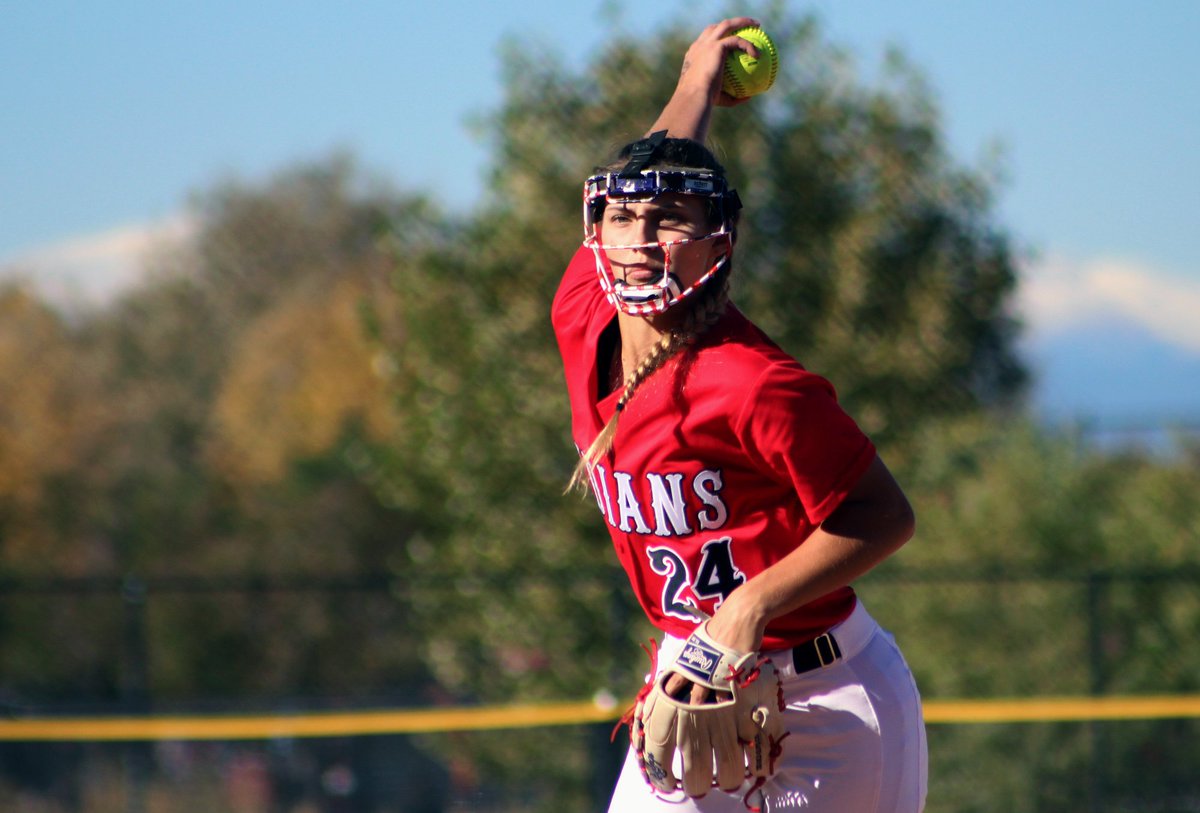 Photo: CHSAA
Five states compete in high school softball during the fall: Colorado, Georgia, Missouri, Nebraska, and Oklahoma. Let's check in on the top performers and names to know so far across these states.
OFFENSIVE – The ".700 Club"
Jana Lee, Dougherty (GEORGIA)
Lee, a University of Southern Miss commit and teammate of Denver Bryant below logged a .700 average in 60 at-bats. Her power numbers included 12 doubles, two triples, seven home runs through 23 games.
Katelynn Carwile, Purcell (OKLAHOMA)
The 2020 Oklahoma State commit boasts a .708 average in seven games played, nine doubles two triples and one home run.

Merik Edgar, Blackwell (OKLAHOMA)
Edgar holds a .711 batting average in 53 plate appearances through 13 games with eight doubles and a triple.
Korbe Otis, Columbine (COLORADO)
Otis is a Louisville commit and competes for the Corona Angel club ball organization. She's hit .709 so far this fall in 79 at-bats with 17 doubles, five triples, and three home runs.
Andreya Hunter, Tucker (GEORGIA)
Our next ".700 Clubber" is Andreya Hunter with her sparkling .710 average in 62 at-bats. Her power numbers include seven doubles with six triples and home runs through 21 games played.
Alyssa Gappa, Omaha Northwest (NEBRASKA)
Gappa has been a terror throughout Nebraska high school softball and as part of Iowa Premier Club ball. She's hit for a .712 average through 89 plate appearances this fall with nine doubles, seven triples and home runs in 29 games. Gappa has also collected over 40 intentional walks in the past two seasons.
Remington Ross, Eaton (COLORADO)
This Cal State Fullerton commit boasts a .718 average in 91 plate appearances capped off by five doubles, nine triples, three home runs.
Mariana Lopez, Far Northeast (COLORADO)
Next up is Mariana Lopez with her .725 average through 51 at-bats. Nine doubles, five triples, three home runs highlight her stat sheet so far this fall.
Katrina Roberston, Mesa Ridge (COLORADO)
Roberston has been a force this fall in Colorado hitting for a .736 average in 82 plate appearances. She's blasted 12 doubles, four triples, and three home runs in 22 games played.
Brooke Baca, Alameda (COLORADO)
Baca is one of the top hitters in Colorado with a .742 average in 54 plate appearances. She's recorded eight doubles, one triple and home run.
Denver Bryant, Dougherty (GEORGIA)
Remember the name, this 2020 Auburn commit is extremely talented with some of the purest athleticism you'll find. She comes from baseball background and was one of the youngest members of US Women's National Baseball Team when she played. This fall she hit for a .759 batting average with 12 doubles, seven triples, and 11 home runs in 22 games.
Brooklyn Horn, Kennedy (COLORADO)
.796 batting average through 53 plate appearances in 16 games and 49 statistical at-bats with ten doubles, three triples, and two home runs.
OTHER IMPRESSIVE OFFENSIVE PERFORMERS
Mikayla Pennell, North Callaway (MISSOURI)
.603 batting average, in 73 at-bats, 14 doubles, six triples and home runs over 22 games.
Maris Ollison, Versailles (MISSOURI)
.600 batting average in 81 plate appearances and 65 logged at-bats. 10 doubles with four triples and home runs in 20 games.
Addison Barnard, Beatrice (NEBRASKA)
.699 average in 108 plate appearances, 73 recorded at-bats. Over that stretch she's logged 10 doubles, four triples, 15 home runs.
Kynlee Marquez, Souther Valley (NEBRASKA)
.685 average with 65 plate appearances, 15 doubles, two triples, 10 home runs through 19 games.
Gabrielle Moser, Central City (NEBRASKA)
.614 average in 104 plate appearances. Moser has collected eight doubles, four triples, 15 home runs, 30 games.

Jordyn Bahl, Papillion-LaVista (NEBRASKA)
An impact player on both sides of the ball, Bahl holds a .579 average with five doubles, four triples, 17 home runs through 30 games.
PITCHING – The "Sub 0.50 Club"
Jordyn Bahl, Papillion-LaVista (NEBRASKA)
The future Oklahoma Sooner, Bahl had a busy summer of club ball with tons of interest from programs across the country. She has been dominate this high school season posting a 0.06 ERA over 110 innings of work while only allowing one earned run in 370 batters faced. Papillion-LaVisita has played 30 games and is currently ranked No. 2 in the country by the NFCA.
Taylor Tinsley, George Walton Academy (GEORGIA)
This 2022 graduate has turned the heads of big name programs and is currently moving through her recruitment process. She holds a sparkling 0.26 ERA through 80.1 innings of work this fall and has only allowed three earned runs in 21 games and 289 innings of work.
Tori Kniesche, Wayne (NEBRAKSA)
This future SDSU Jackrabbit has worked 130.1 innings and maintained a 0.38 ERA. She has faced 458 batters over 28 games allowing only seven earned runs.
Paige Bedsworth, Father Tolton (MISSOURI)
In 90.2 innings of work, Bedsworth holds an ERA of 0.39 through 13 games, facing 331 batters. She has only allowed five earned runs. She's also thrown five no-hitters and a perfect game this fall.
Laurin Krings, Loveland (COLORADO)
Krings is having an incredible season this fall both at the plate and in the circle. She holds a 0.42 ERA in 132 innings pitched. The Mizzou commit has only allowed eight earned runs in 486 batters faced over 23 games.
Jana Lee, Dougherty (GEORGIA)
In addition to her incredible offensive talent, Lee got in done in the circle this fall. She posted a 0.48 ERA in 103 innings of work while facing 409 batters. She only surrendered seven earned runs.
Grace Anderson, Tishomingo (OKLAHOMA)
Grace Anderson is continue to shine in 16 games with an ERA of 0.50. She's worked 56.1 innings and faced 194 batters while only surrendering four earned runs.