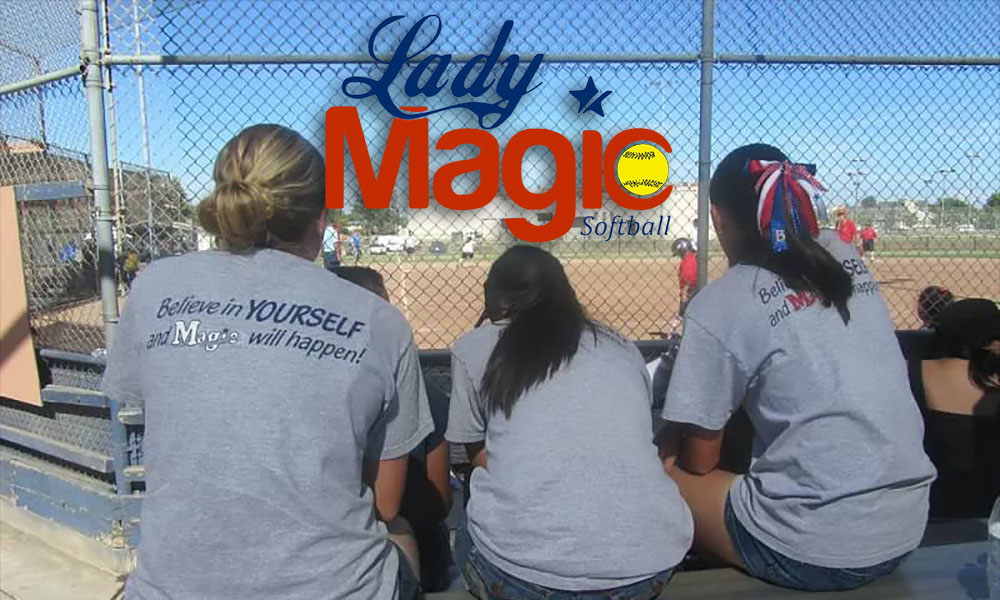 The Lady Magic Organization is based out of Sacramento, California. This Fall the Lady Magic 14U team, coached by Ernie Munoz, posted a 38-3 record which is impressive since the team played up an age group at tournaments.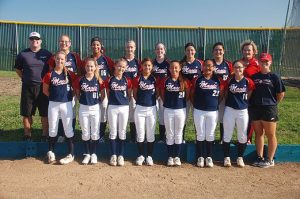 This squad is known for its all-around athleticism and hustle between the white lines. The team is loaded with talented players who should be high-level recruits including pitchers Ela Villanueva (2020, Uncommitted) who threw 75 standout innings with 60 strikeouts and only five walks in the Fall. Ela's Fall ERA was a low 0.84 and reaches 57-58mph with tight spin and great movement to all planes.
Hailey Peterson (2020, Uncommitted), threw 81 innings in the Fall with 81 strikeouts and 19 walks. She ended the fall with a 1.90 ERA. He pitches reach 58-60mph and has a dominating curve and screw, but throws all of her pitches well to all locations and planes. The offense is led by Harleigh Braswell – C (2020, Uncommitted), Harleigh is a true power threat to all fields.She ended the Fall with a .441 batting average with three home runs, eight doubles, and four triples with 28 RBIs. Behind the plate, Harleigh has thrown out 65% of
Behind the plate, Harleigh has thrown out 65% of would-be base stealers with an average pop time of 1.78 and has been clocked as fast as 1.70. Arianna Pires – 3B/1B (2020, Uncommitted), bats cleanup and finished the fall with a .406 batting average, eight doubles and 42 RBIs. Jordan Woolery – SS/3B (2022, Uncommitted), hits third in the lineup, and ended the fall with a .509 batting average, a .756 SLG, 16 doubles, and a team-leading 45 RBIs.
Coach Munoz recently had a conversation with FPN's Brandon Pannell
Brandon Pannell: What one word or phrase do you want people to associate with your name?
Ernie Munoz: "Hard work pays off". I believe that there's something to be said for people who set goals and achieve them. We pride ourselves as a coaching staff on motivating our kids to outwork their opponents in the classroom and on the field.
Brandon Pannell: How has coaching affected your life?
Ernie Munoz: It's been motivating to know that you can help someone achieve their life's goals. To have the opportunity to be a positive role model for our girls is a true honor.
Brandon Pannell: How do you plan on improving as a coach from year to year?
Ernie Munoz: Our mindset as a coaching staff is to never be satisfied with where we are. The goal is to always be better today than we were yesterday. We are always trying to find an edge in every aspect of our game.
Brandon Pannell: Describe the organization of a typical practice.
Ernie Munoz: We try our best as a coaching staff to work offense and defense into every practice, and we try to do as many live situations as we can.
Brandon Pannell: What other factors might influence a player making the team other than skill set and athletic ability?
Ernie Munoz: One of the most important traits we take into consideration is whether or not a player will fit in with our team chemistry. We look for players and families that are able to put the team before themselves.
Brandon Pannell: What type of athlete is most difficult for you to work with? How do you overcome this?
Ernie Munoz: The talented athlete who is content. In all sports, there are players who can step on the field and be considered really good without having to put in a whole lot of work. We try and overcome this by constantly reminding the player and the team that there's always someone out there just as good as you working twice as hard.
Brandon Pannell: Defensive/pitching philosophy? What is it?
Ernie Munoz: Defense wins championships.
Brandon Pannell: How important is planning to a coach?
Ernie Munoz: Extremely important. Everything that you do should have a purpose. The season is like a never ending staircase – we have to figure out as coaches how to get our team to take the next step, and practices should reflect that.
Brandon Pannell: What steps do you do to generate interest in girls getting involved in your softball organization?
Ernie Munoz: We work really hard to ensure that our players get better every day. I think other players and families notice the growth and that's very attractive to a prospective player.