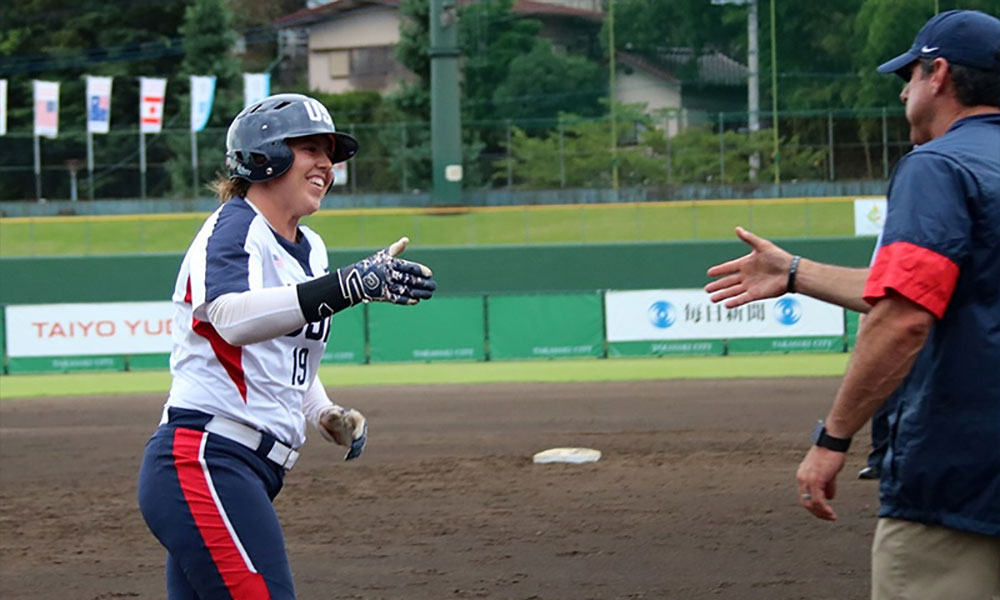 Takasaki City, Japan  — The USA Softball Women's National Team (WNT) shook off the jet lag and came together with a gritty performance as the team pushed across two come-from-behind victories at the Japan Cup.  Trailing by one run after the second inning against Canada, the U.S. utilized back-to-back three run innings to squeak out a 6-4 win before posting a 6-5 (eight innings), extra-inning thriller over Australia after trailing by one run in the bottom of the seventh.
"We didn't play very well today," said Head Coach Ken Eriksen.  "I thought our two lefty pitchers, Danielle O'Toole and Delanie Gourley did a great job today.  We had too many errors, but on a jet lag day from traveling I thought we did a nice job of coming back in both games."
Game One: USA 6, Canada 4
Propelled by back-to-back three run innings, Team USA took a 6-4 win over Canada in their opening game at the 2017 Japan Cup.  Despite having an off day defensively, the U.S. was able to utilize timely hitting and a strong pitching performance by Danielle O'Toole (Upland, Calif.) in the circle to walk away with the win.
Canada got on top early in the second inning after a string of singles plated Joey Lye to put the U.S. down by one run.  The Red, White and Blue would not trail for long as the U.S. offense would spark a three-run outing in the bottom of the frame.  A leadoff walk to Ali Aguilar (Orangevale, Calif.) started the charge and Aguilar would advance to second on a single from Delaney Spaulding (Rancho Cucamonga, Calif.).  A single from Kasey Cooper (Dothan, Ala.) would leave the bases juiced for Team USA, but a pop out would keep the runners at bay.  With one out, a sac fly from Haylie McCleney (Morris, Ala.) tied up the ballgame before a single from Kelsey Stewart (Wichita, Kan.) plated Spaulding and a defensive error by Canada allowed Cooper to also score.  After two innings of play, Team USA took a 3-1 lead.
Canada would retake the lead in the top of the third inning after a two out error by the U.S. defense put a runner on first.  Back-to-back singles loaded the bases before Larissa Franklin tripled to plate three and regain the one run, Canadian lead.  That prompted a pitching change for Team USA as O'Toole entered the circle for starter Ally Carda (Elk Grove, Calif.).  Despite issuing a walk to her first batter faced, O'Toole and the U.S. defense recorded a ground out to Aguilar at second base.
The lead would change for the fourth and final time of the game in the bottom of the third as the U.S. plated another three runs.  Amanda Chidester (Allen Park, Mich.) led off with a solo home run to tie up the ballgame at 4-4.  Valerie Arioto (Pleasanton, Calif.) and Aguilar followed with singles before advancing to third on a sac bunt from Spaulding.  Cooper recorded her second hit of the game with a two-run single to right field, giving the U.S. a 6-4 lead.
O'Toole and Team USA's defense retired Canada in order through the next three innings of play to bring Canada to their final at-bat trailing by two.  Back-to-back ground outs recorded the first two outs of the at-bat before a walk prompted a pitching change for the U.S. as Kelly Barnhill (Marietta, Ga.) entered in relief for O'Toole.  Barnhill recorded a strikeout, earning the save as the U.S. pulled off the 6-4 win.
O'Toole got the win in the circle, going four innings with no hits, two walks and one strikeout.  Barnhill fanned the one batter she faced while Carda finished the day with one earned run and one walk in two and two-third innings pitched.
At the plate, Cooper had a great outing after going 2-for-3 with two RBI and one run scored.  Chidester recorded one run and one RBI with her solo shot while Aguilar scored twice.
Game Two: USA 6, Australia 5 (eight innings)
After falling behind by two runs through the fifth inning, Team USA walked off with a 6-5 (eight innings) win over Australia to remain undefeated at the 2017 Japan Cup.  Team USA struggled again defensively, recording four errors in the field, but an absolute gem of a performance by Delanie Gourley (Lakeside, Calif.) in the circle helped lock up the win for the Eagles.
An error and intentional walk put two Aussie runners on base in the top of the first with one out but back-to-back groundouts would keep the Aussies off the scoreboard.  Despite Michelle Moultrie (Jacksonville, Fla.) getting a two out walk, the U.S. was kept off the board after a groundout ended the first inning.
Australia looked to score in the top of the second inning after a leadoff double and walk put two runners on base, but another round of groundouts kept Australia from doing any damage offensively.  A solo home run by Arioto in the bottom of the frame gave Team USA the early 1-0 edge.
A three run outing by Australia in the top of the third changed the lead and had the U.S. trailing by two runs.  A one out single from Stacey Porter and back-to-back errors by the U.S. defense tied up the game at 1-1.  Australia took the lead after the second double of the game by Samantha Poole, which resulted in a pitching change as Barnhill entered for Moore with one out.  Barnhill hit the first batter she faced to load the bases and a groundout pushed across the third run of the at-bat before a strikeout ended Australia's scoring drive.
Team USA remained relentless and tied up the game in the bottom of the third inning with the help of a two-run shot by Chidester.  A leadoff walk to Aguilar put a runner on before Australia switched pitchers as Kaia Parnaby entered the circle for Justine Smethurst.  Parnaby recorded a strikeout and a fielder's choice kept Team USA's baserunner at first base, but Chidester squared up on a 1-0 pitch to make it a 3-3 game.
The game saw its third lead change in the top of the fourth after a solo home run by Porter and Australia added another run in the top of the fifth to extend their lead to 5-3 which resulted in USA entering Gourley into the circle for Barnhill.  The U.S. would cut that lead to one run in the bottom of the fifth after Aguilar led off with a walk but a fielder's choice got Aguilar out at second as Janie Takeda (Placentia, Calif.) took her place at first.  With one out, Moultrie doubled with a fly ball down the right field line, allowing Takeda to score from first base to put the U.S. within one.
Both sides would be kept off the board through their next outings at the plate as Gourley fanned all but one out through Australia's next two at-bats.  With Team USA down to their final at-bat and trailing by one run in the bottom of the seventh, Cooper led off with a double to the left/center gap after entering as a pinch hitter.  Moultrie then laid down a perfect bunt which she beat out and a throwing error allowed Takeda, who re-entered the game for Cooper, to score to tie it up and force the game into extra innings.
After a sac bunt, a strikeout from Gourley and fly ball to right field kept Australia from plating a run in the top of the eighth, Aubree Munro (Brea, Calif.) was placed on second base for the Red, White and Blue.  Textbook softball on a sac bunt from Jenna Lilley (North Canton, Ohio) advanced Munro to third base, and a wild pitch would allow Munro to score and give the U.S. the walk off win.
Gourley earned the 'W' in the circle for Team USA after a no-hit performance through three and one-third innings to lock up the game.  Gourley fanned seven and allowed just one walk, while Barnhill struck out four, walked one and allowed one hit in her two and one-third innings.  Moore's line for the night included one strikeout, two walks and four hits in two and one-third innings.
At the plate, Arioto was walked three times after her solo home run.  Moultrie had a 2-for-3 outing with one RBI and one run scored while Chidester recorded two RBI after her home run.
Up next for the U.S. is their final game of round robin play against host country Japan tomorrow at 12 p.m. JST (August 25, 10 p.m. CT).  Games will be televised through BS Japan with no online live-streaming, but live stats can be accessed for free through USASoftball.com.
Fans at home can follow along with live stats, recaps and more at USASoftball.com.
About USA Softball

USA Softball is a 501(c)(3) not-for profit organization headquartered in Oklahoma City, Okla., and is designated as the National Governing Body (NGB) of Softball in the United States and a member of the United States Olympic Committee. One of the nation's largest sports organizations, USA Softball sanctions competition in every state through a network of 70 local associations and has grown from a few hundred teams in the early days to over 150,000 teams today, representing a membership of more than 2 million.  USA Softball is dedicated to providing people of all ages the opportunity to play the game they love at a variety of levels by offering recreational, league, tournament and competitive play for fast pitch, slow pitch and modified pitch.  USA Softball annually conducts thousands of tournaments throughout the country including over 100 National Championships.  The USA Softball umpire program is among the nation's largest and are widely known as the best trained umpires in the game.
As the NGB for the sport of softball, USA Softball is responsible for training, equipping and promoting the six USA Softball National Teams that compete in events such as the Olympics, Pan American Games, World Championships and other international and domestic events. For more information on USA Softball, including its founding and history as the Amateur Softball Association of America (ASA), please visit, www.USASoftball.com.