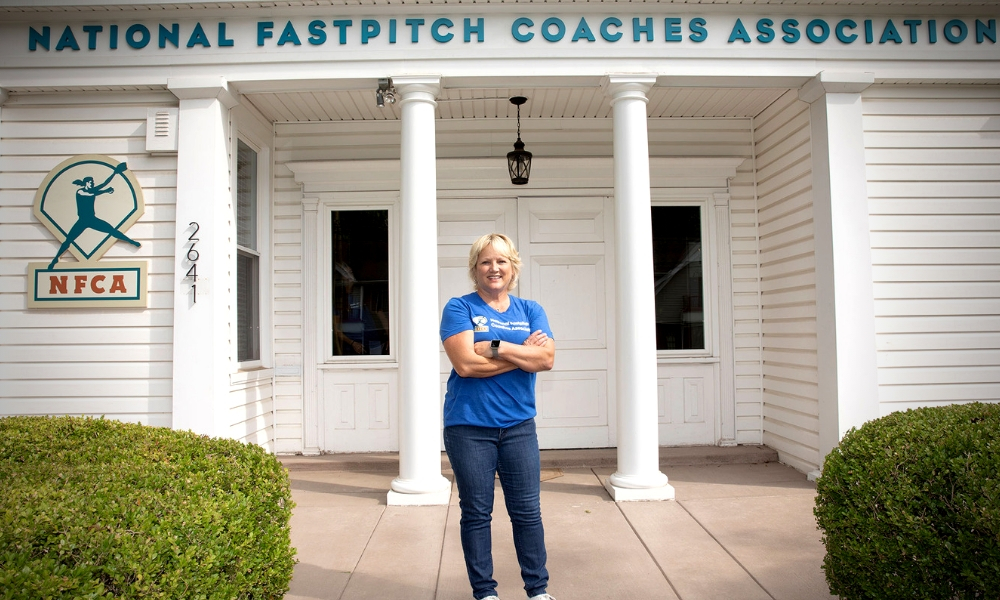 LOUISVILLE, Ky. — Carol Bruggeman has signed a five-year contract to continue as the National Fastpitch Coaches Association (NFCA) Executive Director, the Association's Board of Directors announced today.
Bruggeman, who has served as Executive Director since Feb. 1, 2016, following four months in an interim role, has presided over the two highest-attended National Conventions in the NFCA's 35-year history the past two years and led the Association's significant growth over the last three years.
Membership has grown over 32 percent and sponsorship revenue has increased nearly 68 percent since she took charge in September 2015. In April 2017, she spearheaded the Association's acquisition of the seven National Softball Coaches Clinics founded by NFCA Hall of Famer Mary Nutter and Traci Mayberry that had been a staple of softball instruction for 30 years — to accompany the NFCA's own highly-successful Louisville clinic, which Bruggeman started in 2016. Last December's National Convention at Bally's Las Vegas had a record 1,687 attendees.
"I speak for the entire NFCA Board in saying I am delighted that Carol Bruggeman will continue to serve as our Executive Director," Board President and University of Tennessee co-head coach Karen Weekly said. "Carol's impact on our organization in just three years of service is nothing short of remarkable. Under her leadership, we have experienced tremendous growth and improvement throughout every aspect of the NFCA. Memberships and sponsorships have increased, new services and educational initiatives have been developed, and relationships with our constituents are stronger than ever. The culture within the NFCA office staff is outstanding and a direct reflection of Carol's energy, passion and drive. We are extremely fortunate to have Carol at the helm to lead the NFCA and our sport to even greater heights in the future."
Board Past-President Rhonda Revelle, the head coach at the University of Nebraska, echoed those comments.
"We are absolutely thrilled that Carol has agreed to continue as our Executive Director well into the future," Revelle said. "Carol is a dynamic leader, a genuine person, and a superb relationship builder. She is also an innovative, energetic and forward-thinking CEO. The NFCA, under Carol's leadership, has completely elevated and grown the NFCA brand and its reach and impact in the softball community. As a servant leader, Carol and her excellent team of co-workers at the NFCA home office have made it their mission to serve any and all persons that have a passion for our great game of fastpitch softball. This is a great day for all of us in the NFCA family as we hear of the announcement of her contract extension. … Day won!"
Some other initiatives introduced during Bruggeman's tenure are a legal services benefit for members, a weekly educational podcast, a weekly tip/drill video, a year-round coach mentoring program, an online softball scoring seminar, a job posting service, an expanded coach and student-athlete awards program, plus a pilot member program that alone has added 1,875 new members. The NFCA also campaigned on behalf of its coaches to eliminate early recruiting practices in Division I college softball, which the NCAA adopted this past spring, and the Association did the first major revamp of its bylaws since they were initially adopted in 1983.
Bruggeman also took steps to protect the Association's brand, by trademarking the NFCA name and logo, as well as the NFCC abbreviation for its series of National Fastpitch Coaches College classes.
Significant improvements have also been made to the NFCA's Louisville headquarters the past three years, ranging from upgraded technology to new carpeting, furniture and windows, to new graphics throughout the building. Bruggeman has grown the Association staff to nine full-time team members, plus two part-timers and two interns.
"I would like to thank NFCA President Karen Weekly, NFCA Past-President Rhonda Revelle and the NFCA Board of Directors for the opportunity to lead what is undoubtedly the best coaches association in the nation," Bruggeman said. "I will always be a coach at heart, so the opportunity to work for coaches and ultimately the sport of softball feels like hitting a walk-off grand slam every day. The softball community is full of passionate people, and I feel blessed to be surrounded by their energy and enthusiasm."
"Special thanks to our coaches, sponsors, and talented NFCA team. Together we have accomplished a great deal in the last three years, and we look forward to continued growth and service to the softball community. It truly is an exciting time to be involved in the sport of softball."
Bruggeman is certainly no stranger to the Association, having been an active member for 25 years while unselfishly serving the NFCA in numerous capacities. She had a four-year term as Board President and stints as both the Past-President and Fourth Vice President, in addition to time spent as Division I Representative.
She joined the NFCA full-time as Associate Executive Director in September 2014, after a long career as an NCAA Division I coach at Michigan, Purdue and Louisville, and is a well-respected national speaker, clinician, educator, television analyst and author. Bruggeman continues to speak and teach and remains a fixture on the ESPN and Big Ten (BTN) television networks during the college softball season.
During her coaching career, Bruggeman has been a part of over 700 victories, and has had a hand in many conference titles and coached numerous NFCA All-Americans. In July 2011, she traveled to Australia as head coach of the college team that won a gold medal with USA-Athletes International and traveled to the Czech Republic in 2009 in the same role.
As an infielder at the University of Iowa, Bruggeman was an All-Big Ten and All-Mideast Region selection, as well as an Academic All-American and a three-time Academic All-Big Ten honoree, who received Iowa's Athletic Academic Medal of Honor. In 1997, she was inducted into the Iowa Softball Association Hall of Fame.
A native of Charter Oak, Iowa, she received her bachelor's degree in accounting and business from Iowa in 1987 and continued her education at Iowa, earning a master's in athletic administration and coaching in 1990.
What they are saying about Carol Bruggeman …
"Brugg has been an exceptional leader from the minute she walked in the door. She has a great vision and knows how to implement and execute her vision for the NFCA to serve all coaches. She's a great servant and ambassador of our game, and we're lucky to have her as long as we can have her." — Carol Hutchins, head coach, the University of Michigan (all-time NCAA softball wins leader in any division)
"Carol has taken a top-notch coaches association and raised its level of service to another level. She has hired and retained valuable staff members who are excellent at their jobs. I'm excited to see how much more the NFCA grows under Carol's leadership." — Patrick Murphy, head coach, University of Alabama
"I have had the honor of knowing Coach B since her days at Purdue. Her passion, commitment and dedication to the game of softball is an inspiration. She is an incredible speaker, role model and a true professional. I am a better coach because of her!" — Ed Marcum, head coach, New Palestine High School
"Carol has a unique ability to make everyone feel welcomed, regardless of status, level or ability. Her vision is incredible, as she continues to grow the NFCA and the sport of softball in a positive direction. All the members of the NFCA and women of softball are so lucky to have you as our leader for five more years!" — Darin Monroe, head coach, five-time reigning NJCAA Division III titlist Rock Valley College
"Carol has been and will continue to be great for the NFCA and the sport of softball. Carol cares deeply about the game and the organization, and has done a great job of demonstrating the importance of all levels of our organization, whether it is Division I or high school. Very happy for her and our organization." — George Wares, head coach, Central College (NCAA Division III wins leader)
"Carol is the quintessential leader — passionate, inspiring, empathetic, humble, strong and courageous. Her vision for the NFCA balances the tradition of the past, the unique sharing culture of the softball community and exciting growth opportunities for the future. I am thrilled that her tenure as Executive Director will continue, which means great things for all of those involved with the NFCA!" — Samantha Ekstrand, NFCA legal counsel
" Carol has worked hard to give the travel ball community an authentic and inclusive voice in the NFCA body. She has always treated me just like she would a member of the Board. I am so happy she has agreed to continuing to lead our Association." — Patrick Moyer, Fury Fastpitch Executive Director
"Carol is an outstanding leader and a true asset to this organization. She is passionate, knowledgeable, professional, and sets out every day to advance the NFCA and serve its members. The NFCA staff and myself are extremely fortunate to serve with and learn from her." — Jamie Hazel, NFCA Director of Finance
"This is an exciting day for the fastpitch community. Under Carol Bruggeman's leadership, the vision and execution of the NFCA mission has been nothing short of spectacular. New Balance is a proud sponsor of the NFCA and we are looking forward to working with Carol and her team for the foreseeable future, knowing she will continue to challenge us and make things better for the entire fastpitch community." — Dave O'Connor, Fastpitch Sales Manager, New Balance
—30—
Established in 1983, the NFCA is the professional growth organization for fastpitch softball coaches from all competitive levels of play. Although collegiate coaches comprised the majority of the organization's membership in the early days, today they are joined by high school, travel ball, professional and international coaches, along with umpires, clubs, businesses and fans of fastpitch softball. The NFCA boasts members from all 50 states and nine international countries. Education is one of the NFCA's highest priorities. It hosts an annual National Convention in December, conducts eight coaches clinics and provides in-person and online educational classes for its members. The Association also runs collegiate tournaments and hosts skills and academic camps throughout the nation. There are many services offered to the membership. Highlighted by the All-America teams, the awards program is about recognizing student-athletes for their athletic and academic prowess and coaches for their contributions both on and off the field. Additionally, the NFCA works with USA Today in producing polls for NCAA Division I and high school softball as well as compiling NCAA Division II and Division III national polls.