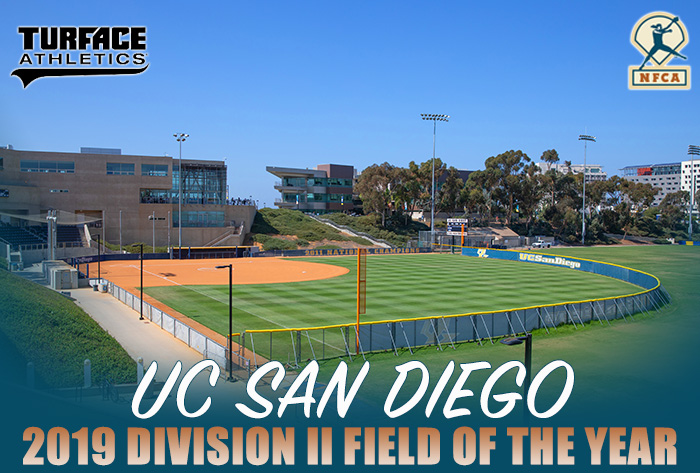 Louisville, Ky. — The NFCA is pleased to announce the winners of the 2019 Turface Athletics / NFCA Field of the Year award. Garnering recognition are Jane Sanders Stadium (University of Oregon), Triton Softball Field (University of California San Diego), Hoff Field/Luther College Softball Stadium, Grizzly Softball Complex (Georgia Gwinnett), Lady Viking Field (Grayson County College), Dean and Adah Gay Sports Complex (Bakersfield College) and The Rock Softball Complex (Strong Rock Christian School).
This award, made possible by NFCA Official Sponsor Turface Athletics, recognizes the top fields/stadiums in the nation for their flawless grounds maintenance and exceptional playing surfaces. The winners are selected by the NFCA Awards Committee.
NCAA Division I: Jane Sanders Stadium (Oregon)
Jane Sanders Stadium is a state-of-the-art facility with a stadium structure that allows for fans to be on top of the action. Home to the Oregon Ducks, the Jane holds a capacity crowd of 2,500 with 1,500 reserved chair back seats around the main bowl and another 1,000 permanent outfield bleacher seats (installed in 2018) in the centerfield, dubbed "The Bob." Head groundskeeper Justin Arp keeps the Sunmark Seed and Soil, DR pro 5.5 with a mixture of Pro Choice Premium play infield in pristine condition.
NCAA Division II: Triton Softball Field (UC San Diego)
Triton softball field, located in La Jolla, Calif., was built in 2011 and features a stadium-seating capacity of 750, lights, newly renovated press box, netted backstop and a lighted batting cage with a turf floor. The newly renovated stadium-style seating, along with the netted backstop allows for perfect views of the field. Renovated sunken dugouts with helmet cubbies and a bat rack were recently added.Armando Orozco, Scott Maitoza, Erick Arriaga, Jesus Hernandez and Bob Moore keep the dirt and Turface infield and natural grass outfield pristine. Located above the stadium, a restaurant and coffee lounge allow fans to hangout, while watching the game.
NCAA Division III: Hoff Field / Luther College Softball Stadium
Dedicated and named in 2016 after legendary NFCA Hall of Famer Betty A. Hoff, Hoff Field / Luther College Softball Stadium received upgrades that same year with new netting, elevated press box and stadium seating. The seating was purchased out of the former Metrodome in Minneapolis and later refurbished prior to installing. The infield was resurfaced this summer with Ball Field Aggregate dolomitic limestone. The dugouts, constructed in 2008, feature curved beams in a Norwegian-inspired design and individual "lockers" in the home dugout and a new windscreen was installed in 2017. A labor of love for assistant coaches Teri Olson and Miranda McCay, the duo does all the weeding, edging, clay repair and game-day preparation.
NAIA: Grizzly Softball Complex (Georgia Gwinnett)
The Grizzly Softball Complex opened in the spring of 2013. The facility accommodates up to 600 fans and features a natural-grass field, consisting of Bermuda (summer/fall) and rye (winter/spring), full dugouts, complete with restrooms and a climate-controlled press box. Over the last three years, there have been gradual improvements made to enhance the facility structurally and aesthetically with new backstop padding, an artificial turf halo behind home plate, all netting and fence pad replaced, and the entire park enclosed with windscreen. In 2019 a player shelf was installed in the dugouts.
Behind the hard work of its crew – John Ihlenburg, Kyle Norton and Doug Court – the Grizzly Softball Complex is one of the top fields in the NAIA as its playing surface rivals many surfaces across the sport. The clay is laser graded each winter to ensure the crown of the field remains in order to maximize drainage. Additionally, a four-camera layout for video streaming will be installed for 2020.
NJCAA: Lady Viking Field, Grayson County College (NJCAA DI)
Home of Grayson County College, Lady Viking Field was constructed in 1999. The playing surface is comprised of clay, sand and conditioner mix and the outfield grass of Bermuda overseeded with rye. In 2016, artificial turf was installed in foul territory from dugout to dugout. Large brick dugouts house the home and away sides of the field, while a newly installed grandstand behind home plate, along with a press box with first-story storage for field equipment came to life in 2017. The coaching staff of Mike McVrayer, Jason Miller and Ashley Mills take it upon themselves to provide the players with the best possible field experience.
Cal JC: Dean and Adah Gay Sports Complex (Bakersfield College)
Built in 2010, the Dean and Adah Gay Sports Complex recently received an upgrade in 2018 with the addition of 78 tons of Pro Gold Infield Mix. This was a gamechanger for Bakersfield as it improved the look and the play of the field. It didn't stop there. In 2019, new back stop padding was added prior to the season with new back stop netting and graphics completed this summer, which has enhanced the stadium's look. The home of the Renegades is maintained by Albert Castillo and Megan Rowe and has hosted seven CCCAA state tournament since 2012, the Kern County All-Star game and the Lead Off tournament that included two-time state champion Mt. San Antonio, along with San Mateo and Santiago Canyon.
High School: The Rock Softball Complex (Strong Rock Christian School)
Constructed in 2005, The Rock Softball Complex sits by a lake and features all brick dugouts with multiple air conditioned locker rooms, an upstairs clubhouse with outside seating overlooking the field, a coach's office with a view of the field and an all brick fully functioning press box with with an advanced speaker system built in. It hosts the Georgia Junior College Championships each year, along with several other junior college and elite exposure tournaments. It includes a fully furnished indoor facility, five batting cages and an automatic sprinkler system. Tommy Spinks and is field crew maintain a clay/sand mix infield and Bermuda sod outfield.