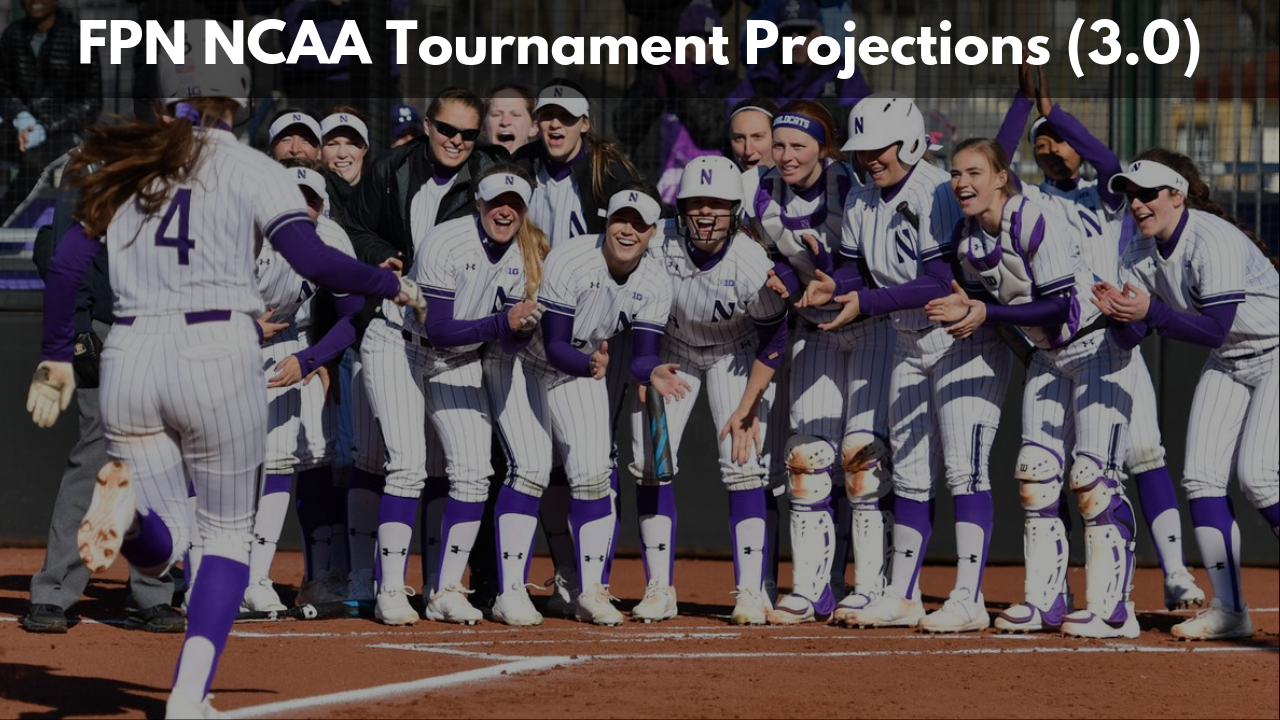 ACC (5)– Florida State (1) , Virginia Tech (27) , Notre Dame (29), Louisville (33), North Carolina (38)
American (2): Tulsa (23), USF (24),
Big East (1) – DePaul
Big 12 (4): Oklahoma (4) , Texas (5) , Oklahoma State (17) , Texas Tech (18),
Big Ten (7): Minnesota (9) , Michigan (15), Northwestern (12), Ohio State (44),Illinois (43), Indiana (40), Wisconsin (39),
Pac-12 (5): UCLA (3) ,Washington (2) , Arizona (7), Stanford (26), Arizona State (32),
SEC (13): LSU(6), Florida (8), Tennessee (10), Alabama (11), Ole Miss (14), Auburn (16) , Kentucky (20), Arkansas (25) , Mississippi State (30), South Carolina (21), Missouri (36), Georgia (35), Texas A&M (41)
A-10 (1): UMass
America East (1): UMass Lowell
A-Sun (1): Liberty (48)
Big Sky (1): Weber State
Big South (1): Longwood
Big West (1): Cal State Fullerton
CAA (1): James Madison (13)
C-USA (1) : Louisiana Tech
Horizon (1): Illinois-Chicago
Ivy (1): Harvard
MAAC (1): Monmouth
MAC (1): Miami (Ohio)
MEAC (1): FAMU
MVC (1): Drake (24)
MWC (3): Colorado State (31), UNLV (37), Boise State (28)
NEC (1): LIU-Brooklyn
OVC (1): Eastern Kentucky
Patriot( 1): Bucknell
Southern (1): Samford
Southland (1): Stephen F Austin
Summit (1): North Dakota State (45)
Sun Belt (1): Louisiana Lafayette (20)
SWAC (1): Prairie View A&M
WAC (1): Grand Canyon
WCC (1): Loyola Marymount
Last 4 In- Texas A&M (41), Indiana (40), Ohio State (44), Illinois (43),
First 4 Out- Houston (42), UCF(47) Oregon State (46), San Jose State (50)
Hosts
1- UCLA 2- Boise State 3- Cal State Fullerton 4- Loyola Marymount
2- Oklahoma 2- Arizona State 3- Texas A&M 4- UMass Lowell
3- LSU 2- Texas Tech 3- Louisiana Tech 4- Prairie View
4- Florida State 2- USF 3- Mississippi State 4- LIU Brooklyn
5- Alabama 2- Notre Dame 3- Longwood 4- Samford
6- Arizona 2- Georgia 3- UNLV 4- Grand Canyon
7- Washington 2- Colorado State 3- Wisconsin 4- Monmouth
8- Tennessee 2- Virginia Tech 3- Liberty 4- Eastern Kentucky
9- Florida 2- Stanford 3- Illinois 4- FAMU
10- Minnesota 2- Drake 3- North Dakota State 4- Bucknell
11- Texas 2- Arkansas Ohio State 4- Stephen F Austin
12- Northwestern 2- Drake 3 Missouri 4- DePaul
13- Ole Miss 2- Louisiana 3- Indiana – 4- Illinois-Chicago
14- Michigan 2- Kentucky 3- Louisville 4- Miami Ohio
15- James Madison 2- South Carolina 3- North Carolina 4- UMass
16- Oklahoma State 2- Auburn 3- Tulsa 4- Harvard
In Mix to Host- Auburn, Louisiana, Texas Tech, Kentucky
Here are some of the key series this weekend with postseason implications
San Jose State at UNLV
With Colorado State in control of the Mountain West, teams like San Jose State and UNLV will be fighting to improve their resumes in hopes of securing an at-large bid. Loser of this series could be on outside looking in of the bubble.
Michigan at Illinois
For Michigan its a tough road series as Wolverines are one back of Northwestern for Big Ten title race. It is also significant series for Wolverines if they want to have a chance to host regional. For Illinois, they begin a rough stretch with Michigan, Northwestern and Minnesota on the schedule that will make or break their chances of making Tournament.
Alabama at Florida
Huge implications in SEC title race as both programs have dominated the regular season title over the last decade. The loser of this series is more than likely out of SEC Regular season title race while winner stays in it and enhances their chances of being a top eight national seed.
Oklahoma at Texas
Huge demand for tickets for this rivalry as Mike White and Longhorns host the Sooners. Big 12 title race implications plus a big statement maker for Texas if they can win this series could help them secure a top 8 national seed. A Sooners series win could lock them up as a top 3 national seed.
California at Oregon
Two programs who are accustom to making NCAA Tournament face a must win series. For California they have RPI of 65 this week. They need to win series down the stretch otherwise the Bears streak of making 26 straight NCAA Tournaments will come to an end.
Oregon comes in with 17-21 overall record but has RPI of 34. If the Ducks can finish the season with .500 overall record, they would be eligible for NCAA Tournament and more than likely would sneak in if RPI stays in 30s. For that to happen, the Ducks must win series like this weekend at home.