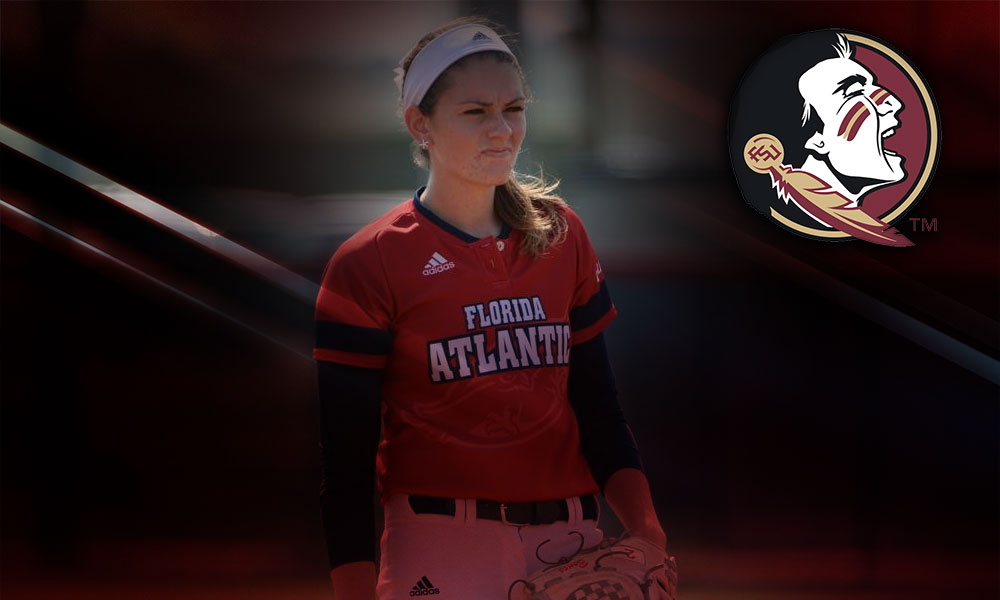 One of the questions going into 2018 for Lonni Alameda and the Florida State Seminoles is how they will replace ace Jessica Burroughs from the pitching staff. We may have found the answer out this week. As first reported by the Florida Sun-Sentinel, All-American softball pitcher Kylee Hanson is transferring from Florida Atlantic to Florida State. Hanson, who graduated from FAU this spring, will be eligible immediately for the Seminoles.
Hanson missed most of 2017 appearing in six games throwing 38 innings striking out 58 batters before suffering an ankle injury that would end her 2017 season abruptly and as it turns out her Owls career.
Hanson's departure is a huge loss for the Owls who without Hanson for most of the season (35-21, 15-9 CUSA), missed the NCAA Tournament for the first time since 2014. Hanson threw 548 innings in her FAU career, posting a 1.21 ERA and .177 batting average against and led the Owls to back to back NCAA Tournament appearances in 2015 and in 2016. Hanson in 2016 led the country in both ERA (0.76) and shutouts (15) as she earned second-team All-America honors leading the Owls to CUSA Championship. Hanson was named CUSA Pitcher of the Year and Female Athlete of the Year.
The Noles are hoping with Hanson healthy in 2018 she can return to form and be part of a one-two punch in the Noles rotation with Meghan King. Much like the Noles have had with King and Burroughs and Waldrop and Burroughs in recent years. Hanson also brings experience in the circle that the Noles did not have behind King going into 2018 season.
Hanson's departure leaves big question marks for Head Coach Joan Joyce on her pitching staff going into 2018 as the Owls will be very young as Amanda Wilson who led Owls in wins and games started in 2017, following the Hanson injury, was a senior and has graduated. Owls will return Tatum Buckley who went 10-8 in 2017 with 2.43 ERA and Mia Olson who only made 11 appearances with five starts.
The Big winner in this development other than the Noles may be the Owls rival, FIU, who should go into 2018 as the heavy favorite to win CUSA following a season where the Panthers went 46-15 and making the NCAA Tournament for the first time since 2010. With Hanson's departure and defending regular season champion Marshall going into transition with graduations of CUSA 2017 pitcher of the year Jordan Dixon, Player of the Year Morgan Zerkle as well as Head Coach Shonda Stanton leaving for the Head Coaching job at Indiana. The Panthers return ace pitcher Shannon Saile who more than likely will be the preseason favorite for the pitcher of the year following a freshman season where Saile was first team all-conference and won Freshman of the Year.