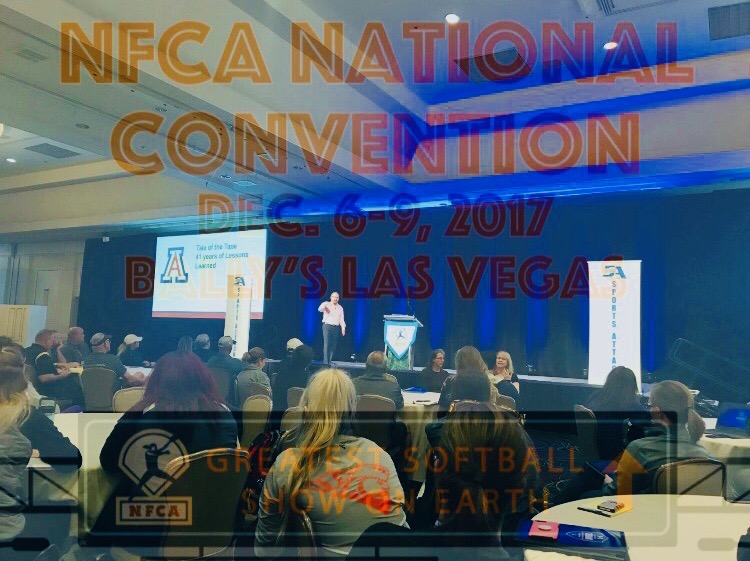 The 2017 NFCA Convention in Las Vegas is the place to be if you are part of the softball community. A record breaking 1,680 College, high school, club ball, travel ball, coaches and other softball affiliates traveled from all across the country to come together for the week.
The official kick-off occurred Wednesday night in the Grand Ballroom at Bally's hotel. The key note speaker of the opening night was ESPN Analysist and softball legend, Jessica Mendoza. The message and takeaway from Mendoza was that coaches leave a permanent mark on their players. Mendoza gave praise to all of her coaches she played under while unveiling her inspirational story and journey of how she got to where she is today.
Day two of convention kicked off with the college caucuses, where each college division gathered in respected halls to discuss proposals which could be implemented in seasons to come. The hot topic in the Division I caucus was early recruiting and putting a stop to it by implementing similar recruiting standards as college Lacrosse. In the sport of lacrosse, college coaches aren't allowed to begin recruiting players until September 1st of their junior year. This would put an end to college softball coaches recruiting younger players each year.
The exhibit hall opened its doors on the second day of convention. This year there are 135 booths set up. For any softball coach or player in attendance, the hall looked like Christmas. When you walked through the rows of booths you can find and see everything softball imaginable. There were also plenty of freebies for attendees to take home with them too.
Mike Candrea led the afternoon seminar where he titled his presentation, "Tale of the Tape; 41 Years of Lessons Learned." He told his story and how he was once a coach attending his first convention; that had only 300 people in attendance. He explained how it's easy to get swallowed up in the game and that it's important to find a balance. He shared how he has learned from his 300+ losses and mistakes he made along the way. He encouraged the audience to take advantage of each and every day and to reflect back on their own tape measure.
The seminar following Candrea was, "How to Transform Good Pitchers into Championship Caliber Pitchers," led by Oklahoma pitching coach Missy Lombardi and Florida pitching coach Jennifer Rocha. Both coaches provided listeners with pitching drills, physical and mental, that they put their Championship college pitchers through. Lombardi talked about the difference between having a Blocked vs. Variable practice to help pitchers prepare over the off-season months and how they adjust practices leading up to the season. Rocha shared her insight on the importance of a 70% strike to ball ratio and pitchers having the ability to spot pitches.
Day two wrapped up with some network gatherings and a mentor seminar. Friday will include high school and travel ball caucuses, and seminars that focus on hitting, catching, more pitching, strength and conditioning, and many more. If you weren't able to make it to this year's Las Vegas convention, mark your calendar for December 5-8th 2018 in Chicago.