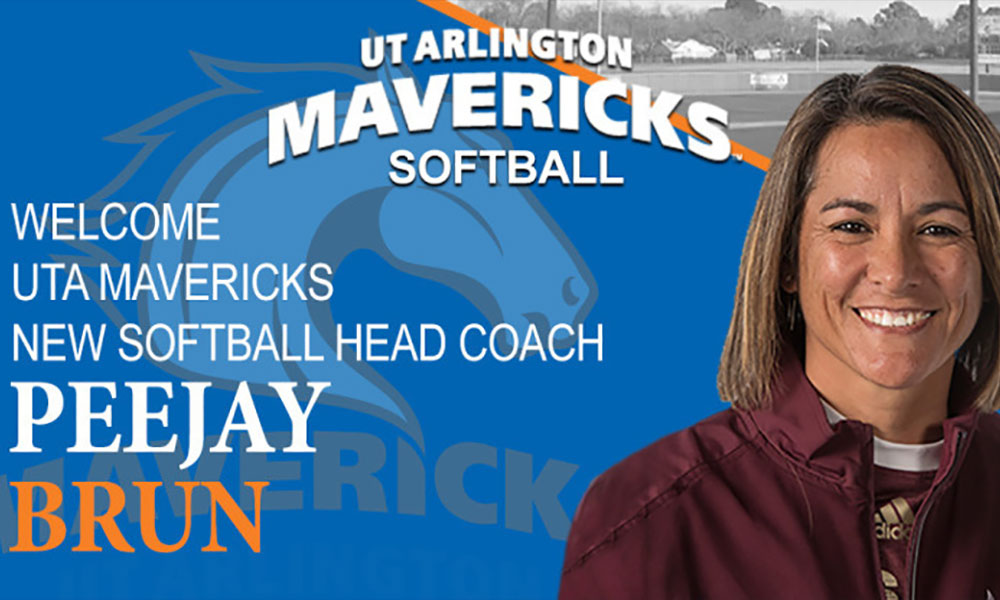 The University of Texas Arlington announced on Tuesday the hiring of Peejay Brun as the New Head Coach of the Mavericks program. Brun replaces Kristie Fox who left to be the new Head Coach at UNLV.
Brun brings 19 years of collegiate coaching experience to the Mavericks program, including six as a head coach. For nine of the last 11 seasons including last season, Brun has served as an assistant coach at Texas State University.
Before returning to Texas State in the fall of 2016, Brun was the head coach at the University of Hawai'i at Hilo for two years from 2015-2016. She led UH Hilo to a 63-33-1 overall record, a 41-19-1 record in the PacWest Conference.
Brun had a playing career at the University of Hawaii where she graduated in 1994.  She earned second-team all-Big West honors. Brun played professionally for two years in the Ladies Professional Baseball League before serving two years as a softball and volleyball coach at Encinal High School in Alameda, Calif.
In 2002, Brun was named head coach at Siena College and led the Saints to some program records and their first conference tournament appearance. She developed two all-region, nine all-conference, 14 all-academic and six NFCA All-America Scholar-Athletes.
"I'd like to sincerely thank President Vistasp Karbhari, Director of Athletics Jim Baker and the UTA athletic department for this amazing opportunity," said Brun in UT Arlington press release. "I am honored to join a department led with strong vision, commitment, and enthusiasm. My experience as a student athlete was one that I absolutely loved, from the competition to the camaraderie. I am eager to be a part of creating that experience for the young ladies in our program. It's a very exciting time to be a Maverick, and I am thrilled to be a part of the team."
Brun helped build Texas State into an NCAA Tournament program and contender in the Southland Conference from 2007-2014 helping develop more than 40 all-Southland Conference performers, 11 SLC players of the year and nine NFCA all-region selections.
In her return to Texas State in 2017, She helped them get into the NCAA Tournament and got to the Sun Belt Conference tournament final. Brun got a chance to work with Cat Osterman in 2017 who has been an assistant coach at Texas State since fall of 2014.
"In my short time working with Coach Brun, I've been able to see how optimistic she is every single day," said Cat Osterman in the press release. "She is driven to help others meet or exceed their potential and will leave no stone unturned. She has an incredible worth ethic, and I'm excited to see what she does at UTA."
Brun takes over a Mavericks team that went 32-28 and 14-13 in the conference while making their first postseason appearance since 2003. The competed in the National Invitational Softball Championship.