Core Training
USA Athletics Strengthens Athletes through AthPro360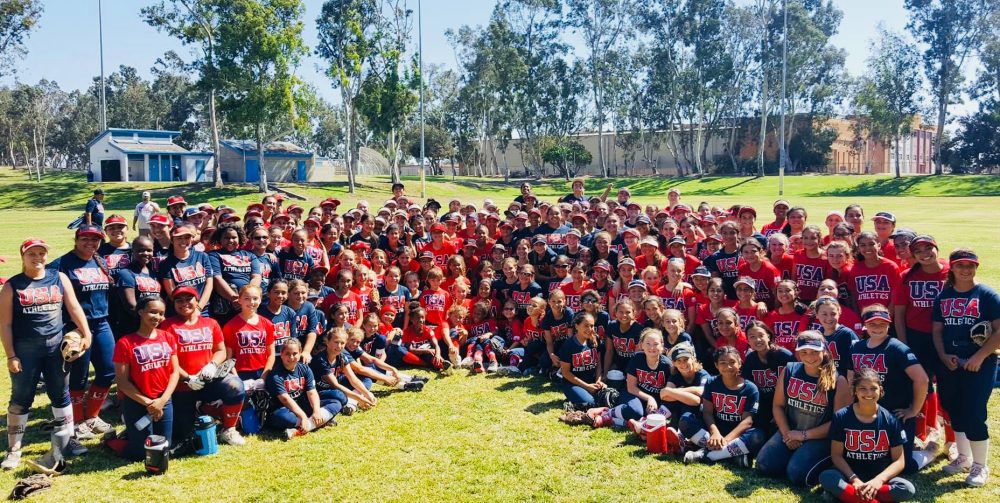 Mike and Rose Rogers are the husband and wife duo behind the USA Athletics program. Both are highly experienced and decorated coaches with decades of experience under their belts.

They've grown the USA Athletics program into a household name in the club ball world and currently carry 18 teams. The Rogers also own and operate the largest indoor training facility in California at 24,000 square feet.
Mike and Rose Rogers were handed the reigns to USA Athletics following the departure of Steve McNee; and on the core values of family, school, and softball, have built a very success program.

"We had second year 14s and we wanted to go to 16s but [our organization] wouldn't let us move up," said Rose Rogers. "So Mike and I, we really didn't know any better, and we just started calling some of our friends. We had a really competitive team and the girls wanted to stay together. Our goal back then was to help them make their high school team. We didn't really know anything about college recruiting and everything we know today."

After interviewing, Rogers' team was welcomed into the USA Athletics program as the only 16U team.

"I was all into the red, white, and blue!"

They had a very successful first season. It was at that time McNee decided to step away from the running the program and he tabbed Mike and Rose to be his successors.

"We go to a meeting with him. We come with our gigantic ASA trophy, we're all excited! And he [McNee] has all the USA gear packed up and he signs it over to us and we just sat there."

The Rogers have not looked back since! To date, they have placed 130 student-athletes in colleges across the country.

"What Mike and I, as we started to send kids to college, what we recognized is how important the physical workout and physical building are and the speed and agility metrics. We're very metrics oriented."

The Rogers began running testing and data collection on their own with the focus to provide their student-athletes specific goals to better their training and game.

"Even when we would have our annual tryouts we would apply our own metrics that we did at the tryout knowing that if they were in a certain place they were going to grow the team."

The Rogers met Bob Surane, owner of AthPro360, through travel ball and that is where this relationship all began.

"Since we started using AthPro for the organization and outside of the organization, that is how I really pick my team last year, " said Mike Rogers. "The numbers do not lie."

USA Athletics incorporates many of the testing drills into every practice and are constantly working on bettering player results.

"If you increase your numbers, you're going to increase your quality of play on the field. I'm a big believer. I know all the kids in the organization, not just my team but all the kids coming up."

Rose cited another crucial benefit of utilizing AthPro on the recruiting trail with college coaches. "We have 100% credibility because we provide them with the scores and they don't lie. AthPro is completely independent and non-biased, they are what they are."

The Rogers have found everyone around the USA Athletics program has really started to by into the AthPro360 platform, testing, and metrics it produces. Mike Rogers has even noticed the various coaches within the program have become extremely invested in the process and competitive with their respective rankings.

"Everyone wants to be in that top 10%."

When given the outcomes and results through multiple testing events, USA Athletics wasn't seeing enough improvement and the Rogers made the tough decision to change the program's strength and condition program. USA Athletics tests with AthPro360 every three months and the results were not showing the improvement that was expected. This data helped the Rogers identify a key area of improve and they are excited for their next testing event to see the outcome of the results.

"I'm thankful for Bob," said Mike Rogers. "It's just such a great tool, and him bringing this AthPro program is going to be huge for softball moving forward."

"AthPro creates great checks and balance," added Rose Rogers. "As coaches, it's not like we try to over exaggerate but it's always about the team your playing. When you talk about 'oh so and so can hit home runs' with AthPro it makes it valid as to where that athlete is. We've seen college softball in just the last ten years grow in popularity and then accountability and I think the coaches really need to know what the product is that they're getting besides the mental and ethical portion of the athlete."

The Rogers and the USA Athletics program operates under a focus and belief that "the journey is the reward". They work hard to instill and promote that value. AthPro360 has become an indispensable tool for USA Athletics to strengthen and better their student-athletes journeys.