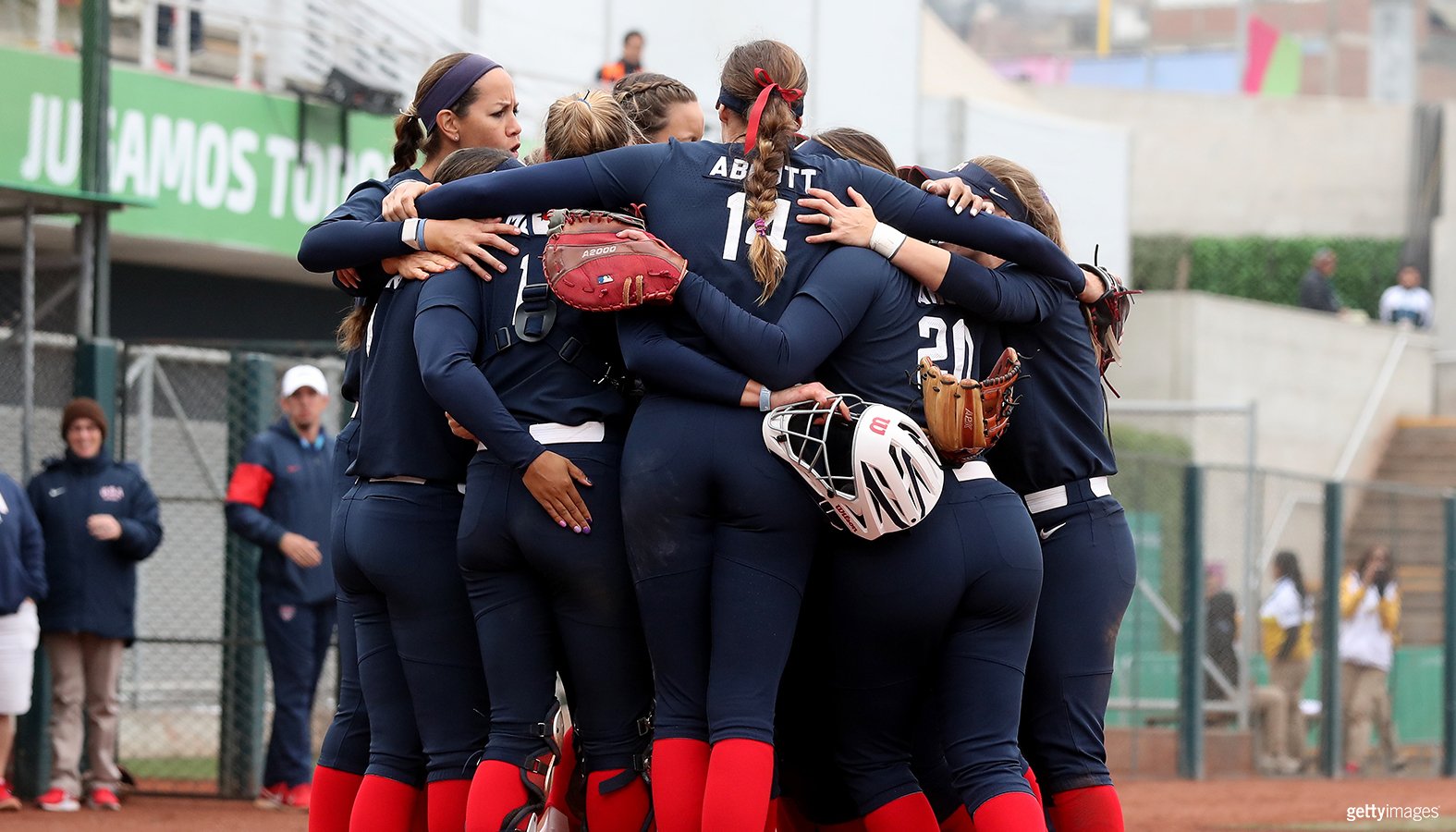 OKLAHOMA CITY –– The USA Softball Women's National Team (WNT) has been selected as a finalist for the Best Women's Team for the inaugural Panam Sports Award. Following a Gold Medal performance at the 2019 Lima Pan American Games, the U.S. captured the program's ninth Pan American Games title while going 7-1 and outscoring opponents 45-6.

Fans can vote for their choice at www.panamsports.org/vote now through Nov. 30

In a season in which the Red, White and Blue stood atop the podium in every major international competition, the U.S. picked up four shutout victories en route to the Gold Medal in Lima. The WNT opened the Pan American Games with a dominating 9-0 (six innings) shutout over No. 5 Mexico in which Monica Abbott (Salinas, Calif.) fanned 13 batters and Ali Aguilar (Orangevale, Calif.) went a perfect 3-for-3, including a three-run home run. Team USA followed with another shutout performance, this time a 6-0 win over No. 4 Puerto Rico. Cat Osterman (Houston, Texas) and Rachel Garcia (Palmdale, Calif.) teamed up for the win in the circle while Haylie McCleney (Morris, Ala.) went 3-for-3.

A 6-1 win over No. 3 Canada put Team USA at 3-0 after Abbott had another stellar performance in the circle. Issuing 12 strikeouts, Abbott allowed just four baserunners while home runs by McCleney and Delaney Spaulding (Rancho Cucamonga, Calif.) highlighted the powerful offense.

The WNT picked up their third shutout victory of the 2019 Lima Pan American Games in a 9-0 (six innings) win over No. 16 Venezuela. Despite being held to just one hit through the first four innings of play, a five-run fifth inning, fueled by a Spaulding grand slam, and a four-run sixth inning, highlighted by a three-run, walk-off home run by Aguilar locked up the win. The U.S. closed out preliminary action with a 7-0 (six innings) win over No. 20 Peru after Keilani Ricketts (San Jose, Calif.) struck out nine batters.

Suffering their sole loss of the 2019 Lima Pan American Games in a 3-2 upset against Canada, Team USA needed to pick up two wins in the final day of play to capture the Gold. The team did just that, defeating Puerto Rico 3-1 to set up a rematch with Canada where the team soared to a 3-1 win for the Pan American Games Gold. Abbott went the distance in the circle for Team USA, earning both wins with two complete-games under her belt while Aubree Munro (Brea, Calif.) and Michelle Moultrie (Jacksonville, Fla.) lifted the offense in both wins.

The U.S reached triple-digits in the win column, improving its overall Pan American Games record to 100-5 since it debuted in 1979 and avenged a Silver Medal finish at the hands of Canada at the 2015 Toronto Pan American Games. In total, the U.S. has Gold Medals in 1979, 1987, 1991, 1995, 1999, 2003, 2007, 2011 and 2019. As a team, the squad hit .311 throughout the week, outscoring opponents 45-6. The pitching staff combined for a 0.81 ERA, striking out 87 batters and capturing four shutout wins.

Abbott led the tournament with a 4-0 record and 48 strikeouts in 28 innings of work. McCleney had a monstrous week at the plate, leading all batters with a .609 (14-for-23) batting average, a 1.043 slugging percentage and nine runs scored. McCleney also finished atop the home run leaderboard, tied with Spaulding with three each while Spaulding's 11 RBI led the tournament.

In addition to the USA Softball WNT, Argentina's Field Hockey, Canada's Artistic Swimming, and Brazil's Handball squads are also candidates for Best Women's Team.

About USA Softball
USA Softball (USAS) is a 501(c)(3) not-for profit organization headquartered in Oklahoma City, Okla., and is designated as the National Governing Body (NGB) of Softball in the United States and a member of the United States Olympic & Paralympic Committee. One of the nation's largest sports organizations, USAS sanctions competition through a network of Local Associations, which includes all 50 states and select metro associations. USAS is dedicated to providing people of all ages the opportunity to play the game they love at a variety of levels by offering recreational, league, tournament and competitive play for fast pitch, slow pitch and modified pitch. USAS annually conducts thousands of tournaments throughout the country including over 100 National Championships. The USAS umpire program is among the nation's largest and are widely known as the best trained umpires in the game.
As the NGB for the sport of softball, USAS is responsible for training, equipping and promoting the six USA Softball National Teams that compete in events such as the Olympics, Pan American Games, World Championships and other international and domestic events. For more information on USAS, including its founding and history as the Amateur Softball Association of America (ASA), please visit, www.USASoftball.com.