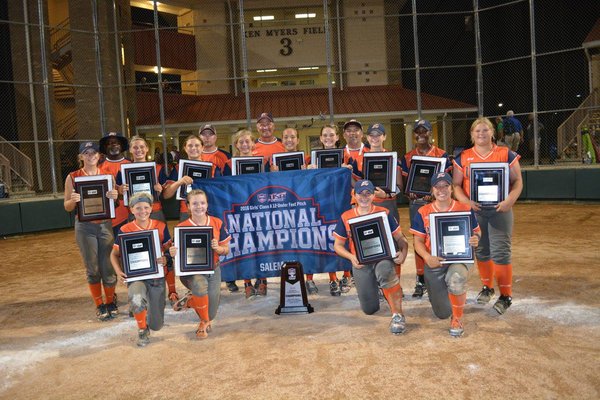 No. 10 OC Batbusters Stith 14U
Competing in the 14U Premier division at the PGF Nationals, the OC Batbusters coached by Katie Stith, came out of the tournament in the top 20. Throughout the 2018 season, they also were a finalist in the USA Elite World Fastpitch Championships and won two other TCS tournaments (Play for Hope Memorial and President Day Showdown). Being a highly recruited and respected team, the OC Batbusters Stith prepare their girls for their collegiate goals and how to successfully compete at a high level.
Key Players
Sherreigh Nakoa-Chung (2022) P (Uncommitted)
Gracyn Rains (2022) P (Uncommitted)
Ailana Agbayani (2022) 2B/SS (Uncommitted)
Oakley Bates (2022) C (Uncommitted)
Karlie Davison (2022) 2B/3B (Uncommitted)
Abigale Dayton (2022) CF/2B (Uncommitted)
Emilie Lapena (2021) OF (Uncommitted)
No. 9 Tennessee Mojo 2021
The Tennessee Mojo 2021 ranked ninth in our FPN 14U Club Rankings, battling their way through the loser's bracket after day one of double elimination at PGF Nationals. Losing their first game, the team won five straight before losing their last game on Thursday night with it being the fourth battle of the day. The Tennessee Mojo 2021 team made it to the final four at the World Fastpitch Championships before being defeated on Saturday just shy of being able to compete for a ring. These girls fought hard and overcame some difficulty they had with both weather and consistency to become a better team over the summer season.
Key Players
Cayden Baker (2021) SS/CF (University of Louisiana)
Aubrey Barnhart (2021) C/3B (Auburn University)
Emma Minghini (2021) 1B/P (Penn State University)
Sadie Saul (2021) LF/C (University of Arkansas)
Mackenzie Vaughan (2021) P/UT (Uncommitted)
Elena Escobar (2021) P/UT (Uncommitted)
No. 8 Iowa Premier 14U
Remaining undefeated in the 14U Premier bracket until the Quarter Finals of the PGF National Tournament, Iowa Premier is a highly talented group of girls. The team got to that point by stealing home against the South Dakota Renegades in the bottom of the seventh to make it that much closer to the championship game. Attracting new and experienced players each year, the Iowa Premier 14U team makes competitions elite and play at the highest level.
Key Players
Jayme Scheck (2022) P/OF (Uncommitted)
Josie Marron (2022) P/1B (Uncommitted)
Sydney Morris (2023) C/3B (Uncommitted)
Bella Dean (2022) P/SS (Uncommitted)
Avery Carnahan (2021) 3B/2B (Uncommitted)
Margaret Tobias (2021) SS/C (Uncommitted)
Gianna Lara (2022) 3B/SS (Uncommitted)
No. 7 Fury Platinum – Hutchins
Winning the JO Cup 14U division made for a great end to the summer for the Fury Platinum Hutchins squad. Finishing top ten in the first major tournament of their summer, they gained momentum and made corrections throughout their journey. With their second to last tournament being the Atlanta Legacy, they took the Lost Mountain Park 14U Championship just over a week before the JO Cup. Their two full months of summer softball, the Fury Platinum Hutchins competed hard throughout the whole thing.
Key Players
Abby Shoulders (2021) SS/C (Uncommitted)
Sydney Berzon (2022) P/1B (LSU)
Josey Polk (2021) SS/UT (Belmont)
Allanah Hopkins (2022) P/UT (Uncommitted)
Lilly Davis (2022) C/3B (Uncommitted)
Lauren Hall (2021) OF/2B (Uncommitted)
Leilani Valencia (2021) 3B/SS (Uncommitted)
No. 6 East Cobb Bullets – Biele/Heath
The East Cobb Bullets Biele/Heath worked their way through some tough competition this season, ranking sixth in our FPN Top 60. Leaving Colorado IDT tied for fifth place in at IDT in the 14U division after extra innings, they came into their next tournaments with the determination to win. Headed into the championship game undefeated at TC/USA Nationals, the EC Bullets Biele/Heath received the silver medal for the tournament. From there they moved on to the Atlanta Legacy Showcase, then the PGF Nationals in the 14U Premier bracket. Winning their first but having to battle their way through the losers bracket at PGF Nationals, the East Cobb Bullets Biele/Heath couldn't seem to find their rhythm at the end of the summer.
Key Players
Lexie Delbrey (2021) P/1B (Uncommitted)
Halle Cannon (2022) RF/1B (Uncommitted)
Madilyn Giglio (2021) CF/UT (Uncommitted)
Olivia Cook (2021) C/3B (Uncommitted)
Shannon Becker (2021) P (Uncommitted)
Maddie Latta (2021) P (Uncommitted)
Natalie Heath (2021) 3B/2B (Uncommitted)