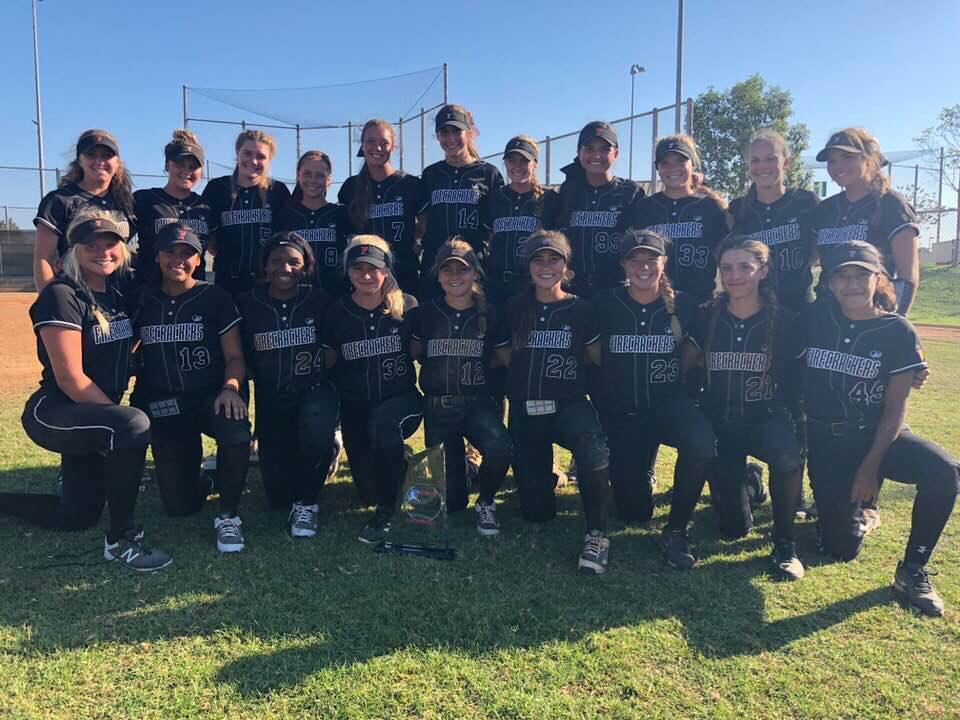 No. 10 Atlanta Vipers Holbrook
The Atlanta Vipers Holbrook fought a hard battle throughout the summer, winning the IDT Longmont 16u championship in Colorado and the USSSA 18u Gold Cup. Along with those two tournaments, they finished top four in Triple Crown Nationals, top five at both Scenic City and Atlanta Legacy, then completed their season in seventh at the JO Cup. Ending with the intensity of the JO Cup, the Atlanta Vipers played 36 innings in just over one day and ended with a 1-0 loss in the last inning. As a first-year 16u team their Coach Holbrook thinks, "they are so much more than just great softball players. They are amazing young adults."
Key Players
Aaliyah White (2020) OF/IF (University of South Carolina)
Skylar Trahan (2020) P (University of South Carolina)
Megan Bloodworth (2021) 2B/3B (University of Alabama)
Reece Holbrook (2021) MIF (University of Virginia)
Madison Kerpics (2020) P (University of Louisville)
Jahni Kerr (2020) OF (Florida State)
Haley Pittman (2020) P (University of Florida)
No. 9 Demarini Aces 16U
The Demarini Aces work with their girls on and off the field year-round to work on developing them into well-rounded softball players. As a team, they finished top five in the 2018 16U USA Elite Select tournament this summer. They tied for fifth place with impressive wins against Diamond Sports Hotshots, Wichita Mustangs, Texas Glory Adkins, OK Athletics, Tulsa Shootout, and St. Louis Chaos. Along with that, they had notable wins in the Team1Fastpitch 16U tournament and the Tulsa Invite, finishing second place in both.
Key Players
Tatum Clopton (2021) P/OF (Oklahoma State)
Katie Brooks (2021) P/IF (Florida State)
Riley McNemar (2021) 2B/1B (Auburn)
Kara Daly (2021) 3B/MIF (Mizzou)
Kennedy Rucker (2021) OF (Uncommitted)
Lauren Camenzind (2022) IF (Uncommitted)
No. 8 Tampa Mustangs – TJ
Coming prepared to play this summer, Tampa Mustangs – TJ started out the summer as USAES Challenger Top Gun Invitational Champions in the 18u bracket. The team went undefeated facing the Georgia Impact Premier- Lewis in the championship (7-6). This gave them the USA Elite Select World Fastpitch Championship berth in Kansas City where they would go on to finish in third place. The Mustangs also won the Scenic City Summer Tournament in Chattanooga, with a 10-1 record. The team finished fifth in the IDT Boulder tournament as well as in top 15 at 16U Premier Nationals in California.
Key Players
Avery Goalz (2020) 1B/OF (University of Florida)
Claire Davidson (2020) P/OF (Auburn)
Kaia LoPreste (2019) C/3B (Florida State)
Kali Reis (University of Central Florida)
Payton Kinney (University of Connecticut)
Jade Moy (2020) SS/2B (Perdue)
Mckenzie Clark (2020) OF/C (Clemson University)
No. 7 Texas Bombers Gold
Finishing third in the PGF Premier Championship, the Texas Bombers made a great run in their season. They also finished top five in the gold bracket at the USSSA 16U Southern National Championship. They live by their "always attack, never full" motto to give them the motivation to keep moving forward and not to become complacent. They've added even more teams to their organization this year expanding to Illinois and Florida.
Key Players
Ashley Vallejo (2020) P (McNeese State)
Camille Corona (2019) IF (University of Texas)
Mariana Torres (2020) IF (Texas A&M)
Anna Jones (2019) OF (LSU)
Aaliyah Ortiz (2020) IF (McNeese State)
Logan Hulon (2019) P (University of Houston)
Ashlee Larue (2020) OF (Ole Miss)
No. 6 Firecrackers – Sewell Premier
With their most successful season yet, the Firecrackers – Sewell Premier took no mercy this summer. Finishing third at PGF Nationals Premiers, the Georgia based Firecrackers also won the Triple Crown Southeast National Championship. With multiple others, they took fourth place in the TC Nationals. The Firecrackers – Sewell has had some setback just like other teams but have kept fighting and working hard to get closer to the ultimate goal of winning every tournament all while having fun.
Key Players
Cali Decker (2021) C (University of Florida)
Britton Rogers (2020) P (University of Georgia)
Dejah Mills (2020) C (Georgia Southern)
Leslie Cochran (2020) UT/C (Duke)
Mia Cantu (2020) 1B/OF (University of New Mexico)
Lauren Flanders (2021) OF/2B (BYU)
Payden Bordeau (2020) C (University of Georgia)