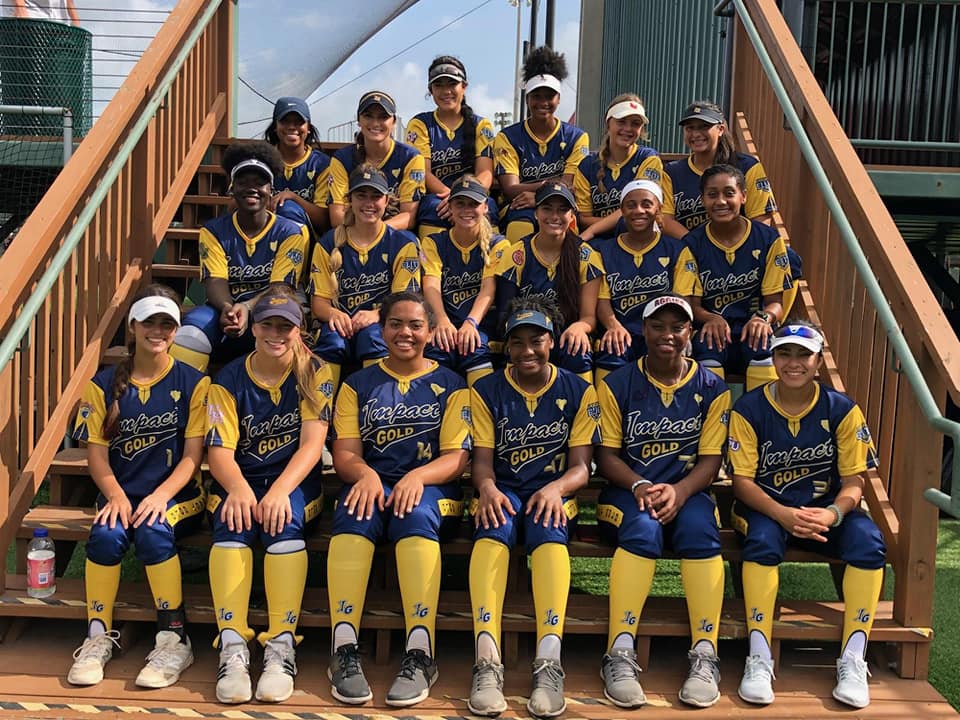 No. 10 Firecrackers Brashear 18U
Starting off their season as Elite 64 power pool champions at Triple Crown Fireworks in Colorado, the Firecrackers Brashear 18u came to play this summer. They were also named co-champions of the TCS Best of the West. Continuing their momentum through their tournaments, they finished fifth at PGF Nationals and said goodbye to the majority of the team that are seniors. With a widely recognized name like the Firecrackers attached to their name, these athletes strive to "excel on and off the field".
Key Players
Josey White (2018) IF (Minnesota)
Dani Martinez (2018) P (CSUF)
Hannah Matteson (2018) OF/2B (Stanford)
Denise Armendariz (2018) 3B/1B (UNLV)
Samantha Demyon (2018) OF/SS (UC Riverside)
Paige Barth (2018) MIF (San Diego State)
Carley Brown (2019) P (BYU)
No. 9 St. Louis Chaos 18U
The St. Louis Chaos had a great win to take home the 18U USA JO Cup Championship in their home state of Missouri. They try to play the best competition they can all around the country in their summer schedule. Coach Beatty emphasizes that "it's all about playing that schedule, playing the toughest teams, and peaking at the right time". The squad definitely finished strong and all of their preparation paid off when they walked away from their summer season as JO Cup Champions.
Key Players
Meghan Schorman (2018) P/1B (University of Kentucky)
Olivia Ward (2019) UT (University of Kentucky)
Kelsey Etling (2019) UT (St. Louis University)
Rylea Smith (2019) OF (University of Kentucky)
Gabi Deters (2019) C/3B (University of Kentucky)
Callie Unrein (2019) OF (Truman State University)
Emma Nichols (2019) P/1B/OF (University of Missouri)
No. 8 So Cal Athletics Marinakis/Jendro 18U
So. Cal Athletics is a newly formed team but have made their mark in the softball community already. Ranked eighth in our club programs, the Marinakis/Jendro team ended up finishing in the top ten at TC Nationals, top 25 in the 18U power pool at Colorado Fireworks and made an appearance at the PGF Nationals in the 18U Premier bracket. With tough competition everywhere they go, So Cal Athletics are an up and coming and increasingly successful team.
Key Players 
Mia Marinakis (2018) P (Cal State Fullerton)
Lauren Yarnall (2018) C (Quinnipiac)
Alexis Otero (2018) 2B/SS (Quinnipiac)
Julia Jackson (2018) P/UT (Townson University)
Sammy Cortez (2018) 3B/1B (Fairleigh Dickinson University)
Ylanna Bowman (2018) 1B/3B (Mercy College)
Jaiden Kent (2018) C (Pace University)
No. 7 Scrap Yard Internationals 18U
With a highly demanding summer season, the Scrap Yard Internationals finished top ten in the Colorado Fireworks 18 power pool, tied for third in TC/USA Nationals 18 Open division, and tied for seventh at JO Cup in Missouri. Not only do they compete among the most talented, but they made a trip to Japan to play the Tojotaidai Softball Team. In Japan, the team tied the first game and won the second with a walk-off hit. Staying competitive every year, the Scrap Yard Internationals 18U ranked seventh in our FPN Super 60 club teams.
Key Players
Abby McKeown (2019) P (University of Texas Arlington)
Emiley Kennedy (2021) P (Texas A&M)
Morgan Wright (2019) C/1B (Iowa State)
Sydnee Hebert (2019) 1B/3B (University of Louisiana Lafayette)
Taylor Pleasants (2019) SS (Louisiana State University)
Piper Randolph (2020) OF (Texas State)
Desiree Cardenas (2019) OF (Uncommitted)
No. 6 Impact Gold Jackson 18U
The Impact Gold Jackson has a motto to "trust the process", and that's exactly what they did this summer. Finishing fifth place in the TC/USA National 18U tournament, the team got their bid to California at the Premier Girls Fastpitch tournament. In California, they concluded their season in the nine spot at PGF Nationals. Retiring nine seniors to college at the conclusion of the summer season, Impact Gold Jackson made an outstanding run in the 2017-2018 season. All of these factors go into being number six in our Super 60 18U Club Rankings.
Key Players
Baylee Klingler (2018) UT (Texas A&M)
Morgan Smith (2018) C/1B/OF (Texas A&M)
Haley Lee (2018) C/1B/3B (Texas A&M)
Dani Davis (2018) OF (Illinois)
Ashlyn Wade (2018) C/1B/OF (UTSA)
Samara Lagway (2018) P/1B/3B (Texas State)
Bethany Busch (2018) SS/OF (University of Houston)
Rachel Hertenberger (2018) P (University of Houston)
Meagan Smith (2018) 1B/3B/OF (Texas A&M)