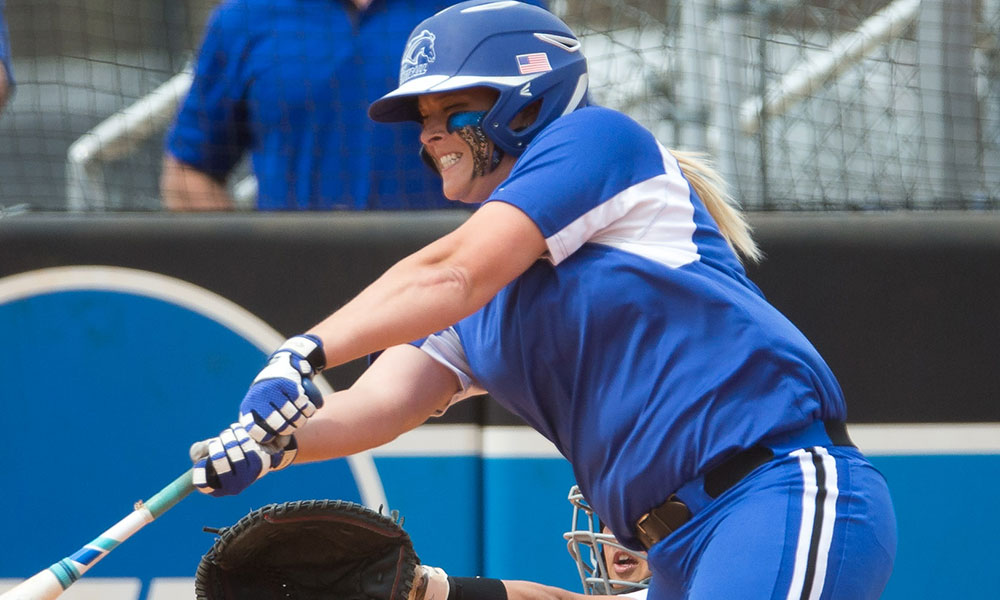 Fastpitch News has released its 2017 FPN NCAA DII Pitching and Offensive All-American Selections. Below you will find our Pitcher of the Year, Player of the year and our full list of All-Americans.
Fastpitch News NCAA DII 2017 Pitcher of the Year

Coley Ries (41-3)
Minnesota State University – Mankato
Senior
Ries was a major reason the Mavericks captured their first ever NCAA DII Softball national championship this past weekend. The senior was outstanding all season long posting a 41-3 record with 476 strikeouts over 294.2 innings pitched. She held opposing hitters to just a.148 average and walked just 66. During the year she threw 36 complete games and picked up five saves.
Fastpitch News NCAA DII 2017 Offensive Player of the Year

Kaitlyn Bannister
Alabama-Huntsville
Senior
Bannister, currently ranks in Division II's top 10 in several offensive categories, including an NCAA-best 71 RBI. The third baseman finished the season with a single-season UAH record .482 batting average while collecting 18 doubles and 21 home runs. Bannister slugged .906 and drew 30 walks, which attributed to her .545 on-base percentage.
First Team Pitchers
Coley Ries, Minnesota St.
Kayla Robins, Chowan
Emmie Robertson, Pittsburg St.
Brandy Marlett, Angelo St.
Autumn Humes, Harding
Second Team Pitchers
Jessica Yost, Bemidji St.
Kylee Smith, North Georgia
Jalissa Gum, Arkansas Tech
Lacie Rinus, Carson-Newman
Sydney Ponto, Caldwell
Honorable Mention Pitchers
Maddie Williams, Humboldt St.
Lyndsay Butler, Wayne St. (MI)
Jayden Chestnut, Central Okla.
Amanda Houck, West Chester
Allison Lipovsky, Grand Valley St.
Taylor Brandts, UVa-Wise
Claire Miller, Southwest Baptist
Hannah Vet, West Va. Wesleyan
Mckenzie Surface, Colorado Mesa
Mckenna Larsen, Winona St.
First Team Offense All-Americans
Kaitlyn Bannister, Ala.-Huntsville
Sarah Kennedy, Augustana (SD)
Kailyn Campbell, Central Wash.
Brenna Martini, Adelphi
Malea Maye, Albany St. (GA)
Christa Reisinger, Truman
Maddie Dow, Southern Ark.
Marisa Monasseri, Caldwell
Julia Garcia, Cal St. Monterey Bay
Brooke Hodgson, Colorado Mesa
Second Team Offensive All-Americans
Stephanie Hartness, North Georgia
Ashley Hardin, West Tex. A&M
Chelsea Hall, Claflin
Jess Meidl, Minnesota St.
Rosa'Lynn Burton, Wilmington (DE)
Mariah Jameyson, Tex. A&M-Commerce
Brooke Goad, Southern Ark.
Sydney Beuthien, Lubbock Christian
Tyler Hays, Adams St.
Toni Coleman, Albany St. (GA)
Honorable Mention
Angelique Elemen, Fort Lewis
Jordan Grant, Minot St.
Meredith Daunhauer, Ky. Wesleyan
Desiray Sturgeon, Lane
Erin Boone, Lenoir-Rhyne
Serena Olson, Mo.-St. Louis
Nicole Nordie, Texas Woman's
Haleigh Christopher, Charleston (WV)
Courtney Case, Le Moyne
Jessica Mohl, Valdosta St.