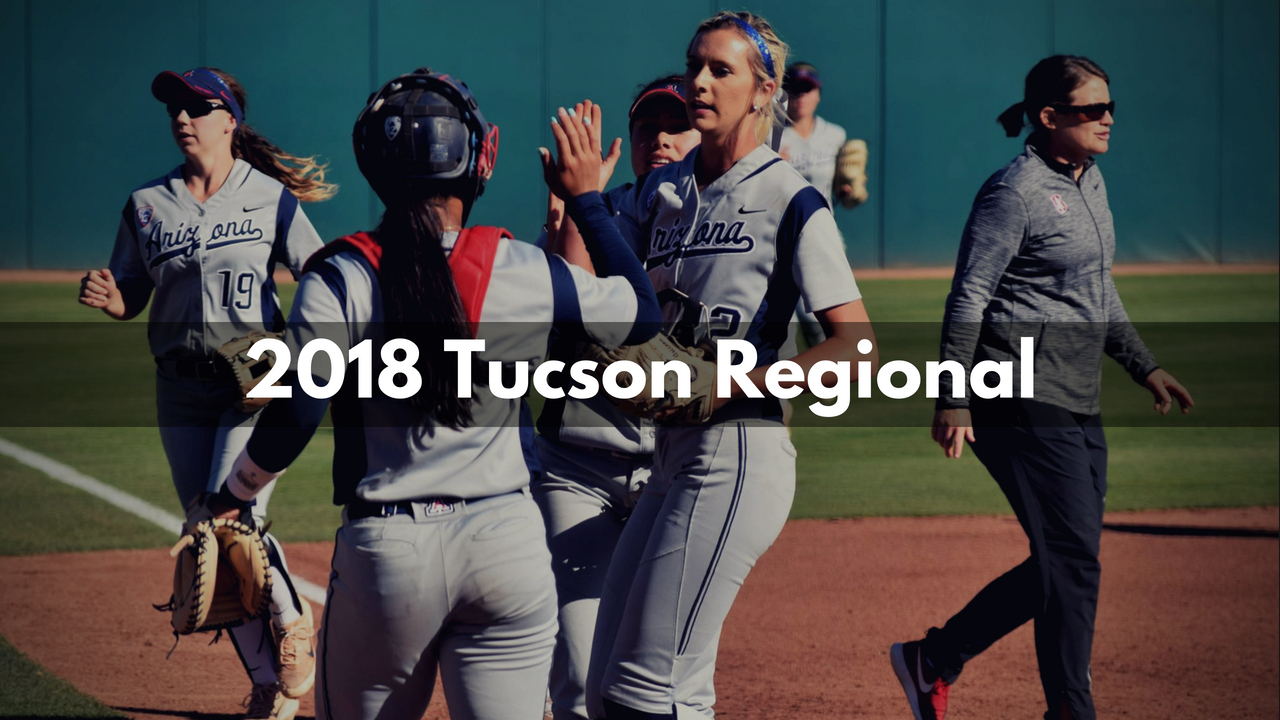 The Arizona Wildcats host for the 23rd time in program history as they welcome Mississippi State (36-21) out of the SEC, North Dakota State (33-17) who won the Summit League Championship and Saint Francis (39-17) who won the NEC.
Top Seed
Arizona comes in as the No. 14 overall seed and has reached the NCAA Tournament for 32nd straight season extending the record for most consecutive NCAA tournament appearances in college softball history. The Wildcats went 40-14 overall and 13-11 in the Pac-12. Allysa Palomino leads the offenses with a .382 average, 18 home runs and 40 RBI's. As a team, they have hit 73 bombs on the year and rank fourth nationally for home runs per game (1.35). Saint Francis ranks second in that category with 1.48 per game. In the circle, the Wildcats have relied upon Taylor McQuillin (24-10). McQuillin has thrown 211.1 innings on the year doubling that of Alyssa Denham (10-3) who has pitched 102.2 innings. McQuillin carries a 1.59 ERA with 255 strikeouts this season. Arizona has the bats and pitching they need to put it all together.
Best Shot at Upset
North Dakota State (NDSU) is making their ninth NCAA Tournament appearance in ten seasons and have valuable experience from last seasons appearance in the Norman regional. They were three outs away from advancing to the regional final after knocking off Oklahoma in the opening game of the tournament. They have a solid pitcher in Jacquelyn Sertic (25-9). Sertic enters the tournament with a 1.62 ERA with 303 strikeouts on the year. If she is at her best, she may be able to keep the Bison in striking distance.
Key Players to Watch
Mississippi State's Mia Davidson has been a force at the plate batting .371 with 18 home runs and 46 RBI's. That helped her win the SEC Freshman of the Year. Another long baller to watch is Madison Cabell of Saint Francis. Cabell 19 home runs this season with 50 RBI's.
Prediction
Before we automatically put Arizona-UCLA into the super regional much like ESPN, it is worth pointing out that all four teams are under 100 in RPI with one of the better No. 4 seeds out there.
There is plenty of experience from Saint Francis and North Dakota State that can make this regional exciting but in the end, Arizona advances to the Super Regional over North Dakota who I predict upsets Mississippi State to get to the region final.