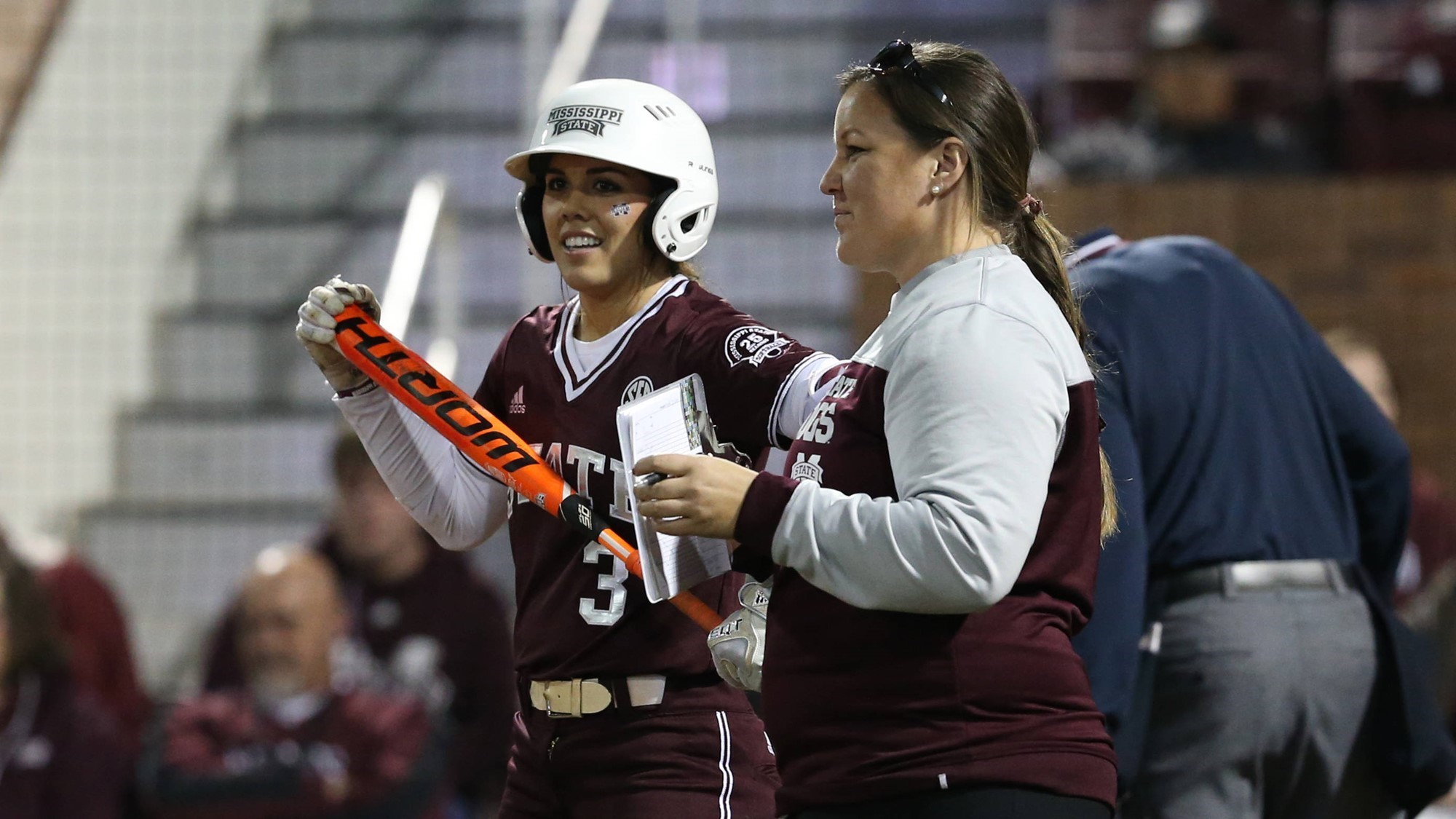 Mississippi State announced Monday the promotion of Samantha Ricketts to head coach after being part of the Bulldogs staff since 2015. It's quite a rise for Ricketts who finished her college softball playing career 10 years ago at Oklahoma and began her coaching career as a graduate coach in Norman shortly there after for two seasons. She then moved to her first full-time assistant job at Wichita State for three seasons (2012-2014) prior to joining the Bulldogs. Last season she was promoted to associate head coach and is now the new leader of the Mississippi State Bulldogs.
So what led to the eventual hire of Ricketts and who will she hire to join her staff? We will address those questions and more below.

Following Monday's announcement, Ricketts took to Twitter with this statement:
Login in to keep reading below! Need a subscription? Use the code "INSIDER" for a 25% discount.
To no surprise, Ricketts also announced via Twitter that Tyler Bratton will stay on as an assistant coach. Bratton has been apart of the softball program since 2013, and as we noted last week in our original article about the coaching search, Bratton played college baseball at Mississippi State for legendary Bulldogs' head coach, Ron Polk, from 2006-2007.
Current Bulldogs athletic director, John Cohen, took over for Polk in 2009 and was at the helm of the program from 2009-2016 before moving into Mississippi State's administration. Bratton was on Cohen's baseball staff in 2009 as the coordinator of Baseball Operations.
This factor is something that helped Ricketts chances of being promoted; being able to keep someone like Bratton on staff to coach with Ricketts was important in the decision. Both Ricketts and Bratton are a popular choice among the players according to sources which also played a factor in the Ricketts hiring. Keep in mind the Bulldogs have had eight players enter the transfer portal this summer.

Ricketts has brought plenty of talent to Starkville, including current All-American Mia Davidson. Ricketts recruiting ability and loyalty at Starkville were a couple of the reasons she was promoted last summer to associate head coach.
The belief is that Ricketts relates with the student-athletes better than Studeman has in recent seasons sources close to program tell Fastpitch News.
Still, this was anything but a "shoo-in" for Ricketts who faced competition during the search process; which only lasted six days to find the sixth head coach in program history.
Sources tell Fastpitch News that the Bulldogs reach out to Louisiana's Gerry Glasco to gauge his interest in the job. Glasco is believed to have been at top of the list. However, both sides never got close to an agreement as Glasco is very happy with what he is building at Louisiana and both parties were not close enough when it came to money and salary. Sources say Mississippi State came up to match what Glasco was making at Louisiana but that would not be enough to pull him away from the Ragin' Cajuns.
You may remember, Glasco agreed to a five-year contract with Louisiana on November 20, 2017 with a $170,000 base salary and an additional $30,000 in annual deferred salary that is payable if Glasco remains with the university through the end of his contract. He is also eligible for more than $60,000 per year in incentives.
Drake's Rich Calvert was also believed to be near the top of the list as Calvert was contacted by the Bulldogs early in the process to gauge his interest as we reported last week. While Calvert was said to be flattered, he is very happy at Drake and sees himself as a "Midwest" guy who is more than happy to stay at Drake for the rest of his career with what he has built there.
Ricketts' firsthand recruiting experience within the SEC helped her move in front of the remaining candidates sources tell Fastpitch News. Financially, Ricketts also works nicely as Mississippi State's budget for this hire is a little tight given many of their resources and priority has recently focused on the women's basketball and baseball programs in addition to football and men's basketball.
As an exmaple, last summer Mississippi State agreed to extend head coach, Vic Schaefer, to a four year contract extension for an avg of $1.5 million per year: making him one of highest paid coaches in women basketball.
Additionally, Cohen hired new baseball head coach and Bulldog alum, Chris Lemonis, to a four-year contract with a base salary of $600,000 a year; escalating $25,000 over each of the next three years according to Mississippi Today. Lemonis will receive a retention bonus of $50,000 if he remains MSU's coach on June 30, 2021. Meaning Mississippi State has committed to around $2.2 million dollars a year for baseball and women basketball head coaches alone. Football head coach, Joe Moorehead, who begins his second season of a four year deal made $2.6 million last season in base salary and will make $2.9 million a year by his fourth year; this does not include incentives and performances bonuses. Men's basketball head coach, Ben Howland, is making over $2 million dollars bringing the total salary for head coaches in those four sports to $7 million plus per year.
So in the end, Ricketts' experience in recruiting, having the support from the Bulldog student-athletes, and for finical reasons her promotion makes a lot of sense.

But now the big question remains; who will she bring on board to handle the pitching staff? Here some names to keep in mind.
Keilani Ricketts – Keilani will be a name that will be brought up in the coming weeks for obvious reasons (being Samantha's sister). Keilani is coming off a season as Oklahoma's volunteer assistant. But Keilani has plenty on her plate as she's in process of trying to make the U.S. National team for next year's Summer Olympics. Could be hard to see Keilani committing to a full-time job at this time. However, Keilani considering a return to Starkville as a volunteer coach where she spent two seasons (2015-2016) when Samantha was hired as a full-time assistant coach cannot be ruled out.
Alison Owen– Owen is currently the pitching coach at Georgia Tech where she joined the Yellow Jackets staff in July 2017. Owen played her last two seasons of college softball at Starkville (2012-2013), transferring from Georgia. She could be a strong candidate to return home where Owen was also a graduate manager in 2015 on same staff with Ricketts and Bratton. Owen also spent time as an assistant coach from 2016-2017 at East Mississippi Community College in addition to also serving as an assistant with NPF's Akron Racers following her time the Racers' uniform from 2014-2016.
Brynne Dordel – Dordel just finished her second season as a volunteer coach at Alabama. Dordel was an assistant coach at Iowa State in 2017 working for Jamie Trachsel; spent three seasons as the pitching coach at North Dakota State (2014-2016); and two seasons at Ball State (2012-2013). Dordel has been part of two conference championships in the MAC with Ball State, three Summitt conference championships with North Dakota State; and a SEC Conference championship this past season at Alabama which included a trip to the Women's College World Series. With the third paying assistant coaching job currently off the table in softball, Dordel may be interested in moving to a full-time SEC job in Starkvegas and has an experience advantage over Owen that Ricketts may like to add to her staff.
Letty Olivarez– Olivarez just completed her first season as pitching coach at Texas Tech, helping improve the Red Raider rotation led by Erin Edmoundson. Texas Tech made it to the regional final this past season.
The Red Raider program is the most recent stop in long list of programs Olivarez has help get to the NCAA Tournament. Prior to Texas Tech, Olivarez spent two seasons as an assistant coach at San Jose State helping them win Mountain West Championship in 2018 and earn a trip to the NCAA Tournament; Olivarez was the co-head coach at Arizona State in 2016 when the Sun Devils made an NCAA Regional appearance; she previously coached at CSUN (2015) winning the Big West title; made a stop at Stanford (2012-14); and lastly Wisconsin (2011).
Ricketts will have many candidates to select from when adding to the staff as she now turns her focus to taking the program to new heights, not unlike her own coaching career.