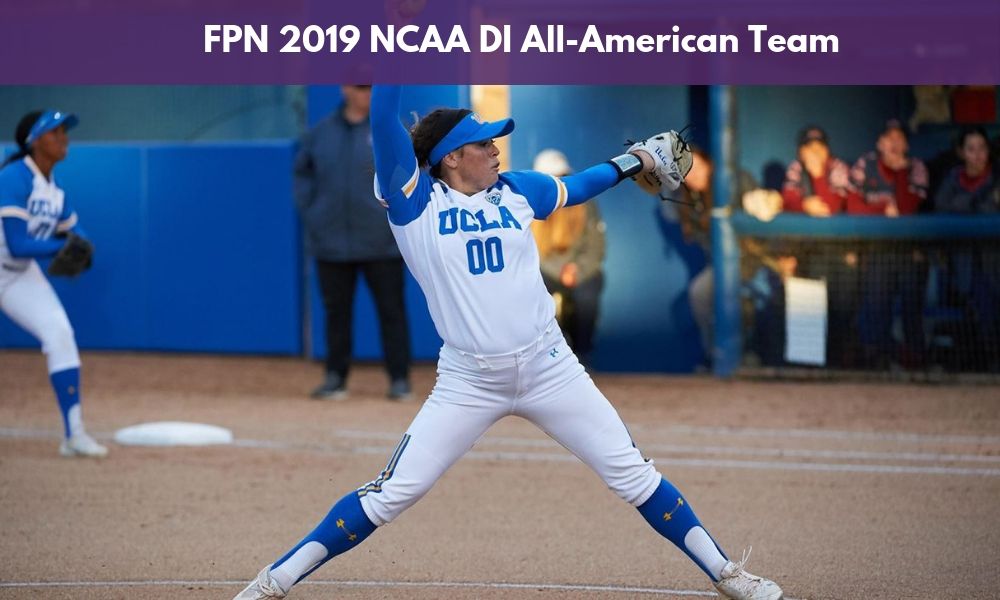 Fastpitch News has released its 2019 FPN NCAA DI Pitching and Offensive All-American Selections. Below you will find our Pitcher of the Year, Player of the year and our full list of All-Americans.
Rachel Garcia
Junior
UCLA
Garcia was outstanding this season, the redshirt junior posted a 29-1 record, which included a 9-0 record at the WCWS and a national championship. She posted a 1.14 ERA with 286 strikeouts over 202 innings of work. Garcia held opponents to a .162 batting average on the year and added four saves along the way as well.

2019 Offensive Player of the Year
Abbey Cheek
Senior
Kentucky
Cheek was rock solid at the plate in 2019. The senior batted .428 on the year with 20 home runs, 13 doubles, 64 walks and 53 RBI's. She posted a very impressive 1.510 OPS on the year as well.

Abbey Cheek – Senior – Kentucky
Kayla Konwent – Junior – Wisconsin
Kate Gordon – Junior – James Madison
Jessie Harper – Junior – Arizona
Bailey Hemphill – Junior – Alabama
Sydney Sherrill – Sophomore – Florida State
Caleigh Clifton – Senior – Oklahoma
Alyssa DiCarlo – Senior – Georgia
Amanda Lorenz – Senior – Florida
Sydney Romero – Senior – Oklahoma
Pitchers
Rachel Garcia – Junior – UCLA
Gabbie Plain – Sophomore – Washington
Giselle Juarez – Junior – Oklahoma
Nicole Newman – Senior – Drake
Amber Fiser – Junior – Minnesota
Alyssa Oakes – Junior – USC Upstate
Morganne Flores – Junior – Washington
Kindra Hackbarth – Sophomore – Arizona State
Lilli Piper – Senior – Ohio State
Mia Davidson – Sophomore – Mississippi State
Morgan Howe – Junior – Arizona State
Bubba Nickles – Junior – UCLA
Alyssa Palomino – Junior – Arizona
Sara Jubas – Sophomore – James Madison
Samantha Show – Senior – Oklahoma State
Pitchers
Taran Alvelo – Senior – Washington
Kelly Barnhill – Senior – Florida
Meghan King – Senior – Florida State
Taylor McQuillin – Senior – Arizona
Summer Ellyson – Junior – Louisiana
Courtney Cashman – Junior – UMass Lowell
Kayla Wedl – Junior – UIC
Paige Rauch – Sophomore – Villanova
Ulufa Leilua – Junior – Mississippi State
Shelbi Sunseri – Sophomore – LSU
Aubrey Leach – Senior – Tennessee
Rachel Anderson – Junior – Southeast Mo. St.
Kylan Becker – Senior – Ole Miss
Julia Hollingsworth – Senior – Tulsa
Morgan Geno – Senior – Ohio
Sammey Bunch – Junior – UNI
Hope Brandner – Sophomore – Minnesota
Cait Brooks – Senior – Notre Dame
Natalie DenHartog -Freshman – Minnesota
Dejah Mulipola – Junior – Arizona
Pitchers
Georgina Corrick – Sophomore – South Florida
Brooke Yanez – Sophomore – UC Davis
Montana Fouts – Freshman – Alabama
Christina Biggerstaff – Senior – USC Upstate
Meghan Beaubien – Sophomore – Michigan
Megan Good – Senior – James Madison
Odicci Alexander – Junior – James Madison
Keely Rochard – Sophomore – Virginia Tech
Miranda Elish – Junior – Texas
Danielle Williams – Freshman – Northwestern