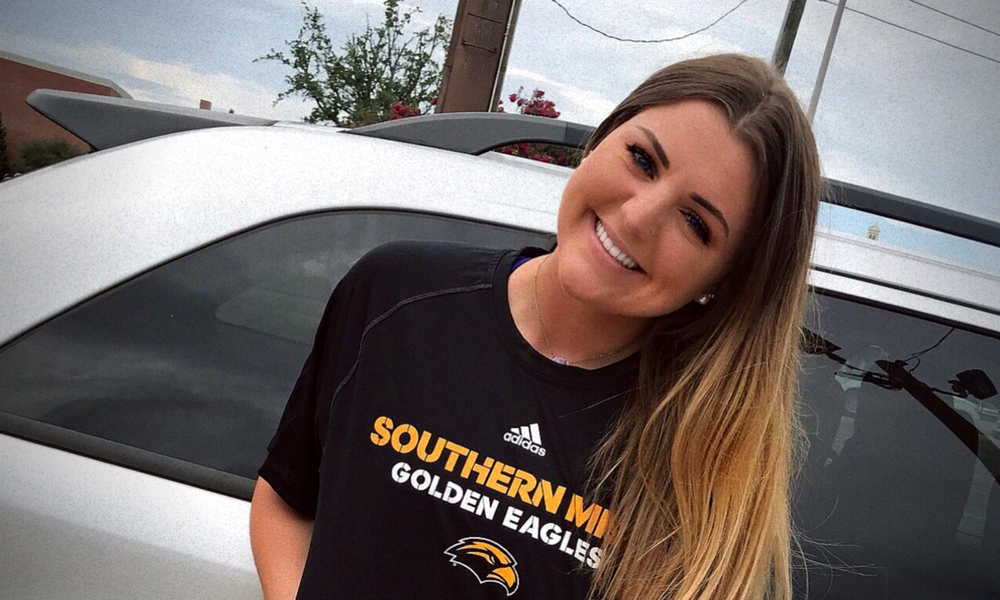 In late June, it was announced that pitcher Abby Trahan would transfer from Saint Francis (PA) to Southern Mississippi. Trahan is from Kaplan, Louisiana which is 253 miles away from the Southern Miss. campus.
In 2018 at Saint Francis, Trahan earned First Team All-Conference, Conference Pitcher of the Year and Second Team All-Region honors during her 2018 season where she posted a 2.55 ERA in 255 innings of work while striking out 186 batters notching a 28-15 record leading the Red Flash to the NEC Championship and into the NCAA Tournament. The 28 wins was good for ninth in the NCAA. Trahan led Saint Francis to back-to-back NEC and NCAA Tournament appearances during her two seasons while winning the Northeast Conference Rookie of the Year and Third Team All-Region honors as a freshman. That season she posted a 15-4 record with a 2.45 ERA over 130 innings of work. She also had 103 strikeouts in 2017.
Now Trahan will be competing in Conference USA closer to home. In her first interview since transferring to Southern Miss, and goes " 7 Innings" with FPN.
Fastpitch News (FPN):  What led you to transfer to Southern Miss.?
Abby Trahan: "Coach Patrick-Swift earned an amazing coaching job, so when she left St. Francis, I decided to as well. I knew as a competitor I wanted to experience bigger challenges for myself. As soon as I arrived in Hattiesburg, I felt like I was home. Stepping foot on USM's campus and feeling that same "home" feeling solidified that it was where I needed to be. Being three hours from home rather than 20 made that decision much sweeter."
Fastpitch News: How many schools were you looking at as you went through the process and what schools were you considering?
Trahan: "A good amount of schools showed interest in me almost immediately. I was in contact with their head coaches, pitching coaches, and I used how comfortable I felt talking to them gauge my feelings. Then I researched their programs, facilities, and campus. By the end of it, my decision sat with either transferring to N.C. State to play for my former coaches or Southern Miss. The only school I visited was USM, and the feeling I got from being in Hattiesburg and around Coach Hogue and Coach Watkins was way too good for me not to commit there."
FPN: Who helped you during this process?
Trahan: "My entire family was extremely supportive and continuously told me to follow my gut and go where I'm happy. My former coaches and catcher at St. Francis, who's my best friend, were also super helpful when it came to making sure I was happy with my decision and having my own best interest throughout the process."
FPN:– What did you like about Coach Hogue and Coach Watkins that you decided you wanted to play for them?
Trahan: "Coach Hogue and Coach Watkins gave me the feeling from the first phone call that they wanted me as a player, but that they also wanted my family and me to feel at home at USM. From the start, I knew I fit perfectly in what they were asking for a pitcher to bring to their program. And with that, I could also tell they were the type of coaches and, more importantly, people I would love to play for. The culture they're trying to build in Hattiesburg was amazing to me, and I wanted to be a part of it."
FPN:  What influenced you while growing up to play softball?
Trahan: "My dad definitely played the biggest role in getting me into softball. When I was super young my mom tried to get me into dancing and I went to a couple of lessons and hated it, so my dad suggested we try softball. So I played tee ball, loved it, and never stopped since then."
FPN: Who is your favorite Pro Athlete and team?
Trahan: "Sidney Crosby and the Pittsburgh Penguins. Living in the north caused me to fall in love with hockey. I enjoy watching any of the Pens play, but specifically Sid. He makes such a hard sport look so easy, so it makes him one of my favorite athletes to watch."
FPN: What would you say about your time at Saint Francis and what goals do you hope to accomplish on and off the field at Southern Miss.?
Trahan: "I can confidently say I had the greatest two years of my life at St. Francis and was blessed to meet some of my lifelong friends. As well as that, my softball dreams were achieved by winning two undefeated conference titles, winning Rookie OTY then Pitcher OTY, and playing against the top programs in the country. I'm excited to start at Southern Miss. and face the new challenges and opponents that lie ahead of me. My mindset at SFU was to win games, conference titles, and personal awards like POTY, and that's still the mindset I'm bringing to Southern Miss."