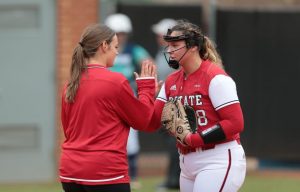 New North Carolina State Head Coach, Jennifer Patrick-Swift, made a splash in the off-season hiring former Georgia All-American pitcher Chelsea Wilkinson as the new Wolfpack pitching coach.
Wilkinson comes to Raleigh after a one-year stint at South Carolina as a graduate assistant, helping the Gamecocks clinch their first NCAA Super Regional appearance since 2007.
Wilkinson finished her collegiate career among the top three of Georgia's record books in seven pitching categories and ranks seventh overall in Bulldog history with a 2.28 career earned-run average. She also completed her career with 97 wins to rank second all-time among the program. She threw 35.5 shutouts including eight no-hitters and three perfect games as she helped lead Georgia to the Women's College World Series in 2016.
Now Wilkinson hopes to help build the Wolfpack program as a coach like she helped Georgia as a player. Wilkinson recently talked to Fastpitch News exclusively about getting into coaching, why North Carolina State, reflecting on her career, and more on our latest installment of "7 Innings".
Eric Lopez (ELO):  What made you decide to join new North Carolina State's Head Coach Jennifer Patrick-Swift coaching staff? 
Chelsea Wilkinson: From the moment Jennifer reached out to me everything just felt right. It was an incredible opportunity and a chance to return home to North Carolina. I knew that Jennifer & Patrick know how to win and I wanted to be a part of changing the program here at NC State. They have made me feel like family & I am sure this is where I was meant to be!
ELO: Describe Coach Wilkinson vs. Wilkinson, the player? How are they different? Or the same?
Wilkinson: Coach Wilkinson and player Wilkinson are very similar in the fact that I have a burning desire to win. I am super competitive and want to be the best, which has been with me throughout my playing career and now into my coaching career.
ELO: What got you interested in going into coaching?
Wilkinson: I was not ready to step away from the game of softball, even though I had finished playing. It is something my family, especially my dad & I have always done and shared. This opportunity presented itself, and I saw it as a chance to take on a new journey with this game.
ELO: What did you learn from Coach Lu and Coach Fico at Georgia?
Wilkinson: I could write a list a mile long of all the things I learned while at Georgia. Coach Lu has a work ethic like no other individual I have ever met & I think she instills that into her players. She also always tells her girls that she wants us to be great players, but more importantly leave her program as "strong, confident, independent women," which I can say I most definitely did.
ELO: Have you had a chance to reflect on your playing career at Georgia?
Wilkinson: I reflect on my career at Georgia often because it was the greatest chapter of my life thus far. There is one word that can sum it all up; blessed. God blessed with an incredible career and brought amazing people in my life to go along with it, including a fiancé!
ELO: Describe what it was like to lead Georgia to the WCWS which included knocking out rival Florida during Super Regional in 2016?
Wilkinson: That moment cannot be put into words. I remember sitting on the couch in my living room watching the WCWS with my dad thinking "if only that could be me". The moment that Kaylee Puailoa hit the home run, my career became a success in my eyes. That will always be a highlight in my life. It was a very special moment for my family as well, especially for my dad and me.
ELO: What is going to be key for your staff to be successful in 2019 season and beyond at NC State?
Wilkinson: I think the biggest thing for my staff this season is having confidence in themselves. The four of them are great pitchers and they have to know that. We have made lots of changes from last year and I think the biggest of them is our spin. They have put a lot of time and hard work in this fall and I am super excited for them to take on this season.