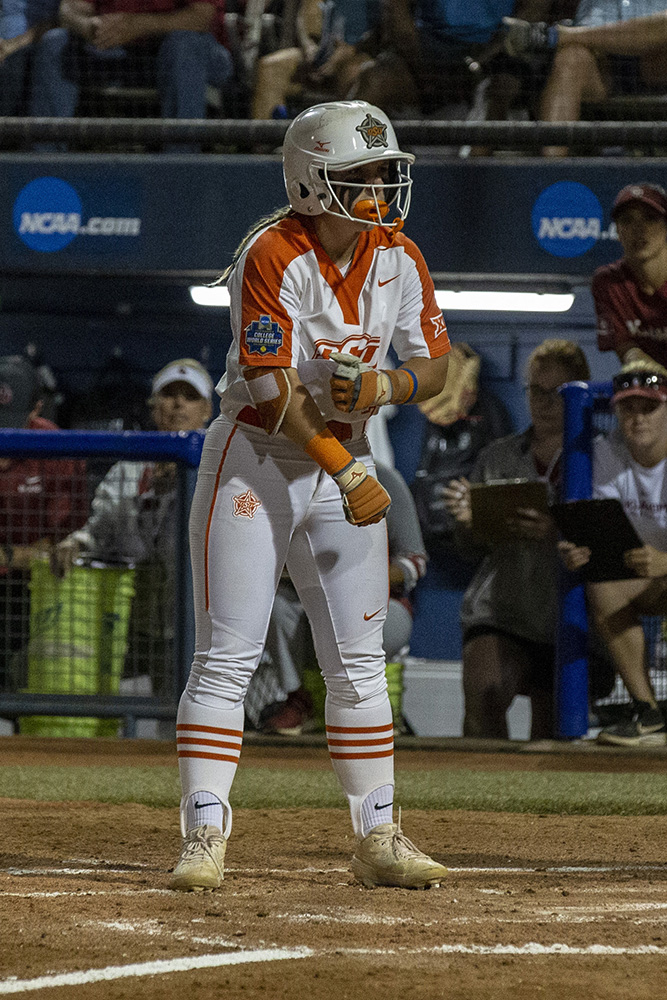 –
Following a tough top of the first inning on Friday versus Oklahoma, the Cowgirls of Oklahoma State faced an early 3-0 deficit. Rylee Bayless, hit-less in the NCAA Tournament, stepped to the plate and drew a seven pitch walk; she stood there, fist pumped, and threw her bat and arm guard back to the dugout before taking her base. The emotion poured out of her, sparking new life into the Cowgirl dugout.

Never has a lead-off walk been so electric.

Go back, watch it. You can find it at the 22:06 minute mark of the ESPN replay.

The Cowgirls oozed "swagger", confidence, and attitude this season. No one more than senior, Samantha Show. She dominated the highlights and national conversation with her bat flips and her unapologetic approach to playing "her game".

"Act like you've been there before."
"No class."
"You're disrespecting the game."

You name it, it's been said about Show and her Cowgirl squad.

I've gone back-and-fourth with my thoughts on everything that's transpired around the Cowgirls in recent months but it was during that moment when Bayless drew her walk, a hitter who again had gone 0-16 in the NCAA Tournament, that I finally finalized my opinions on the Oklahoma State Cowgirls.

Here it is: they do not care what you think and therefore, whatever you think just doesn't really matter. That's not to say you can't have an opinion, they truly just don't care if you're upset by it all. They're going to keep on playing with that electric freedom. So all this, often heated, debate on social media and within forums is somewhat pointless.

They're not hurting anyone. They aren't cheating. It's not an "unfair" advantage. And rather you believe or even like it, it's not done to show up their opponent. Watch; if you really watch these events unfold, nothing is aimed at the Cowgirls' opponents. They never stare down an opposing player or pitcher and they're never actually "up in" an opponents face; it's not geared that way. Really closely watch what you're seeing. It's a unique and potent energy that feeds each member of that program.

"Anything that happens after a home run of mine, I don't plan out," Show said in an interview when asked if her tomahawk chuck in their first game at the Women's College World series was pre-planned. "Just whatever emotion I have inside me. Normally, I have so much — that's why the dramatic bat flips happen, because it just needs to come out. I'm very emotional."

It's raw, it's pure, it's unaltered emotion flowing to and for each other. This was never more clear to me than the moment I witnessed Bayless draw that walk from up close. Watch her eyes, watch her head never move from dead ahead; she is locked in on her dugout, her teammates, her girls. It was powerful and don't underestimate the strength of those moments, the bond it creates, how it propelled the Cowgirls this season.

No matter what side you come down on, Show and Oklahoma State have drawn new attention, a new audience, and new eyes to the sport of collegiate softball and the Women's College World Series. The rallying cry of "grow the game" has been shouted for years and it's happening; they are and forever will be part of this growth. Players from the MLB and NFL are taking notice, fans from other sports, audiences who've never watched women's athletics are paying attention.

So, what is my opinion on the Oklahoma State Cowgirls? That our opinions; good, bad, or otherwise, really just don't matter all that much. They don't do it for me or you and they don't do it to spite popular opinion; it's for each other and it's for themselves.

————————————————