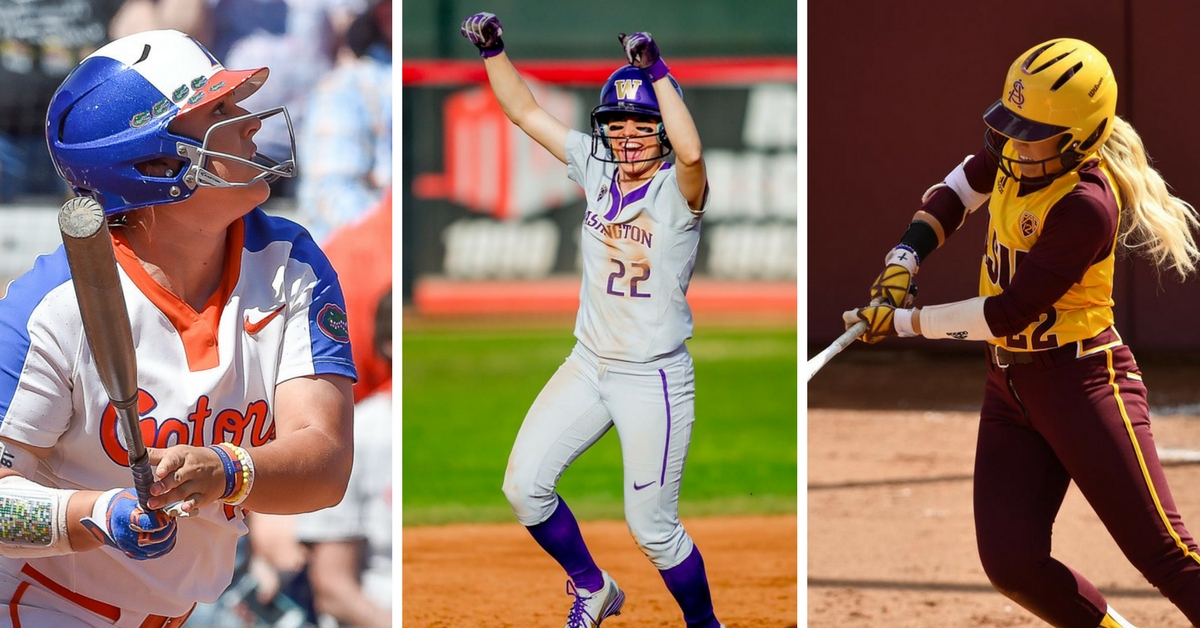 No. 14 ASU takes down No. 24 Minnesota.
The Sun Devils extended their win streak to 11 games and pushed their record to 21-2 overall (16-1 at home).  ASU swept Minnesota in a three-game series this past weekend. In the opener on Friday ASU blanked the Gophers 6-0. The Sun Devils took both games of a doubleheader on Sunday, 9-1 (5-innings) and 4-0. ASU will start conference play on Saturday against No. 1 Washington.
Kendra Hackbarth led the Sun Devils in the doubleheader Sunday going 4-7.
Pitcher, Juarez (8-1), led ASU with 18 shutout innings to finish the weekend giving up only six hits and two walks. Senior pitcher, Breanna Macha, picked up her eighth win and gave up no walks in the first game improving to 8-1 on the season. The Sun Devils have collectively hit 12 home runs this week leaving four players batting .500.  Kindra Hackbarth, a sophomore, led ASU with a .571 average.
B6 | 👋👋👋 pic.twitter.com/4J740vD6zo

— Sun Devil Softball (@ASUSoftball) March 12, 2018
Washington keeps momentum with four wins and one rainout in Vegas this weekend.
Getting rained out Sunday afternoon, Washington remains undefeated at 27-0. The Huskies did play two games on Friday and Saturday at the Rebel Classic. Interesting fact; the Huskies are now guaranteed to finish .500 or above for the 26th year in a row. Washington pitcher, Gabby Plain, left the circle in Las Vegas with a 28-inning scoreless. Taylor Van Zee made history hitting her 58th career double on Saturday, which ties her for the second-most career doubles in Washington history. Amirah Milloy is hitting .462 over the best ten games with four doubles and four RBI.
Four games, four wins! We had a great time in Vegas this weekend! pic.twitter.com/b9ys678gcz

— Washington Softball (@UWSoftball) March 11, 2018
No. 2 Florida sweeps Kentucky in the opening weekend of the SEC play.
The Gators (22-1) received their third SEC win Sunday afternoon after facing Kentucky (15-3). Extending their lead in the third inning, Amanda Lorenz hit her fourth home run of the season knocking in Nicole Dewitt who got on base with a double off the top of the wall in center field. Lorenz was a force on offense and defense for Florida this Sunday. Acquiring their fourth and final run of the game, the Gators succeeded in executing a squeeze bunt, sending pinch runner Haven Sampson to home the bunt by Sophia Reynoso, the Gators secured the win to complete the sweep. Maintaining a record of 17 shutouts, Florida managed six of those against Top 25 competition.
🎥 All the highlights from today including a home run, 9⃣Ks, a double play and an amazing catch by @AmandaLorenz18!! #GatorsWin 🐊🎉#GoGators 🐊 #TheEdge pic.twitter.com/pE2fvK3NLB

— Gators Softball (@GatorsSB) March 11, 2018
UCLA Remains as only other undefeated Team
The Bruins play at the Louisville Slugger Classic in Long Beach, CA this past weekend and posted a 5-0 record. UCLA outscored the opposition 47-7. Including three five-inning shutouts. As a team, the Bruins batted .401 with four home runs and eight doubles. In the circle, the Bruin pitchers only allowed just the seven earned runs, five of which came against No. 16 Long Beach State where UCLA held on to win 6-5. Next up they will face No. 6 Oregon to open conference play. It will be interesting to see if they can stay perfect for another week.
Alex Wilcox, Mississippi State gets first career hit
The Bulldogs freshman outfielder was diagnosed with ovarian cancer during her junior year of high school and is still receiving treatment. But as stated in the tweet below, she is truly an everyday hero.
If you want to see a real-life super hero, you don't have to travel outside #StarkVegas!@Alex_wilcox8 continues to crush every expectation, knocking singles despite being in treatment! She's unstoppable 💪 #HailState🐶 | #NoOneFightsAlone pic.twitter.com/liwv7k8zmX

— MSU Softball (@HailStateSB) March 12, 2018
Important career wins this weekend:
Alabama Head Coach, Patrick Murphy, earns 1,000 career wins
Head Coach Rhonda Revelle of Nebraska receives 950th win
FSU's coach, Lonni Alameda, takes home her 600th win.