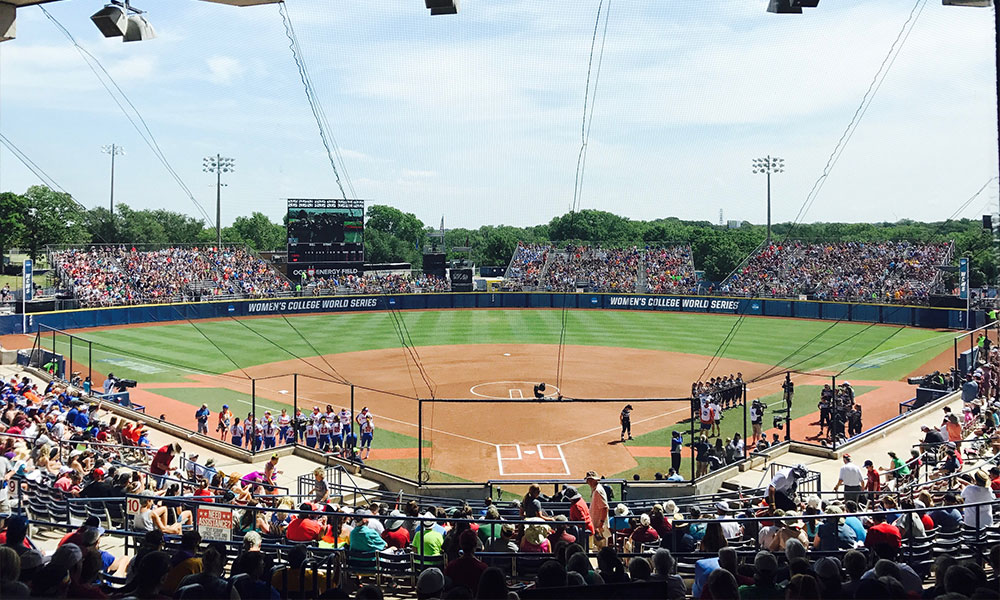 I never got a chance to play at the Women's College World Series when I was a player at The University of Minnesota. I also never got the opportunity to play at the ASA Hall of Fame Stadium when I was a club ball player. Playing in the Women's College World Series is a dream every softball player, including myself. Never in my wildest dreams did I think that three years after graduating from college and a few short months after announcing my playing retirement, did I think I would be in the media booth at the WCWS doing my dream job.
I had butterflies in my stomach as I walked through the fan festival set up outside the main gates on day one of the tournament. It made me wonder how the players must feel when they pull up in their bus and see thousands of crazed softball fans wandering around anxiously awaiting their arrival.
I wasn't sure what to expect being part of the Media at my first WCWS. I walked into the Media press box on the first day and noticed we had assigned seats. Ironically my seat assignment number was my softball number of nine. Coincidence most would say, but I knew deep down it was fate. Number nine never made it to the WCWS playing field, but rather the air-conditioned press box and that was fine by me!
We shared the press box with other media softball writers. I was a little star struck when I sat one seat away from ESPNW's Graham Hays. He even gave me a few Twitter shout outs throughout the week, which was awesome for my retired ego.
Being able to witness every single pitch of the 2017 Women's College World Series was truly a dream come true. We had eyes on everything from up in the press box, and I had the privilege of writing the Fastpitch News recaps which kept me drawn into every pitch, play, and outcome.
My favorite game to witness was the 17 inning battle between Oklahoma and Florida in game one of the Championship series. I got to witness history being made right before my eyes as the game crept past the previous WCWS game length record. The grit, fight, unity, and resiliency displayed by both teams and coaches in that game was incredible. I gave a small fist pump after learning the softball game remained on ESPN's network and the scheduled MLB game moved to another channel.
Being there in person to watch Oklahoma's dog pile after clenching their back-to-back Championship was special. After sitting through their post-game press conferences all week, I actually felt like I got to know them as a team. If I had to describe the Sooner softball program in three words I would choose selfless, resilient, and family. You could really tell how close-knit their team is and how much love and respect they have for their coach and mentor Patty Gasso. It was also memorable to see my former Chicago Bandit teammate and good friend Lacey Waldrop add National Champion to her already impressive softball coaching resume.
The Women's College World Series is an unforgettable week for the players, coaches, umpires, fans, event workers, and media members. It was a magical event and I would like to take a second to thank everyone who worked hard to put on the event and for accommodating the media which allowed us to do our jobs.
The week of the Women's College World Series is my favorite time of the year, well after Christmas and maybe Thanksgiving. After being able to witness the playing field in person, I'm not sure if there is any other way to watch it for me after this experience.
Each year there will be new teams and new faces stepping onto the ASA Hall of Fame Stadium field ready to compete for their dream of being crowned a National Champion. Only one team in all of the post-season is left standing at the end. Who do you think it will be next year? I already have my prediction and I can't wait to see if I will be writing about it a year from now.