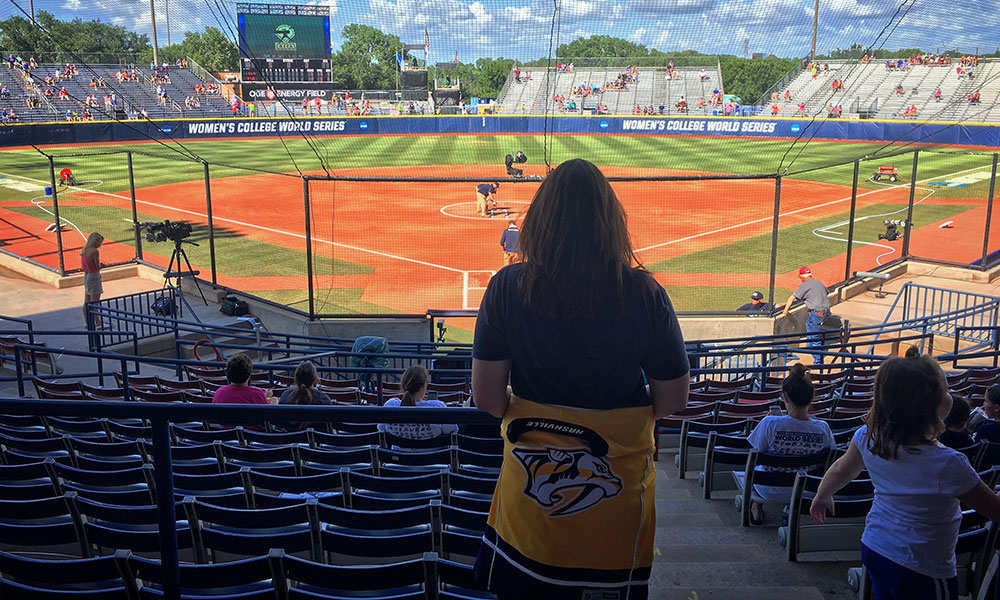 The 2017 Women's College World Series was years in the making for me and here is why.
I remember the first time I watched the UCLA Bruins play softball on television like it was yesterday. Keira Goerl was in the circle, Natasha Watley was the shortstop, Emily Zaplatosch was behind the plate and Claire Sua played first and the ESPN camera would always show her boyfriend (now husband) cheering in the stands. Sue Enquist was the head coach and Lisa Fernandez was a volunteer assistant. The year was 2003, I was 12 years old and UCLA beat Cal 1-0 in 9 innings that summer to win a National Championship.
The next season, my mom said we would go to a game in Los Angeles. I was so excited to wear my travel ball jersey and meet those women whom I wished to be one day. My mom brought a video camera and taped my whole conversation with Lisa Fernandez while taking pictures of me with everyone else. If I wasn't hooked before, I definitely was then.
Ever since I have dreamed of the day of watching my beloved UCLA Bruins at the WCWS. As soon as they clinched their Super Regional this year, I knew my dream was going to come true, even if I did pick Ole Miss. Can you blame me? I had picked them throughout the postseason.
The moment I walked up to the ASA Hall of Fame Complex, not going to lie, I had tears in my eyes. When the Bruins took the field in Game 2 of Session 1, I sat in the UCLA section for the first two innings and took it all in. I'm just a girl from Tennessee, living her dream.
UCLA lost that game to LSU 2-1 but bounced back for a victory over Texas A&M before losing to Washington.
Before the World Series started, I did one of my weekly radio hits with Steve Russell on WRUF in Gainesville, Florida. I told him and all the listeners that Oklahoma would win it all.   The Sooners had everything working for them since their loss to North Dakota State in the Regional opener.
I had always heard about the magic of Oklahoma City magic but the first time I witness it was when Celena Massey of Texas A&M hit a home run in her only at bat of the tournament.  I found myself smiling and misty-eyed. She is a senior and went out on the highest note possible.
The careers of some of the country's greatest softball players came to end in front of my eyes. Sahvanna Jaquish, LSU's first four-time All-American, done. Ali Aguilar and Casey Stangel of Washington are done. The devastating change up belonging to Delanie Gourley is gone.
But, I also saw many careers just beginning. Rachel Garcia could be the next great power-hitting pitcher at UCLA, Sophia Reynoso could be the most exciting middle infielder at Florida since Kelsey Stewart and Oklahoma could be the next dynasty. The Sooners had one senior on their roster and have now won back-to-back titles. Oh, and let's now forget about the 17 innings! It was incredible to witness.
I think it takes a minute to sink in but I've had a front row seat to history for the last month and a half. I have the best job in the world and wouldn't trade it for anything. I realize that I am part of something that's bigger than what's being played between the lines. The WCWS had record attendance and record rating.  Knowing all of that happened in 2017 makes me even more excited for 2018.