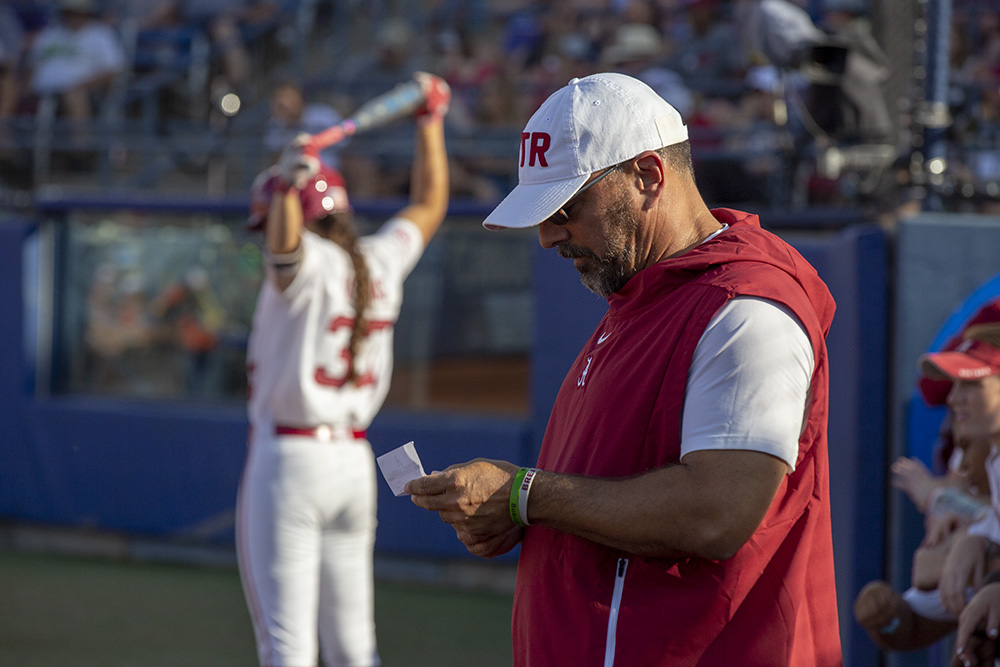 As first reported by d1baseball.com writer, Kendall Rogers, due to an issue with the ACC's vote last spring the proposed legislation allowing for a fourth paid coach in baseball and softball has new life. You can read Rogers' article, here, it provides a really good explanation of what has happened to bring about a new vote. This proposal would otherwise be off the table for another two years.

Important to note, this proposal was initially a baseball only piece of legislation (that will be explained below), some quotes to follow will come from baseball coaches.
The Nitty-Gritty
The Southeastern Conference (SEC) brought fourth proposed legislation (NCAA Proposal 2018-34 to amend Bylaw 11.7 ) that would allow institutions the ability to pay a third full-time assistant baseball coach with also maintaining the volunteer position.

Late in the process, softball was added to the legislation and with it a motion to remove the volunteer position in favor of a full-time position.

Last April, NCAA Division I Council met and ultimately defeated this proposal to the disagreement of many. The Council is comprised mostly of athletic directors from around the country, here is the "roster". A key criticism here is the proposal simply provided the option for schools to add a paid assistant; it was not a requirement.

In a graphic from The Daily Northwestern here is how all the conferences voted. Note, the ACC's "yes" vote is the one in dispute and why this proposal is being resurrected. 32 votes were needed to pass.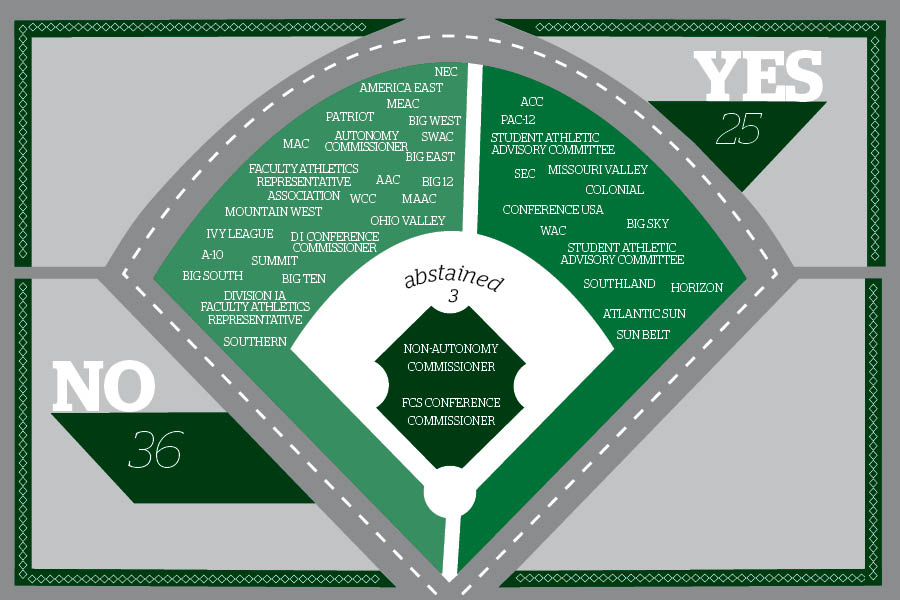 Why is this Important?
There are a couple reasons why this proposal is considered so important and a huge game changer for both baseball and softball. Firstly, the volunteer assistant position is a tough one to maintain. This role is often a starting blocks for launching a collegiate coaching career and you tend to see a lot of turnover from program to program. Why is this? Well, obviously a "volunteer assistant" doesn't get paid, they are not provided university insurance, benefits, protections, etc. Until recently these volunteer assistants (VAs) technically couldn't even partake in certain team or recruiting meals; that bylaw has since changed. The VA position is a grind and tough for anyone to sustain long term. You can find the 2018-2019 NCAA Rules Manual, here, if you are interested in learning more about VA or coaching bylaws

VAs make money through camps, clinics, and private lessons. They could work another job but that is extremely unrealistic given the time and travel demands of working with a collegiate program. It's truly not feasible.

For baseball, the ability to pay a third assistant coach awhile maintaining a volunteer assistant position would address a long over due issue: player-countable coach ratio. Currently, baseball has the most lopsided ratio in collegiate athletics at 12:1. Softball currently sits at 7:1. Though critics note that both baseball and softball are such specialized sports additional coaches are valid and valuable for both sports. Also, collegiate softball rosters only continue to grow.

Paying a third full-time assistant would allow programs to keep great coaches in place instead of turning over positions. It can be really hard to lose a strong VA coach who understands the daily happenings, schedule, flow, and fits into a staff. It can be even more difficult to find someone new to fill this role, retraining this person, integrating them into the flow of things, etc in a timely matter. In an interview with Sundevil Source, ASU baseball head coach said this about his VA Michael Earley, "My greatest fear is losing him to someone who is going to pay him," Smith said. "Because there's that status thing that goes with being a paid coach too. He's a really good coach, he's a future head coach, in my opinion. But there's that (narrative), 'He's just the volunteer.'"

Another important advantage to adding a countable coach is the ability to have another body on the road recruiting. Recruiting is the lifeblood of any program and currently only "countable coaches" are allowed to head out on the recruiting trail. At least in softball (I'm not entirely confident on structure of baseball) with the new recruiting calendar that no longer limits days and provides a window when coaches can be out on the road, programs are stretched thin and another body would be critical. But anytime a program can have more bodies recruiting the better for that program.
The Concerns
The biggest issue facing the passing of this proposal boils down to the financial X's and O's off adding a potential third paid assistant in both sports. This is why it makes sense that many mid-major conferences would vote "no" on this legislation; the question of how does an institution fund the new position and the other expenses that reoccur because of it (e.g. recruiting costs, benefits etc.) is prominently at the forefront. In general, this is a much bigger question mark for many smaller schools versus their Power 5 peers.

In line with the money is also a concern about this measure aiding in the ever widening gap between the "haves" and the "have nots". That's easy to understand; say there is a Power 5 program that can provide the cost of a third countable coach, can send them out recruiting, etc. and there is a smaller program that cannot, this puts the smaller school at yet another measurable disadvantage.
The Fall Out and Reasoning
Many people were livid and the defeat of this proposal was met with disappointment and much criticism, especially from those around collegiate baseball. Coach Smith released this Tweet shortly after the announcement, "Wow…just wow," wrote Smith . "Well, at least now you afford another admin position now. What a joke."

Much of the disagreement was aimed at Oregon State athletic director, Scott Barnes. This could be due to the Beavers' tradition of dominance in collegiate baseball. Barnes also made this statement that rubbed the softball community wrong, "Strong legislative proposals are passed with great support. This didn't get passed at all, and I believe the reason was because we hitched softball to it."

Another quote from Barnes said, "I believe that this proposal came out and, with the addition of softball, was really hasty. It didn't give us a chance to view it … so let's get back to the table and work on that separately." Which was a better way to express his opinion.

But Barnes did say he would have "100%" supported a baseball only proposal saying, "It's not suggesting that we wouldn't look at doing something for softball, but we can't treat it the same (as baseball). They don't have the same roster size, they don't have the same issues. We want to look at it separately, that's really it."

Another shocking "no" vote came from the University of Texas' AD, Chris Del Conte, who has previous experience at TCU and Rice: both schools with big name baseball programs. USAToday reported that from 2017-2018 Texas brought in $219,402,579 in revenue versus $206,554,432 in expenses.

"I was a supporter of the original proposal which included baseball. Softball was something new that we hadn't really vetted out," Del Conte said. "I would prefer more discussion on that. The original request was for baseball to get a full-time coach and softball to get a graduate assistant.
"I support the addition of a baseball coach, though," he continued. "We wanted to have more discussion on why softball needed to be included with a full-time coach. In baseball, there's obviously a need for a third full-time assistant when you look at ratios and the student athletes competing in baseball. I have not vetted softball and I want to have more dialogue with our softball coach and others before voting 'yes' on the full proposal."

In a quote from D1baseball.com the Executive Director of the American Baseball Coaches Association, Craig Keilitz, commented saying, "The thing that's a little disappointing to me. If you don't think a sport like softball needs it, don't give it to them," he said. "You don't have to supply a full-time assistant position if you don't want to. If a school doesn't think the maximum number of full-time positions is needed, use that money for something else.

"It was the SEC's role to include softball in the legislation. It was the right move," he continued. "We could not put ourselves in a position to where ADs would look at it the legislation (with baseball only) and say we'd love to vote for it, but we can't because of gender equity. At the end of the day, like I said, if you don't think softball needs a full-time assistant, keep it as a volunteer or part-time role, or use the money elsewhere in the program."

Another response from Georgia baseball coach, Scott Stricklin: "This absolutely stinks! It's hard to believe how two Power 5 conferences can be against this!! This is a big blow to our sport."
Take Aways and What's Next
Advocates for the adoption of the proposal stress it about allowing institutions the opportunity to explore this option, it isn't mandatory. Institutions could pay third assistants as much or as little as desired. It's also about providing these coaches the same protections and benefits as other paid assistant coaches, even if they aren't paid (health care, etc.) In a piece by The Daily Northwestern NFCA Hall-of-Famer and co-head coach Tennessee Karen Weekly said, "It's really not about how much they are going to get paid," said Weekly … "It's just removing those restrictions so they're treated under the rules the same way as the other coaches."

The DI Council will meet again in October and this proposal will be reconsidered. According to Rogers, "should the vote to reconsider the legislation pass, the legislation would likely then be voted on yet again on the same day. However, the D1 Council also could vote to have another vote in April."