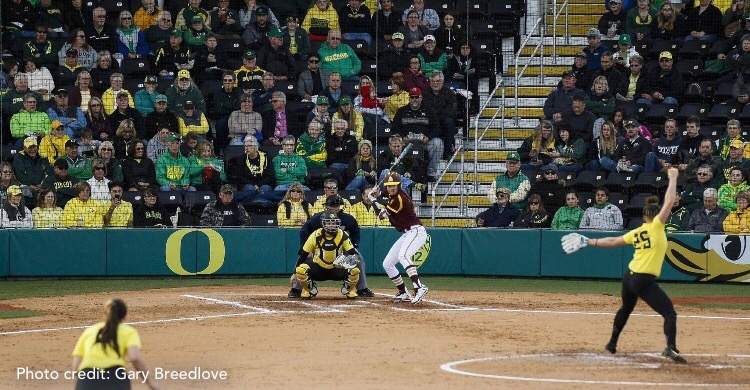 The series we are taking a look at this week is PAC-12 matchup between No. 3 Oregon (32-6) vs. No. 4 Arizona State (33-5). With a six-game winning streak and moving up from their previous six ranking, Oregon is patiently waiting for their next opponent. ASU is not to be overlooked either though, they are currently making their way up the ranks from the previous seven spot. Both programs are looking to improve their identical 7-2 conference record this weekend. The three-game series will start Friday, April 13th at 10:00 p.m. ET at Farrington Stadium in Tempe, Arizona. Game two will take place Saturday, April 14th at 9:00 p.m. ET and the third and final game starts Sunday, April 15th at 3:00 p.m. ET. All three games will be available to view on the ASU Live Stream.
At the Plate
Oregon steps up to the plate Friday with a very consistent team average of .324. Alexis Mack leads the Ducks with a .423 batting average and a .483 on base percentage. Gwen Svekis is also proving she can provide for Oregon, leading the team in three different categories with eight home runs (three in conference play), 38 RBI, and a .703 slugging percentage. Svekis does all this while averaging .337. Showing how much depth this team has is Shannon Rhodes who has successfully taken eight extra bases in her nine attempts and acquiring a .356 batting average. Six out of their starting nine athletes are currently batting over .300 on the season.
The Sun Devils are hitting a solid team average of .303. Danielle Gibson has been a powerhouse for ASU on offense producing some outstanding numbers. Gibson currently has a .413 batting average, 31 RBI, a .827 slugging percentage, and 11 homeruns. Second on the team in RBI with 29 is Jade Gortarez. She's also batting .320 and has stolen six out of the seven bases she's attempted so far this season. Along with the Ducks, the Sun Devil's also have six starters that are batting over .300.
Edge: Oregon
Dinger. Game over.

Mary Iakopo's homer sealed the run-rule win and @OregonSB SWEEP. It's the @OpusBank #12Best Moment! pic.twitter.com/97DgK8FgtU

— Pac-12 Network (@Pac12Network) April 9, 2018
In the Circle
The Oregon Ducks pitching staff has been able to keep a collectively outstanding 1.02 ERA. Megan Kleist (12-4) leads the team on the mound with a 0.87 ERA and 134 strikeouts in her 104.2 innings pitched. Miranda Elish (13-1) has also been a standout pitcher for the Ducks with her 0.78 ERA and 136 strikeouts in only 89.2 innings pitched. Sophomore Maggie Balint (13-9) has also been called on for 49 innings and has managed 53 strikeouts for Oregon.
Arizona State also has dominate pitchers keeping their team ERA at 1.19. Giselle "G" Juarez (17-1) has pitched a team high 130-innings for the Sun Devils and has managed 201 strikeouts. She also has an outstanding 0.70 ERA and the only three saves recorded for the team. Juarez is coming off a 15-inning win, with 15 strikeouts, and only allowing one run in Sunday's match-up. Breanna Macha (10-3) has also pitched 82.1 innings for ASU, striking out 72. Juarez and Macha have been the two top pitchers that Arizona State have relied the most on.
Edge: Arizona State
15-inning thriller in the 📚

Another gem by G, a sac fly by Chilson and more 👇 https://t.co/NfbknfHe71

— Sun Devil Softball (@ASUSoftball) April 9, 2018
Opinion
Both Oregon and Arizona State are clearly evenly matched, which makes this a perfect weekend for some great softball. Oregon has gained a momentum that might be difficult to stop. The Ducks are on a six game win streak and are coming off a sweep over Arizona. Arizona State on the other hand, has home field advantage and have been fighting very hard for all of their wins. A particularly great win for them was this past Sunday after taking a 2-1 win in 15 innings, over Oregon State. With such similar offensive players and both becoming gradually stronger, it is going to come down to a pitching duel. Whoever shows up with their best game every day this weekend, will take the series.
Pick: Oregon 2-1