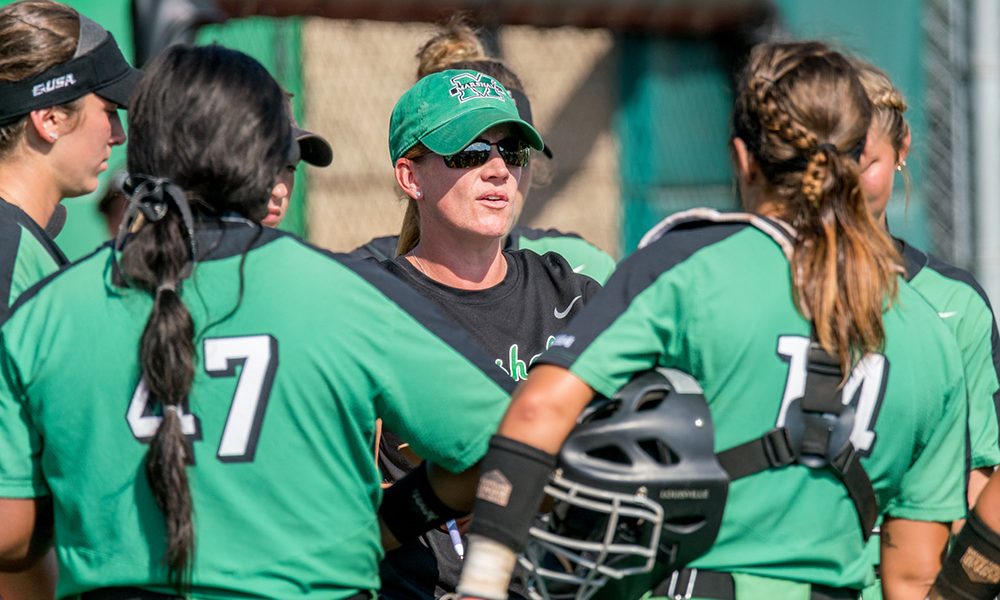 Photo Credit: Adam Gue

On this edition of "7 Innings", we catch up with with new Marshall Head Coach, Megan Smith. Smith comes to Marshall after being at the helm at Kansas for the last nine years leading the Jayhawks to two NCAA Tournament appearances (2014,2015) and six straight 30+ win seasons during her time at Lawrence.
Smith talks to FPN about what led her to leave Kansas for Marshall? Plus what got Smith into coaching and the outlook for the Herd in 2019.
Eric Lopez (ELO): How is the transition going as you get set for your first season at Marshall?
Megan Smith: My transition has been great so far. The people at Marshall and in the community are amazing. There is a huge following for softball here and it is so exciting to know that we have so much support.
ELO: What led you to come to Marshall when the opportunity presented itself?
Smith: I was looking for an opportunity to get close to home at a place that values softball and at a place where we can compete to win championships. While I was at Kansas, my husband was diagnosed with kidney cancer and passed away leaving me to be a single mom to our son Cooper. It was difficult to be so far away from family and try to handle raising him alone. This opportunity is a life changer for me and my son. Not only am I closer to home, but I have found a place where softball is important. One of the previous coaches, Shonda Stanton, provided an incredible foundation of success and national relevance for Marshall Softball. I just want to continue to grow that success.
ELO: What has stood out from roster that you inherited for the 2019 season?
Smith: We have such great leadership on this team. We have several upperclassmen that have stepped up this fall to lead our team. Coaching changes are always challenging for players, but they have completely embraced our staff and our mission. These players care about winning, they care about doing things the right way, they care about their teammates and coaches, and they LOVE Marshall.
ELO: Discuss the staff you built at Marshall bringing in Corey Lyon from ULM and Maddy Holub from Saint Leo.
Smith: I think our staff is amazing and I am so lucky to have both of them working alongside of me. Corey has such great experience as a head coach and he is going to do amazing things for our offense. He is a high energy coach who does a great job of connecting with our players to help them be successful. He also has an aggressive mindset and I know that will pay dividends for us offensively. Maddie has had such a great start to her career. She did amazing things with her pitchers at Saint Leo and was recognized as National DII Assistant of the Year for her efforts. She is a no nonsense coach who demands excellence from our pitchers every day and her competitive nature is something that our pitchers will benefit from.
ELO: What called you to get into coaching?
Smith:While I was in college playing for Donna Papa at North Carolina, one of things I enjoyed the most was working our camps and clinics. I loved teaching the game to young people and being a part of their learning and growing process. That is still what I love the most. I am super competitive and hate losing, but the best part of my job is getting to be a part of my players lives teaching them and helping them as they grow and players and people.
ELO: What was it like working under Yvette Girouard at LSU?
Smith: Working for Yvette Girouard was a once in a lifetime opportunity. I had started the program at Western Carolina and we won our conference championship in our first season, but when the opportunity came about to work at LSU for Coach Girouard, I jumped at it! It was the most incredible 3 years and I learned so much from her. She is truly the best in the game. She is demanding but endearing to her players. She knows the game inside and out and knows how to motivate players to achieve greatness. She is still a huge part of my life as a mentor and friend.
ELO: What will be the key for the Herd to be successful in 2019?

Smith: Our key will be to work together as a team.  We have a few standout players returning but we have a lot of players who will be joining the everyday line-up for the first time in their careers.  I am excited to see what they will do now that they are getting their opportunities.  I also think it will be important for our upperclassmen to continue to lead on and off the field throughout the season.