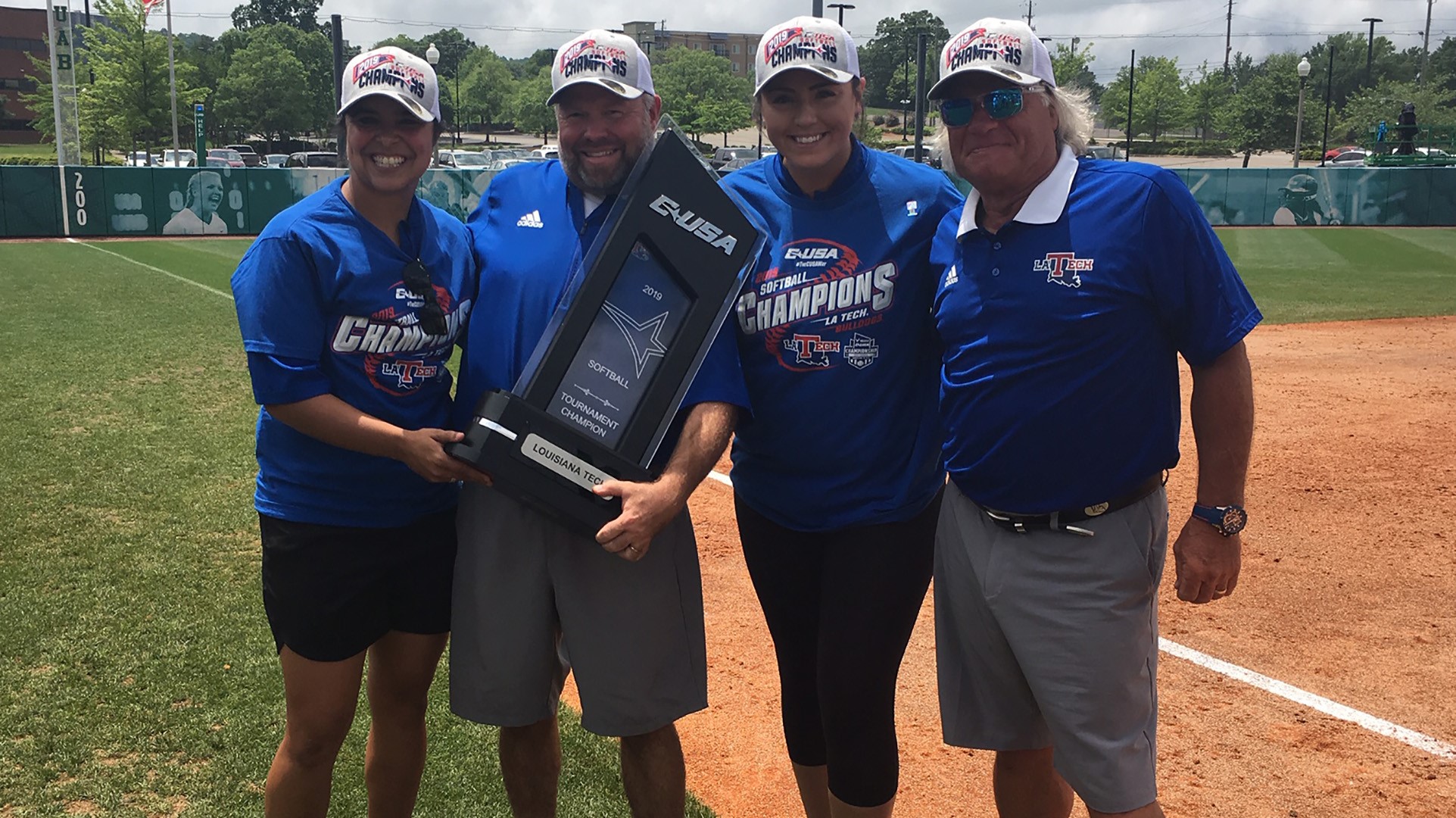 The search is over and the University of Maryland is believed to have their next head coach: Louisiana Tech's, Mark Montgomery.

As first reported by Justin's World of Softball, "while neither Maryland nor Louisiana Tech have officially confirmed the move", Montgomery is expected to speak with his student-athletes at La Tech this morning about his departure.

Montgomery has enjoyed unprecedented success at the helm of the Lady Techsters. During the 2019 campaign his squad won 45 games, won La Tech's first regular season conference title on the heels of the devastating tornado that ran through Ruston, and won a second C-USA Tournament title while securing a second NCAA Regional appearance in three seasons.

Montgomery was named the 2019 C-USA Co-Coach of the Year while the entire La Tech staff received 2019 NFCA Midwest Region Co-Coaching Staff of the Year honors.

The Lady Techsters have recorded five straight 30-plus win seasons; that is the first time since the 1990s. Montgomery currently holds a 556-483 coaching record over 19 seasons and is 226-161 at La Tech. To read his entire bio, click here.

Prior to his tenure at Louisiana Tech, Montgomery has held head coaching positions at Georgetown College, Centenary College, and Northern Colorado.

The Terrapins posted a 20-31 recording during the 2019 campaign, going 4-10 in Big 10 play. Maryland finished fourth in conference batting average (.288) and last in team ERA (5.84)
UPDATED 9/9/2019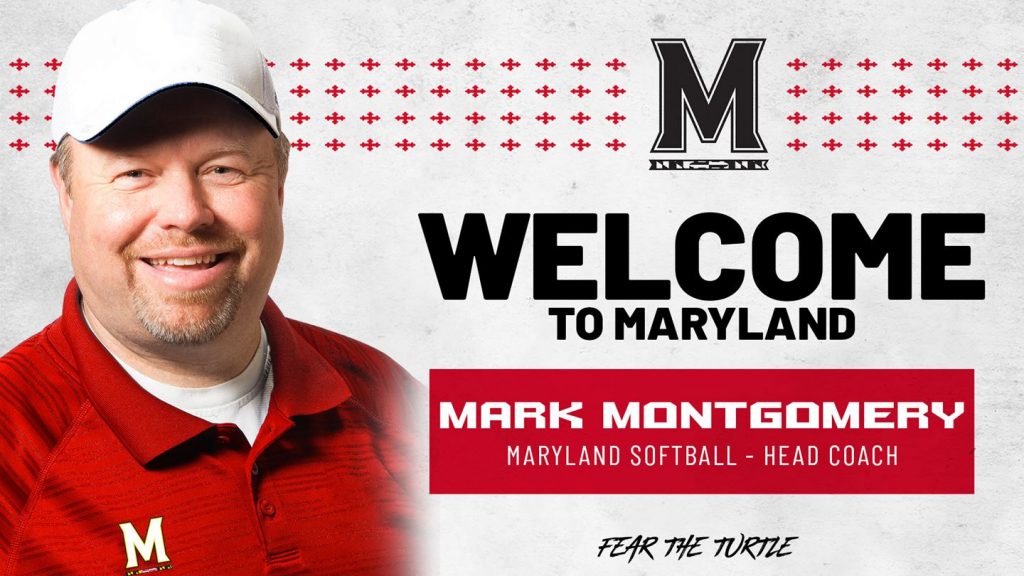 Official Press Release from Maryland Athletics.

COLLEGE PARK, Md. Director of Athletics Damon Evans officially announced the hiring of Mark Montgomery as the fifth head coach in the history of the University of Maryland's softball program.
Fresh off winning 2019 Conference USA Co-Coach of the Year honors after leading Louisiana Tech to conference regular season and tournament championships, Montgomery comes to College Park with 19 years of experience as a head coach at the collegiate level.
"We're thrilled to welcome Mark, his wife Melanie and three daughters to the University of Maryland Athletics family," Evans said. "Mark brings nearly two decades of collegiate head coaching success to our softball program, including a tremendous tenure most recently at Louisiana Tech. More importantly, his student-athletes have a proven track record of succeeding in all facets of the collegiate experience and we are confident he will transfer that success to College Park."
Montgomery has spent the last seven years as head coach at Louisiana Tech, guiding the program to two conference tournament championships (2017, 2019), two NCAA Regional appearances (2017, 2019) and five consecutive 30+ win seasons. Prior to his arrival at Tech, the program had recorded just one 30+ win season in the previous 23 years.
"I want to thank Damon Evans, Kristen Brown and the entire search committee for their faith in believing in me to lead the Maryland softball program," Montgomery said. "I am extremely excited about the opportunity to join such a prestigious institution both academically and athletically, in addition to a fraternity of coaches at Maryland who are among the most respected nationally. I was also thrilled by the chance to coach in the universally renowned Big Ten Conference. I cannot wait to get to campus and meet the young women as we work together to shape the limitless future of the Maryland softball program."
Montgomery was instrumental in coaching Morgan Turkoly (2018) and Jazlyn Crowder (2019) to back-to-back C-USA Players of the Year honors.
This past season, Montgomery led Louisiana Tech to 45 wins, the program's first regular season conference title and a second C-USA Tournament title and NCAA Regional appearance in the last three years. The 45 victories were the second most in program history while Tech's 19 C-USA wins were the most ever.
Montgomery owns a mark of 556-483 in 19 seasons as a head coach (17 at the Division I level), including a 226-161 record at Louisiana Tech.
Montgomery came to Louisiana Tech after spending two years at NAIA Georgetown (Ky.) College, eight years at Centenary College and two years at Northern Colorado.
The Kentucky native has led his teams to 13 winning seasons during his 19 years, including 12 seasons of 30 or more wins.
While at Centenary, he led the program to a pair of NCAA Tournament appearances in 2004 and 2005, and won more than 200 games, including upset victories over Florida, Auburn, Arkansas, Minnesota, Syracuse, Boston College and New Mexico.
Montgomery led Centenary to the program's first winning season in 13 years in 2004 and a program record-tying 36 victories as Centenary captured the Mid-Continent Conference Tournament championship and advanced to the school's first ever NCAA Tournament.
The following season saw Montgomery and the Ladies win 31 games, capture their second straight Mid-Continent Tournament title and return to the NCAA Tournament.
Following Centenary's decision to drop down to Division III, Montgomery coached the Ladies in 2009 and then accepted the head coaching position at Northern Colorado where he led the program to back-to-back second place finishes in the Pacific Coast Softball Conference Mountain Division (2nd place) each season while being named the PCSC Mountain Division Coach of the Year in 2011. The 2012 team won a school record 25 games and broke 21 school records.
Montgomery's teams have always been highly successful away from the softball diamond as each one of them has registered a team grade point average above 3.0 for the past 15 years. His 2001 team at Georgetown College posted a cumulative GPA that ranked in the top 10 of the National Fastpitch Coaches Association All-Academic Teams. His Northern Colorado team in 2012 finished ranked No. 2 in the country in team GPA.
Prior to his collegiate coaching experience, Montgomery served as the softball coach at Lafayette (Ky.) High School where he won seven district titles, five regional titles and one state championship title while posting a 170-73 record.
He earned his bachelor's degree from Eastern Kentucky in 1992 and his master's degree from Georgetown College in 2000.
Montgomery and his wife Melanie have three daughters: Bailey, Emma and Adrienne.
Follow this link to read endorsements from Jamie Pinkerton (Iowa State), Courtney Deifel (Arkansas), Glen Moore (Baylor), Tyra Perry (Illinois) as well as Montgomery's year-by-year breakdown and key numbers.