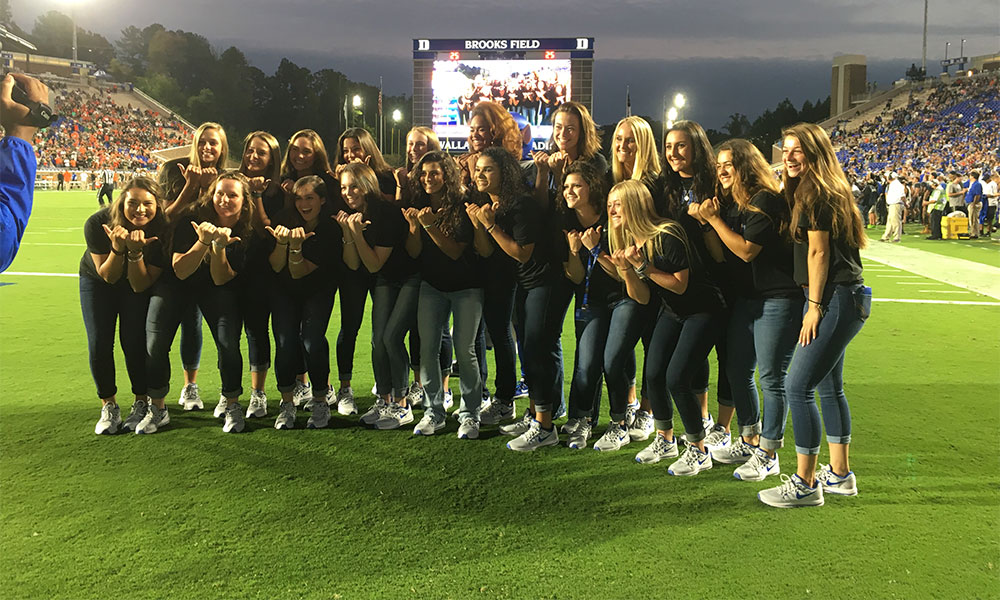 Friday, September 29, 2017
It's been a busy week for the Duke softball team as the first game day will be here in a matter of hours. Weightlifting was canceled this morning to give the girls some extra rest and time to recover from midterm studying.
10 a.m.
The softball offices were busy with last-minute chores to have ready for the game.  In the midst of all the hustle and bustle, head coach Marissa Young spent a good chunk of time chatting with me about how she got to Duke and the process of building the team.  You can read that here.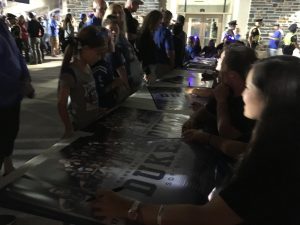 1:30 p.m.
The team started to trickle in one-by-one for individuals at the facility.  A few players sat and talked to me before their cage time, and those will be posted a little later. The excitement filled the room, and I could see the look of pure joy on everyone's faces.  It was infectious because I even caught myself smiling a few times.
7:00 p.m.
Kickoff at Wallace Wade Stadium against No. 14-ranked Miami. The first quarter starts, and there's something different in the air.  Friday night football under the lights almost brings me to being at a high school game.  The team made its way down to the end zone and was introduced in front of thousands of Duke fans.  The camera panned to the team, the girls waved and the game information flashed on the scoreboard.  This is really happening.
8:30 p.m.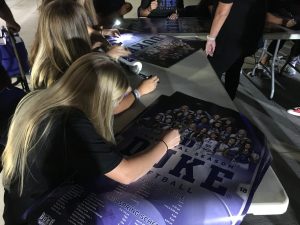 Halftime was around this time and the girls met on the concourse to sign autographs.  The marketing team opened the box of posters for the athletes to see and their eyes lit up.  After many pictures of the posters were taken, the line began to form and the team signed for the duration of halftime and into the third quarter.  Fans of all ages, men and women, boys and girls, wanted a signature from each woman sitting at the tables. They all sat and signed for every person in line and took photos with everyone who asked.
When the line dissolved, the athletes helped put away the tables and chairs and went on their way.  They either went back into the stands or back to their room to rest up for what should be a very exciting day.