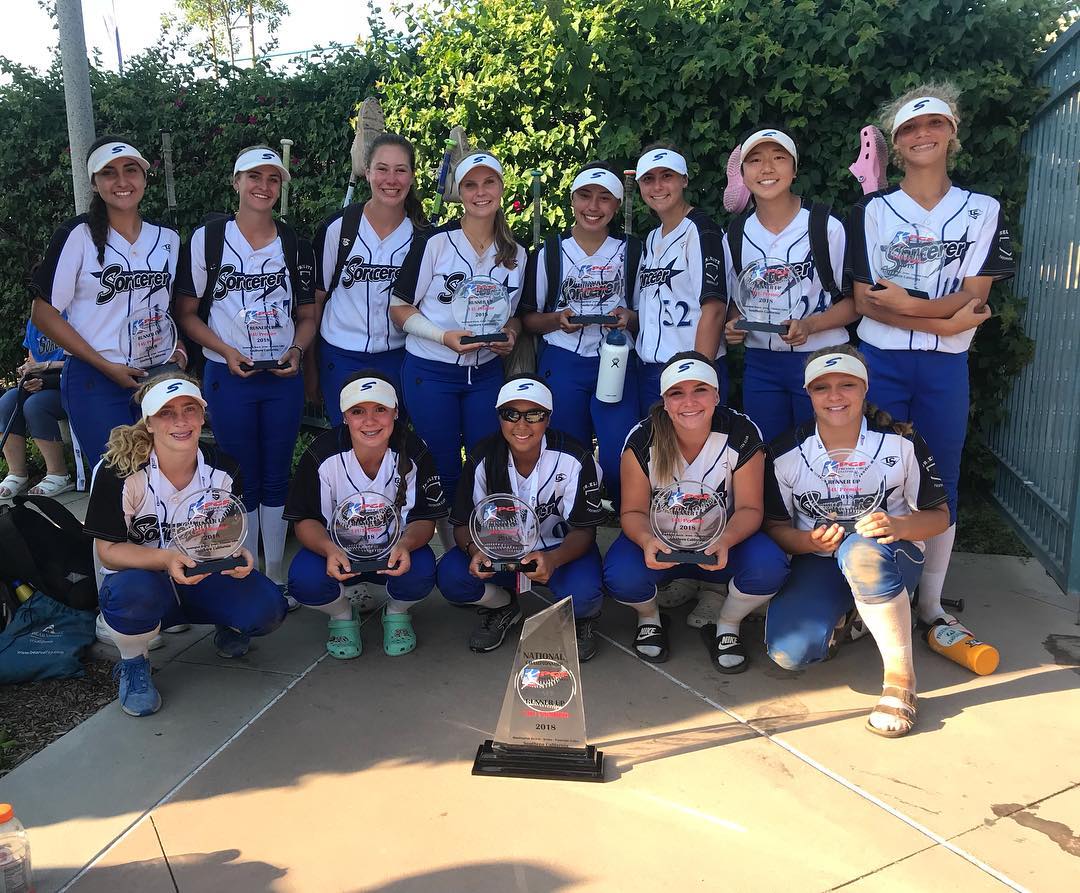 No. 11 / TEXAS GLORY ADKINS 14U GOLD
Texas Glory Adkins is a growing and powerful organization that performed well across all age levels this past summer. Notable finish for 14U Gold includes tied 9th at the JO Cup. Keith Allen has created a strong program where "Fearless Freedom" is the motto and goal.
KEY PLAYERS:
No. 12 / GAMETIME STARS – LYON 
The big swinging Gametime Stars – Lyon come from another strong program with an outstanding reputation of turning out big time recruits. Big finishes this summer include 3rd place at the JO Cup, 17th in Colorado, 17th of 64 at the USA Elite Select Championship. While a large portion of its roster is made up of uncommitted players, Gametime Stars Lyon turned a lot of heads on the recruiting trail this summer and will surely continue to do so as they move up to the 16U division this year. They are adding four athletes to the roster this year who are sure to make an instant impact. They pick up two pitchers (2021 Abbi Synowiecki and 2021 Laken Malone) who will compliment each other very well; a true utility who can play on positions on the field including catcher and pitcher, 2021 Emersen Heron; and 2020 Anna Sample adds a big bat to an already powerful line-up.
"I am very excited about the future of this team as they continue to grow. We are coming off a very successful season that saw us finish in the top 17 in both the Sparkler Juniors Power Pool and the USA Elite WFC. We also finished the season with a 3rd place finish in the USA JO Cup. With our new additions, the sky is the limit for these young ladies." – Jerin Lyon, Head Coach.
Key Players:

Kaylee Lyon (2021, SS) Texas Tech – recorded 11 home runs with 32 doubles and 75 RBIs last season.

Karson Jennings (2021, C) Texas Tech

Harley Sturm (2021, RHP) Ohama-Nebraska – a pitcher who can get it done at the plate as well. Held a 390 avg. with 56 RBIs.
Jade Sanders (2022 P/1B) Uncommitted – won 30 games for GT in 2018.
Aynslee Linduff (2022, RHP) Uncommitted
Ashtyn Barrett (2

022, C/UT) Uncommitted – holds an impressive pop time of 1.69.

Malorey Outon (2022, 2B/UT) Uncommitted – a 5'10 athlete with blazing speed, 2.8 home to first. Her stat line from 2018 includes 82 hits, 13 doubles, 3 home runs and 25 stolen bases
No. 13 / SORCERER 14U SCHROLL
Sorcerer Schroll capped off another impressive summer with a 2nd place finish at PGF Premier Nationals behind a brilliant week of pitching from 2021, Annabel Teperson. In addition to a strong showing at PGF, Sorcerer Schroll shined during IDT in Colorado; recording a perfect 6-0 record in pool play, going 8-1 overall, nabbing a 5th place finish, and blasting a total of 16 homeruns against an incredibly strong field. With a handful of athletes on the 2018 roster moving to new age levels and different teams it will be exciting to see what this fall and next summer holds for Sorcerer Schroll.
Key Players: 
Jenissa Conway (2023, P/OF/1B) Uncommitted

Caitlyn Newburn (2022, C/3B) UCLA

Annabel Teperson (2021, P/1B) Uncommitted *PGF Premiere All-Tournament Team Member

Olivia Silvestre (2021, OF) Uncommitted *PGF Premiere All-Tournament Team Member
No. 14 / TULSA ELITE 2021
Tulsa Elite is another program with a storied history of success across and turning out big time prospects. Tulsa Elite 2021 recorded a few big finishes this summer including 3rd place at the KC Top Gun Invitational and 9th of 90 teams at the ASA/USA 14U Nationals. While the roster is comprised of uncommitted players these student-athletes turned a lot of heads and are making the rounds this fall at numerous college campuses. Tulsa Elite 2021 is moving up to the 16U age division this coming year.

Key Players:
Tristan Hinkle (2021, 2B/OF) Uncommitted

Maddy Kearns (2021, 1B/3B/C) Uncommitted

Gabrielle Higbee (2022, CF/LF/1B) Uncommitted

Rylee Lemons (2022, C/OF) Uncommitted

Bailie Runner (2021, RHP/1B/3B) Uncommitted
No. 15 / ATHLETICS MERCADO – GREG
A name that is a staple in elite club softball, Athletics Mercado – Greg held true to its program hype recording big finishes at PGF Premiere and Colorado IDT. A fun team and extremely talented group of athletes, Mercado-Greg and its student-athletes continued to waves on the recruiting trail and in tournament play. They will move up to the 16U division this coming year.
Key Players:
McKenna Gibson (2021, 3B) Tennessee

Stevie Hansen (2021, P) Uncommitted

Emily Leavitt (2021, P) Uncommitted

Kayla Chavez (2021, 3B) Uncommitted

Jaelynn Eaves (2021, 3B/P) Uncommitted