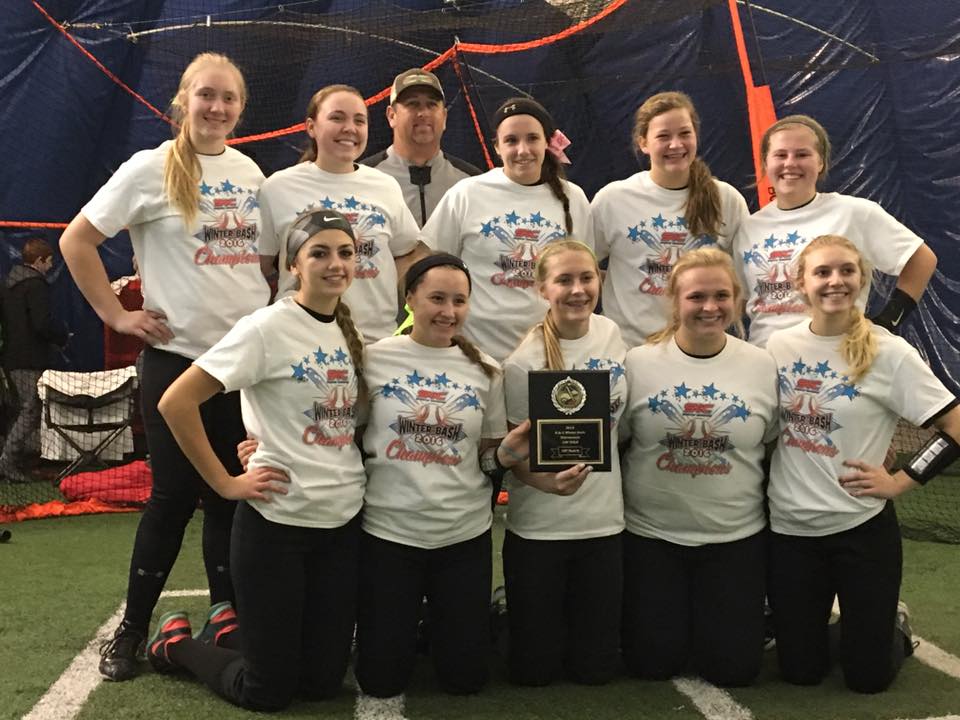 Most softball teams across the country will be putting practices, games, and training on hold for the upcoming Holiday break. This isn't the case for the 82 teams, ranging from 10U-18U who will be lacing up their cleats and competing in the ninth annual S&C Winter Bash Indoor Tournament in Minnesota. This year's Winter Bash Tournament is set to begin on Tuesday December 26th and runs through New Year's Day. The expected 164 games of the tournament will take place inside the Irish Sports Dome located in Rosemount, Minnesota and the Dundas Dome located in Northfield, Minnesota. The sports domes are large enough to hold two softball games at a time, with a full infield and outfield with 200 foot fences along the exterior.
Sean Hall and Jeremy Chell are the current Directors of the Midwest Speed club organization in Minnesota. Sean is the founder of S&C Sports Services, which he and his wife Coleen, run these very large and popular Holiday tournaments through. The S&C Turkey Trot Indoor Tournament takes place over the Thanksgiving Holiday break and this year marked its ninth appearance as well. There is also an upcoming indoor S&C Tournament set to kick off on January 15th, 2018 for Martin Luther King Jr Day, and February 19th, 2018 for Presidents Day.
A decade ago, teams in the Midwest were very limited on practice and playing space in the winter months. That all changed with the emergence of indoor Sports Domes and dome ball games and tournaments. "These tournaments allow Midwest players a chance to compete year round with some of the top teams in the Midwest. In this year's S&C Winter Bash, we have teams from Minnesota, Wisconsin, Iowa, Nebraska and South Dakota," said Sean.
Before Sports Domes allowed Midwest softball players a chance to practice and play year round, it was common that Midwest teams were behind in their development when the summer season kicked off. This was due to lack of training and playing space over the winter months. Teams in the South and in the warmer states that don't experience winter, have the luxury of practicing and playing outside any day of the year. This isn't necessarily the case anymore as Northern teams have caught up and are taking advantage of this new opportunity to practice and play year round. "The Five-State area has produced some of the top teams in the Midwest that compete and perform extremely well on a National stage," said Sean.
Even though Midwest players can now train, practice and play year-round, there are still some disadvantages that come with training and playing indoors. "One physical disadvantage is that our infielders can't take ground balls on dirt. A dome is great but turf can be deceptive. You don't get bad hops and the ball bounces a little more than on dirt", said Sean. Another disadvantage playing indoors is that balls put in play may hit the roof. It depends on the dome regulations, but in some cases a ball hit off the roof is considered a playable ball.
There are many college teams, especially at the DII and DIII levels that kick off their season with games and tournaments inside sports domes. Once their fields thaw out, these college teams will resume playing games outside, it all depends on the weather. All college levels in the northern states practice inside on various turf surfaces throughout the winter months. The difference is that the DI schools have the financial budget to travel and play outside in warmer states the first nine weeks of the college season.
The emergence of sports domes in the northern states gives players an equal opportunity to practice and play softball year round. Sean Hall's S&C Holiday Tournaments are a great way to bring teams together to play in the winter months. The games are all played indoors, but indoor games are better than no games at all. "We have never been rained out and nobody has lost a ball in the sun! It's also very easy to line and drag the fields between games!" joked Sean. The upcoming Winter Bash Tournament is the largest S&C Tournament to date. It's exciting for the sport that teams all across the country now have an opportunity to compete year round.